It was an Asia Cup which saw India turning around as ODI side under Ganguly; can Pak take a lesson?
Pakistan today need to take a leaf out of India's book today to make a comeback.
Updated - Oct 1, 2018 7:15 pm
208 Views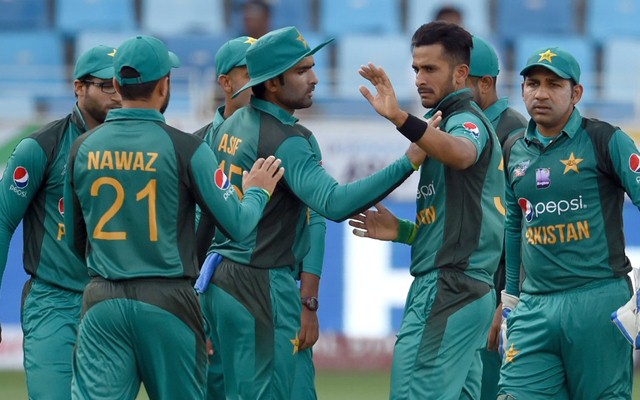 Follow us on Telegram
Following Pakistan's disappointing second loss against India in the just-concluded Asia Cup in the UAE, former Pakistani great Wasim Akram had come up with an observation which not many gave. While flaying the national side, he said India used to be under pressure in the 1990s when he used to play in India-Pakistan games. But now, it is a role reversal of sort as Pakistan feel more pressure than their arch-rivals.
There is certainly an element of truth in Akram's words. When the two sides met each other in the 1990s when Pakistan were a formidable side, especially in bowling, it was India who ended up at the receiving end more. The over-dependence on Sachin Tendulkar was the primary reason.
In 2000, after Tendulkar quit captaincy and Sourav Ganguly took charge, a big change was coming in Indian cricket and the Pakistanis today could learn a lesson from that.
When Ganguly took over, India were strugglers
Tendulkar had quit captaincy of the Indian team for the second time after they lost a home Test series against South Africa following a demoralising thumping in Australia. Ganguly took over from the ODI series against the Proteas and although India won it 3-2, it was the black episode around match-fixing that had marred the victory.
India's next international assignment under Ganguly was a tri-series in Sharjah where they failed to make the finals after winning just one game in four outings against Pakistan and South Africa. Thereafter, India headed for the Asia Cup in Bangladesh and it was a turning point in Indian cricket in a way.
It was an Asia Cup 18 years ago that marked a change in India's ODI status
It was also another Asia Cup and the Indian side was led by an energetic and talented captain who just took over. But the southpaw, 28 then, soon discovered that the squad he was captaining was far from a match-winning one. A couple of inexperienced spearheads in Thiru Kumaran and Amit Bhandari; an aging batsman in Mohammed Azharuddin and a couple of not-fully-fit spinners in Sunil Joshi and Nikhil Chopra made up a squad that looked far from a convincing one.
In the first match of the tournament, hosts Bangladesh went on to score 249 against India which exposed the kind of bowling India were carrying in the tournament. It was an unbeaten hundred from the skipper that saw India driving home against the low-ranked opponents in the game. But the second two matches saw India getting humbled by Sri Lanka and Pakistan whose batsmen belted India's bowlers at will and bowlers dismissed India's batsmen easily.
Against Sri Lanka, India lost the match by 71 runs and Ganguly was visibly distressed in the post-match conference saying nothing could have been done as India's batsmen with loads of experience forgot to apply themselves when it really mattered. In the next game which India had to win, Pakistani batsmen thrashed their bowlers mercilessly and just like Sanath Jayasuriya (105) in the previous game, it was the turn of Mohammad Yousuf who was Yousuf Youhana then (100 not out) to tonk the Indians.
Ganguly was criticised for going on bowling Kumaran (86 runs in 10 overs; no wicket) and Bhandari (75 runs in 10 overs; 2 wickets) despite the stick they got but another quarter felt it was a deliberate move by the Indian captain to expose his side's poor bowling and let know his disapproval.
The state of affairs was so pathetic that Tendulkar had to bowl the full quota of 10 overs almost regularly in that tournament, something former Indian opener Woorkeri Raman also pointed out. After India lost the match by 44 runs, thanks to another poor batting show, Ganguly was even heard as saying that India needed new blood to look ahead.
After 2000 Asia Cup debacle, India made 12 consecutive finals in multi-side tournaments
The Asia Cup of 2000 was a low point in Ganguly's inspiring history of captaincy and it was after this tournament that India started to go up the ladders as a cricketing unit internationally. In the next 12 multilateral ODI tournaments that India played under Ganguly including the World Cup in South Africa in 2003 and the next Asia Cup in 2004, they reached the finals in each of them.
It is true that the Men in Blue couldn't win more than one title besides a few shared ones, but it was the inculcating of 'new blood' which was the bigger gain that India made during this time and it went on to serve the nation for a long time, even after the Ganguly era ended. India got an entire new generation of players then who helped the side become a better side, permanently burying the ghosts of mediocrity of the 1990s.
Pakistan today need to take a leaf out of India's book to make a comeback in international cricket. Sarfraz Ahmed's side, however, doesn't have a problem with age and already has enough of new blood to choose from. It is only that the management has to give the young blood a direction. India were lucky to have a stable senior group consisting of the likes of Ganguly, Tendulkar and Rahul Dravid then to get the push in the required direction.
Can Pakistan do the same?
[interaction id="5bb1d750b2ce12b5dad8c3d6″]
For more news and developments, stay tuned on CricTracker.com.
Follow us on Google News