Jemimah Rodrigues reveals that she loves watching Babar Azam's cover drives
Jemimah was a part of the India Women squad which had to suffer a defeat in the final of Women's T20 World Cup in Australia.
Updated - Apr 10, 2020 5:37 pm
4.4K Views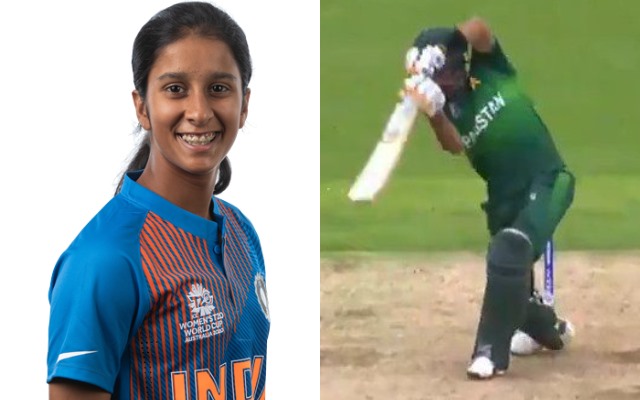 The current drastic situation amid the coronavirus outbreak has put all the sporting events at a halt. Be it football or cricket, fans are left with no sporting action to witness whatsoever. Amid such stern situation, cricketers are spotted spending more time on social media. Several cricketers have resorted to Instagram live or Twitter Q&A to keep interacting with their fans.
Joining the latest trend was India batswoman Jemimah Rodrigues, who had an Instagram live chat with Ridhima Pathak. The youngster is known for her activeness on social media and she has uploaded several hilarious videos across social media for her fans. Rodrigues, known for her quirky nature, answered a plethora of question during the Instagram live session.
Jemimah was asked about her favourite shot by her fan during the session to which she replied– 'Cover drive' in no time. She was also asked further to name a batsman who she thinks can play the cover drive better or someone who she follows for his cover drive. Jemimah named Pakistan's Babar Azam and said that she likes to watch him playing cover drives. "I love Babar Azam's cover drives," said the Indian batswoman.
Jemimah Rodrigues was a part of India's T20 World Cup 2020 squad
Jemimah was a part of the India Women squad which had to suffer a defeat in the final of Women's T20 World Cup in Australia. After delivering an impressive performance throughout the tournament, Harmanpreet Kaur and Co failed to hit the final nail in the coffin in the final. The Women in Blue succumbed to the pressure and suffered a heartbreaking 17-run defeat in the final of the tournament at the MCC.
Post India Women's defeat, Jemimah had lamented the loss and had said that the team will cherish their time on the field and the performances which they dished out during the tournament. She also promised the fans that the India Women side will bounce back stronger and make the nation proud soon.
"So many things to take back from this tournament, but one thing I'll cherish is that every time we went out on the field, we knew that we weren't alone, but backed by the strength of India with us. The result didn't pan out as we intended it to, but we learn from defeat & I promise we'll get back stronger to make our nation proud," wrote Jemimah through her Twitter account.
defeat & I promise we'll get back stronger to make our nation proud

And lastly, a BIG thank you to the 86,174 who came for the Finals. Even though We didn't win that night, Women's Cricket definitely won

Here's a lil video of the dressing room cheering along with you guys 🙌🏼 pic.twitter.com/1vDml2rK4x

— Jemimah Rodrigues (@JemiRodrigues) March 12, 2020