Jos Buttler picks two players as most destructive batsmen in T20 Cricket
Jos Buttler heaped praises on the Australian pacer Pat Cummins when he was asked to choose one overseas player, he would like to include in the England side.
Updated - Apr 4, 2021 4:06 pm
154K Views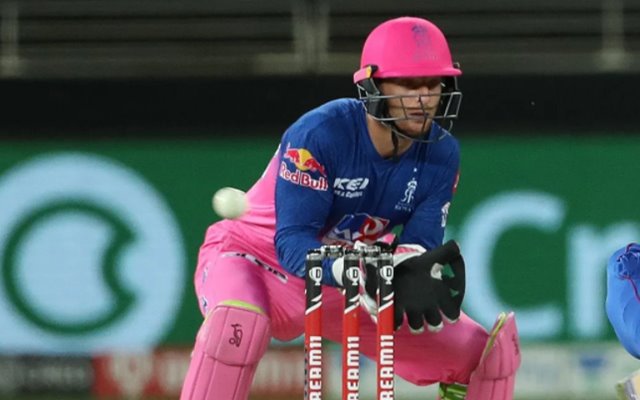 The 14th edition of the Indian Premier League (IPL) is around the corner and thus all the IPL franchises are trying their best to make their social media game strong by engaging the netizens by giving them a sneak peek into the lives of their favourite cricketers. 
The flamboyant wicketkeeper-batsman of the 2008 champions Rajasthan Royals (RR) Jos Buttler on Sunday, April 4 was involved in an interesting session where he answered the questions asked by the cricket enthusiasts regarding his personal and professional life. The clip of the same was shared by the official Twitter handle of Rajasthan Royals.
During the course of the interaction, Buttler came across a question regarding the player he feels is destructive in the shortest format of the game apart from him. To this, the batsman reckoned that it is hard to ignore the West Indies players when one is talking about the power-hitters.
Thus, the 30-year-old named two Caribbean players Chris Gayle and Andre Russell. While Gayle has a strike rate of 150+, Russell boasts of playing at a strike rate of 180+ in the Indian Premier League. "Who is the most destructive batsman in T20 Cricket other than you (Jos Buttler)?" a fan questioned.
"There's a few out there at the moment. It's hard to look past the West Indies batsmen I'd say. Chris Gayle obviously has been so destructive for such a long period of time. Obviously, Andre Russell when he gets going, he is pretty formidable and scary to bowl at. So I'm gonna say Chris Gayle and Andre Russell," Buttler replied.
Jos Buttler names the player he would love to include in the England side
Further, the English star also heaped praises on the Australian pacer Pat Cummins when he was asked to choose one overseas player, he would like to include in the England side. The question read, "One player outside England, who would fit perfectly in your National team?"
To this Jos Buttler replied, "Umm…really good question. I'd think, I'd go for Pat Cummins. I think Pat Cummins is one of the premier fast bowlers in the world at the moment in all formats of the game. I'd love to see him operate alongside Jofra Archer for England. That would be a pretty intimidating bowling line-up. So I'm gonna say Pat Cummins for that one."
Watch five biggest IPL controversies