Just the second time in 82 years Indian cricketers sent back from overseas tour after Hardik Pandya-KL Rahul fiasco
Both Pandya and Rahul were called back home mid-way through the Australia tour.
Updated - Jan 12, 2019 1:26 pm
3.7K Views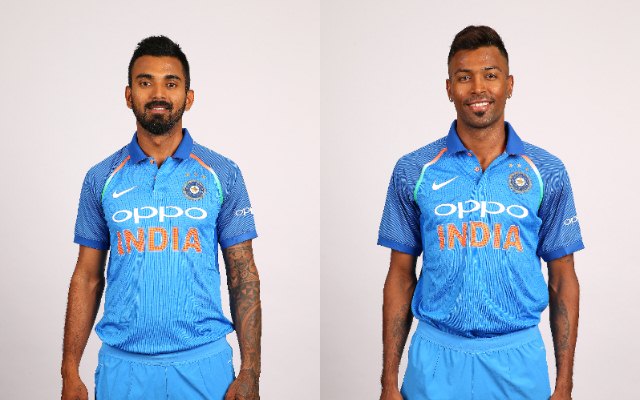 As if the heavy criticism was not enough for Hardik Pandya and KL Rahul, they were sent back home from Australia on Friday. The Indian cricketers have landed in hot waters for their obscene and controversial remarks on talk-show Koffee with Karan. The comments have been condemned as 'misogynistic' and 'racist. The way they talked about women has taken aback the whole nation.
A miffed BCCI then decided to take harsh action and has called the players back to India while suspending them pending inquiry. Consequently, they have been ruled out of the ODI series against Australia as well as the limited-overs tour of New Zealand. Upon their arrival in India, the two will have seven days to explain why proceedings shouldn't be made against them for misconduct and indiscipline under Rule 41 of the BCCI Constitution.
Under the rule 41, the players have been barred from participating in any match, event, function or activity that is authorised by the board, the ICC or any state association until final adjudication of the issue.
"The duo is now called upon to provide an explanation as to why they should not be proceeded against for misconduct and indiscipline under Rule 41 of the BCCI Constitution within a period of 7 (seven) days," the BCCI said in a statement on Friday.
The latest turn of events, meanwhile, have made Rahul and Pandya part of a dubious as well as a very rare episode in Indian cricket. The latest incident is only the second instance in 82 years when an Indian player was sent back home from a tour due to disciplinary reasons. In fact, this is the first instance of the cricket board taking such an action.
Lala Amarnath – a victim of team politics:
The first player to face such a fate is the legendary Lala Amarnath. He was sent back from India's tour of England in 1936 by the erstwhile captain Maharaja of Vijianagaram for alleged insubordination during a first-class game. But many believe that the Amarnath was sent back home primarily for team politics and not for any disciplinary reason.
According to an article 'Right Royal Indian Mess' written by Martin Williamson in ESPN Cricinfo on July 28, 2007, Amarnath was a victim of petty politics.
"Amarnath had been carrying a back injury for a few games but had not been allowed to rest. At Lord's he was asked to pad up and then forced by Vizzy to sit as a succession of other batsmen were sent in ahead of him.
"He (Amarnath) eventually got his turn minutes before the close, and clearly angry, when he returned to the changing room he made clear his anger, throwing his kit into his bag and muttering, in Punjabi, 'I know what is transpiring'," read the excerpt from the book.
Another such incident happened in 1986 when Navjot Sidhu left the 1996 tour of England. However, he had left the team on his own due to his difference with the then captain Mohammad Azharuddin. But it turned out to be a blessing in disguise for Indian cricket as it allowed the legendary Sourav Ganguly to make his Test debut and score a century at Lord's.
[interaction id="5c3607a3a09b6760aa3f7d31″]