Justin Langer showers praises on 'all time great' MS Dhoni
"If MS Dhoni can come out and run between wickets like that after keeping wickets for 50 overs, that is the level the whole world should be aspiring to," Langer said.
Updated - Jan 19, 2019 9:52 pm
944 Views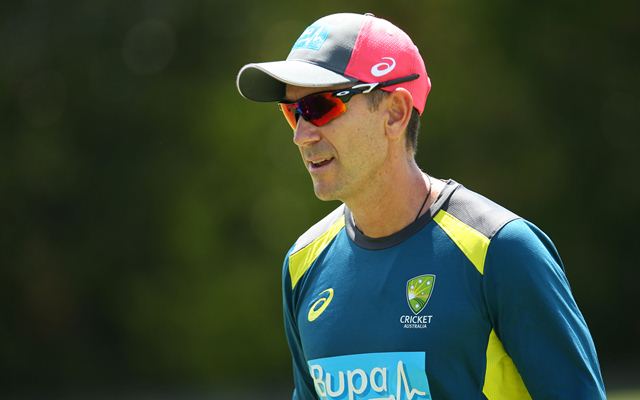 Team Australia head coach Justin Langer tried to draw the positives after his team recently suffered an ODI series defeat against India. The visiting Indian side registered their first ever bilateral ODI series win on the Australian soil. The chief architect of India's win was MS Dhoni. The wicketkeeper-batsman hit three fifties in three matches and ensured that his team prevailed on two occasions.
In the sense of sportsman spirit, the Australian coach hailed MS Dhoni as a great cricketer. He noted how age seems to be just a number for the former Indian captain. He hopes to see the young Aussie cricketers learn from the veteran. Langer pointed out that the likes of Dhoni, Virat Kohli, and Cheteshwar Pujara are the perfect role models that the young cricketers should look up to. Playing against them is an absolute privilege for the young Aussies.
"He (Dhoni) is 37 years old. His running between the wickets is elite, and his fitness is elite. For him to run between the wickets for three days in a row, it was 40 degrees the other day, and play like that, he is a superstar of the game and that's what Australians should be aspiring to be — superstars of the game," Langer quoted in the post-match press conference.
"MS Dhoni, like Virat Kohli, like Cheteshwar Pujara in the Test series, they give us really great role models. MS Dhoni, his record, everything speaks for itself as a captain, batsman, wicketkeeper. He is literally an all-time great of the game and it has been, as hard as it is to lose, a privilege to play against those guys," he added further.
On dropping Dhoni's catch
It is worth noting that Mahendra Singh Dhoni was dropped twice during the Melbourne ODI. On the very first ball that he faced, he hit one straight to the point fielder Glenn Maxwell, who dropped a regulation catch. Later, when he was batting on 74, Aaron Finch dropped him at mid-off. Commenting on the dropped chances, Justin Langer affirmed that players of the calibre of Dhoni should not be given lives.
"You drop MS Dhoni a couple of times and you don't win. You don't give great players chances. We did that tonight. We get down the 49th over and MS is there again. It was a great lesson for our squad. We talk about match winners, getting the job done — he showed us again. It is a great tutorial for our batters," the former cricketer affirmed.
On Dhoni setting the standards
On the positive side, Langer feels that playing against the likes of Dhoni is a big learning experience for his young Australian side. He cited how the 37-year-old kept wickets for 50 overs and then stayed on till the very end in the run chase to show the supreme level of fitness. The Australian coach hopes that his players would pick up cues from the Indian great.
"If MS Dhoni can come out and run between wickets like that after keeping wickets for 50 overs, that is the level the whole world should be aspiring to. I would be amazed if they (Australian players) don't learn from playing against those guys. For a young squad, there is no better lesson and learning to rub shoulders with great players. I'm glad we have had the experience," said the Australian coach.
[interaction id="5c403456c14cd8a1742a1886″]