KPL 2016 Auction: 219 cricketers went under the hammer
Updated - Aug 10, 2016 3:14 pm
133 Views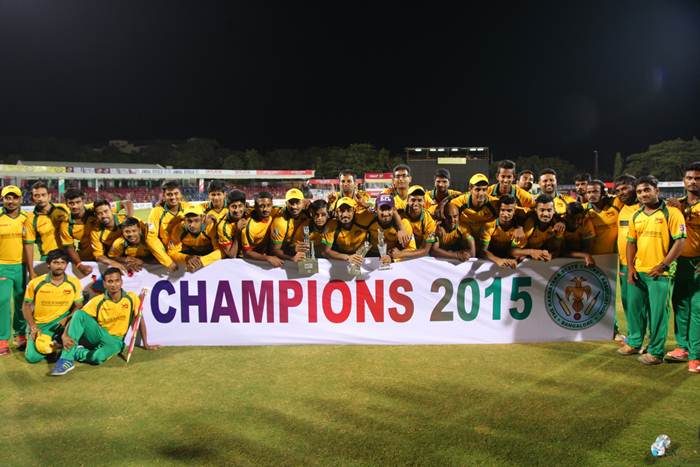 Rongsen Jonathan, Railways Ranji Trophy batsman and Prateek Jain, left arm fast bowler went for the highest bids as 219 cricketers went under Charu Sharma's hammer at the auction for the 5th Karbonn Karnataka Premier League powered by Cycle Pure Agarabathies held at the Karnataka State Cricket Association premises on Wednesday.
Jonathan, who turned out for Belagavi Panthers last season, was snapped up by Mysuru Warriors for a whopping Rs 3.5 lakh.  Prateek Jain who played for Hubli Tigers last year was purchased by Bellary Tuskers for a similar amount.
Seven of the teams had already retained four players apiece and today's auction, in front of a capacity crowd of franchisees, players, KSCA committee members, sponsors and media, along with addition of catchment players, completed their respective squads for the KPL tournament to be played at Mysuru and Hubbali from September 16 to October 1. The eighth team, Rockstars, also added six players to their complete their squad.
Among others who went for bids in excess of Rs 3 lakh were Suneel Raju, hard-hitting batsman and off spinner who was picked up by the Tuskers for Rs 3.35 lakh and young fast medium bowler Vyshak Vijayakumar, bagged by Mysuru Warriors for Rs 3.2 lakh, Arshdeep Singh Brar, a hard hitting batsman was bought by Bijapur Bulls for Rs 2.6 lakh while fast bowling all rounder David Mathias who made his first class debut for Karnataka last season, was sold to Namma Shivamogga for an identical amount.
Another Karnataka cricketer, left hand batsman Shishir Bhavane was sold to Mangalore United for Rs 2.5 lakh. Manjesh Reddy, an aggressive batsman, was pouched by Hubli Tigers for Rs 2.55 lakh.
Also check out – KPL 2016 Auction: Live Social Feeds
India Test cricketer KL Rahul went unsold as the teams expected him to be called up for national duty during the period of the KPL. The other India player in the auction today, Stuart Binny initially went unsold in Pool A auction, but was later reintroduced in Pool B sales. He was bagged by Namma Shivamogga for a bargain price of Rs 70,000.
The Rockstars, permitted just one purchase from Pool A, went for medium pacer SL Akshay (Rs 2 lakh).
Mangalore United
 Player Names
 Value (Rs)
KARUN NAIR (POOL A)
465,750
RONIT MORE (POOL A)
190,000
SHISHIR BHAVANE(POOL A)
250,000
 BHAVESH GULECHA (POOL A)
130,000
 CM GAUTAM (POOL A)
100,000
MITRAKANTH YADAV (POOL B)
10,000
BHARATH NP (POOL B)
170,000
 KISHORE KAMAT(POOL B)
55,000
 VISHWANATHAN M (POOL B)
20,000
 ROHITH GOWDA (POOL B)
55,000
 NIDESH M (POOL B)
205,000
 NISCHITH RAJ (POOL B)
35,000
 ANKIT KUMAR (EOI)
10,000
NITIN MULKI (EOI)
10,000
 SHASHI SHEKAR (EOI)
10,000
 HARSH BASVARAJ (EOI)
10,000
 PRANAV BHATIA ( EOI)
10,000
1,735,750
TOTAL PURSE
2,000,000
Balance
264,250
Belagavi Panthers
 Player Names
 Value (Rs)
VINAY KUMAR (POOL A)
460,000
MAYANK AGARWAL (POOL A)
380,000
SHARATH H S (POOL A)
50,000
PRAVEEN DUBEY (POOL A)
260,000
LIKITH BANNUR (POOL B)
55,000
 SATISH BHARADWAJ (POOL B)
40,000
 SHOIAB MANAGER (POOL B)
80,000
 ABDUL MAJID (POOL B)
40,000
MIR KAUNAN ABBAS (POOL B)
255,000
ANURAG BAPAI (POOL B)
55,000
 PRADEEP T (POOL B)
90,000
SUNIL KUMAR JAIN (EOI)
45,000
 RAM SHARIFF (EOI)
10,000
C K AKSHAY (EOI)
90,000
ABHISHEK SAKUJA (EOI)
10,000
DARSHAN PATEL (EOI)
10,000
 RAJVARDHAN REDDY (EOI)
10,000
1,940,000
TOTAL PURSE
2,000,000
Balance
60,000
Bijapur Bulls
 Player Names
 Value (Rs)
SAMARTH R (POOL A)
130,000
K.C.CARIAPPA (POOL A)
50,000
ABHIMANYU MITHUN (POOL A)
510,000
ROBIN UTHAPPA (POOL A)
340,000
 BHARATH CHIPLI (POOL A)
150,000
 SINAN KHADER (POOL B)
50,000
 NAVEEN MG (POOL B)
230,000
ARSHDEEP SINGH BRAR (POOL B)
265,000
 KIRAN AM (POOL B)
40,000
KC AVINASH (POOL B)
10,000
 SACHIN GANKAL (EOI)
10,000
SURAJ SAMPATH(EOI)
10,000
PRITHVI SHIKAWAT (EOI)
10,000
ZAHOOR FAROOKHI (EOI)
135,000
AMARNATH AKI (EOI)
10,000
MANOJ ACHARYA (EOI)
10,000
 PRAVEERA VENKATESH MURTHY (EOI)
10,000
 FARHAN MAGI (CATCHMENT AREA)
10,000
1,980,000
TOTAL PURSE
2,000,000
Balance
20,000
Bellary Tuskers
 Player Names
 Value (Rs)
AMIT VERMA (POOL A)
380,000
KB PAWAN (POOL A)
50,000
AKHIL BALACHANDRA (POOL A)
210,000
DEVRAJ PATIL (POOL B)
10,000
PRASIDH KRISHNA (POOL B)
90,000
KARTHIK C A ( POOL B)
30,000
 BHARATH KONDAJI ( POOL B)
10,000
 ANIL I G ( POOL B)
30,000
 SUNIL RAJU ( POOL B)
335,000
S P MANJUNATH ( POOL B)
220,000
ROHAN KADAM ( POOL B)
230,000
 CHIRANJIVI GS (POOL B)
10,000
PRATEEK JAIN (POOL B)
350,000
VINAY SAGAR (EOI)
10,000
VISHNU PRABHAS (EOI)
10,000
 AKSHAY ANGADI (EOI)
10,000
SURYA KUMAR (EOI)
10,000
 GYANDEEP KONDAPALLI (CATCHMENT)
10,000
 SYED ABRAR (CATCHMENT)
10,000
2,015,000
TOTAL PURSE
2,000,000
Balance
-15,000
Hubli Tigers
 Player Names
 Value (Rs)
SREENATH ARAVIND (POOL A)
300,000
KRANTHI KUMAR (POOL A)
180,000
SHIVIL  KOUSHIK  (POOL A)
65,000
MOHAMMAD TAHA (POOL A)
50,000
ABHISHEK REDDY (POOL A)
160,000
 KUNAL KAPOOR ( POOL B)
50,000
 VINOO PRASAD ( POOL B)
65,000
 STALIN HOOVER ( POOL B)
185,000
ADITYA SOMANNA ( POOL B)
125,000
DIKSHANSHU NEGI ( POOL B)
110,000
 CHETAN WILLIAMS ( POOL B)
180,000
 BHARATH K N ( POOL B)
180,000
 MANJESH REDDY (POOL B)
255,000
MOHAMMED NIYAZ NISAR (POOL B)
45,000
 SARFARAZ ASHRAF (EOI)
 15,000
CHELAVARAJ V (EOI)
10,000
PRASANNA PATEL (EOI)
15,000
1,990,000
TOTAL PURSE
2,000,000
Balance
10,000
Mysuru Warriors
 Player Names
 Value (Rs)
J.SUCHITH (POOL A)
90,000
MANISH PANDEY (POOL A)
310,000
GOWTHAM K (POOL A)
110,000
JONATHAN R (POOL A)
350,000
ANIRUDH JOSHI (POOL A)
230,000
ARJUN HOYSALA (POOL B)
10,000
KUSHAL WADHWANI (POOL B)
10,000
 ANAND DODDAMANI (POOL B)
10,000
 ADITYA SAGAR (POOL B)
10,000
 RAJOO BHATKAL (POOL B)
20,000
 VYSHAK V (POOL B)
320,000
 PRATEEKSH R (POOL B)
10,000
 LIYAN KHAN (POOL B)
160,000
NIHAL ULLAL (POOL B)
10,000
 NIKITH S SANGANAKAL (POOL B)
10,000
KOUSHIK V (POOL B)
10,000
AKSHAY KODATH (EOI)
10,000
 ABHISHEK BHAT (EOI)
10,000
1,690,000
TOTAL PURSE
2,000,000
Balance
310,000
Namma Shivamogga
 Player Names
 Value (Rs)
SADIQ KIRMANI (POOL A)
140,000
SHREYAS  GOPAL (POOL A)
310,000
ABRAR KAZI (POOL A)
180,000
PAVAN DESHPANDE (POOL A)
230,000
DAVID MATHIAS (POOL A)
260,000
SIDDHARTH K V (POOL B)
60,000
 STUART BINNY (POOL B)
70,000
 KP APPANNA (POOL B)
215,000
ZEESHAN ALI SAYEED (POOL B)
120,000
NISCHAL D (POOL B)
55,000
NIKIN JOSE (POOL B)
45,000
SHARATH SRINIVAS (POOL B)
60,000
PRADEEP GANGADHAR (POOL B)
10,000
 HOYSALA K (POOL B)
10,000
SHARAN GOWDA (POOL B)
40,000
ROHAN RAJU (EOI)
10,000
VINEET MANJUNATH (EOI)
10,000
                                                          –
1,825,000
TOTAL PURSE
2,000,000
Balance
175,000
ROCKSTARS
 Player Names
 Value (Rs)
SL AKSHAY (POOL A)
200,000
 NAVEEN B (POOL B)
25,000
 RITESH BHATKAL (POOL B)
40,000
SHARATH BR (POOL B)
55,000
N.C AIYAPPA (POOL B)
15,000
 NITTIN BILLE (EOI)
50,000
385,000
TOTAL PURSE
600,000
Balance
215,000