KPL 2016 to start with a clash between defending champs Bijapur Bulls and Rockstars
Updated - Sep 2, 2016 12:16 pm
86 Views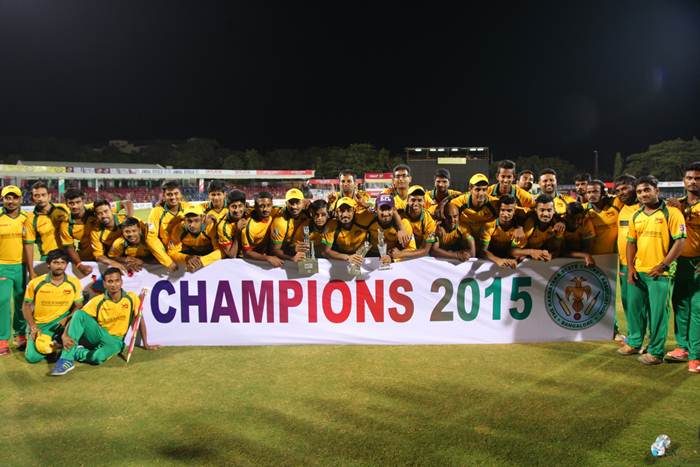 The Karnataka Premier League (KPL) 2016 will kick off with defending champions Bijapur Bulls taking on the exceedingly popular Kiccha Sudeep-led Rock Stars team at Mysuru's premier cricketing venue, the Srikantadatta Narasimha Raja Wadeyar Ground on September 16.
The fixtures for the much-awaited fifth edition of the Karbonn KPL tournament, widely acknowledged as the premium talent-spotting platform, was drawn on Thursday. The honour of playing the opening tie of this year's edition went to two intense teams, Bellary Tuskers and Belagavi Panthers who will clash in the inaugural match slated for 1:30 pm. This will be followed by the Bijapur Bulls Vs. Rockstars match.
The first leg of the tournament which features a minimum of two matches each day, at 1.30 p.m. and 5.30 p.m., will be held in Mysuru from September 16 to 25. There would be an additional match at 9.30 am on Saturdays in Mysuru.
The KPL caravan then moves to the KSCA Stadium in Rajnagar, Hubbali for the second phase from September 27 to October 1 when the finals will be contested at 5:30 pm. The designated rest day for the tournament would be September 26.
Karnataka Premier League – Fixtures
Date
Day
 
Teams
Time
Venue
16-Sep-16
Friday
Match 1
Bellary Tuskers vs Belagavi Panters
13:30
Mysore
Match 2
Bijapur Bulls vs Rock Stars
17:30
Mysore
17-Sep-16
Saturday
Match 3
Namma Shimovagga vs Hubli Tigers
9:30
Mysore
Match 4
Mysuru Warriors vs Mangalore United
13:30
Mysore
Match 5
Bijapur Bulls vs Belagavi Panters
17:30
Mysore
18-Sep-16
Sunday
Match 6
Mysuru Warriors vs Rock Stars
13:30
Mysore
Match 7
Bellary Tuskers vs  Namma Shimovagga
17:30
Mysore
19-Sep-16
Monday
Match 8
Hubli Tigers  vs  Bijapur Bulls
13:30
Mysore
Match 9
Mangalore United  vs Rock Stars
17:30
Mysore
20-Sep-16
Tuesday
Match 10
Namma Shimovagga vs  Belagavi Panters
13:30
Mysore
Match 11
Bellary Tuskers  vs Hubli Tigers
17:30
Mysore
21-Sep-16
Wednesday
Match 12
Bijapur Bulls  vs Mangalore United
13:30
Mysore
Match 13
Bellary Tuskers vs Mysuru Warriors
17:30
Mysore
22-Sep-16
Thursday
Match 14
Belagavi Panters  vs Hubli Tigers
13:30
Mysore
Match 15
Namma Shimovagga vs Mangalore United
17:30
Mysore
23-Sep-16
Friday
Match 16
Rock Stars vs Bellary Tuskers
13:30
Mysore
Match 17
Mysuru Warriors vs Bijapur Bulls
17:30
Mysore
24-Sep-16
Saturday
Match 18
Mangalore United vs Bellary Tuskers
9:30
Mysore
Match 19
Bijapur Bulls vs Namma Shimovagga
13:30
Mysore
Match 20
Mysuru Warriors vs Belagavi Panters
17:30
Mysore
25-Sep-16
Sunday
Match 21
Hubli Tigers vs Mangalore United
13:30
Mysore
Match 22
Namma Shimovagga vs Rock Stars
17:30
Mysore
26-Sep-16
Monday
Rest day
REST DAY
27-Sep-16
Tuesday
Match 23
Rock Stars vs  Belagavi Panters
13:30
Hubli
Match 24
Hubli Tigers vs  Mysuru Warriors
17:30
Hubli
28-Sep-16
Wednesday
Match 25
Bijapur Bulls vs Bellary Tuskers
13:30
Hubli
Match 26
Mangalore United vs  Belagavi Panters
17:30
Hubli
29-Sep-16
Thursday
Match 27
Mysuru Warriors vs Namma Shimovagga
13:30
Hubli
Match 28
Hubli Tigers vs Rock Stars
17:30
Hubli
30-Sep-16
Friday
Match 29
Semi-Final-1
13:30
Hubli
 
 
Match 30
Semi-Final-2
17:30
Hubli
1-Oct-16
Saturday
Match 31
Finals
17:30
Hubli