As Kuldeep Yadav continues to mesmerise England, here's a look at Chinaman's history
The youngster helped himself to six wicket in Trent Bridge.
Updated - Jul 13, 2018 11:36 am
174 Views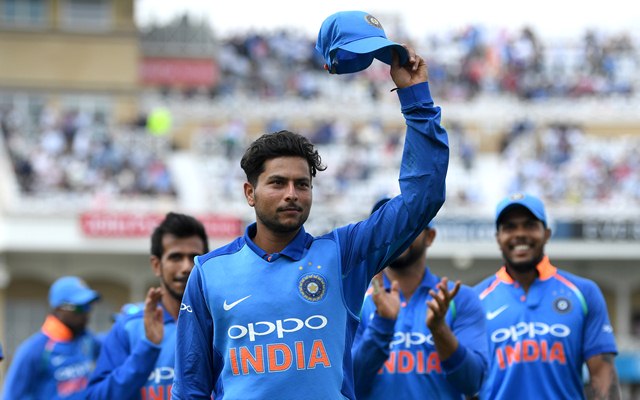 Follow us on Google News
Kuldeep Yadav continued with his glorious form in England as his 6 for 25 floored the hosts at Trent Bridge in Nottingham on Thursday, July 12, and helped Virat Kohli's men take a crucial 1-0 lead in the three-game one-day international (ODI) series. This was India's fourth-best bowling figures in ODIs and the second best against England, after Ashish Nehra's 6 for 23 in Durban during the 2003 World Cup.
Yadav's six-for came after his match-winning figures of 5 for 24 in the first Twenty20 International at Old Trafford. India won the T20I series 2-1.
Twenty-three-year-old Yadav, however, has made the headlines for another reason. And that is about his Chinaman bowling style. The world doesn't see Chinaman bowlers surfacing too regularly. Kuldeep Yadav though is not India's first Chinaman bowler to have played in Tests (he has played two matches till now) as that tag belongs to 31-year-old Preeti Dimri who played a couple of Tests in 2006, but the breed is yet to be easily found in this country.
Twenty-two-year-old Shivil Kaushik, who has played in the Indian Premier League as well as Karnataka Premier League, is another Chinaman bowler in the country who reminds one of the 'frog-runner' Paul Adams from South Africa.
Now, what is Chinaman and how is the term associated with the name of a country which is not seen in the cricketing arena?
The technical part
If we ask Shane Warne to bowl in front of a mirror and see his reflection on it, we will see the Australian turning into a 'Chinaman'. So, a Chinaman bowler is a left-arm leg-spinner and that makes him technically tricky.
A right-arm leg-spinner moves the ball away from the right-handed batsmen while a Chinaman bowler brings it into them, putting them under an extra challenge of negotiating with it instead of leaving it. For a left-hander, also, such bowler is no less comfortable since he moves it away from the body and sharp turns can do the batsman in any time. When he bowls a googly, the delivery moves away from the right-hander while for a left-hander, it comes in. A Chinaman bowler is also called an unorthodox left-arm spinner who traditionally uses his wrist to make the ball work. In our times, besides Paul Adams and Australia's Brad Hogg, the latter's compatriot Michael Bevan also chipped in as a useful Chinaman bowler.
Why the name?
Although China doesn't play cricket as widely, one Chinaman left a legacy in the game. And it was Ellis Achong. The first person of Chinese origin to have played Tests, Achong represented the West Indies in the 1930s.
In 1933, during a Test match between England and the Windies, Achong, a left-arm orthodox spinner, produced a gem to get a home team batsman named Walter Robins stumped.
A perplexed Robins told the umpire while returning to the pavilion: "Fancy being done by a bloody Chinaman". Though he didn't clarify who he addressed – the ball or the bowler (something West Indian Learie Constantine had also asked him after his dismissal in that match) – but the legend remained.
However, Achong is not Test cricket's earliest recorded Chinaman bowler as that record goes to South Africa's Charlie Llewellyn who played 15 Tests between 1896 and 1912.
There had never been too many Chinaman bowlers in the world of cricket and many of them have also not been specialized Chinaman bowlers. Achong himself was not a regular Chinaman bowler either as he also bowled finger spinners. Also, the likes of George Tribe, Johnny Martin, and Johnny Wardle were similar.
The great Garfield Sobers also bowled Chinaman besides his regular fast-medium deliveries.
When did Chinaman bowlers gain prominence?
It is more in the modern times that this unique breed of bowlers gained more prominence than their predecessors. The likes of Adams (134 wickets in 45 Tests; 29 wickets in 24 ODIs) and Hogg (17 wickets in 7 Tests; 156 wickets in 123 ODIs and 7 wickets in 15 T20Is) made this bowling form more contemporary than a sort of amateurish art.
Hogg made this bowling popular in the age of close cameras as he continued to take the field and bowled Chinaman at the age of 45! In 2016, Sri Lanka's Lakshan Sandakan made an impressive debut in Tests against Australia, taking a four-wicket haul to register the best bowling figures by a debutant Chinaman bowler. South Africa's Tabraiz Shamsi is another practitioner of this art.
Mumtaz Hussain came closest to earning an India cap
India though has a rich history of left-arm spin bowling but surprisingly, it hasn't produced a single Chinaman bowler in the Test arena till Yadav made his debut in 2017.
One player came close to fill up the vacant post in the past and it was Hyderabad's gifted bowler in Mumtaz Hussain. Hussain was a contemporary of the Sunil Gavaskars and Bishan Singh Bedis in the 1960s and 1970s and had enough promise to make it to the international stage.
He has 213 wickets in 69 first-class matches with 13 five-wicket and three 10-wicket hauls. Hussain had once fooled the mighty Gavaskar with his bowling in a game in 1970, which has found a mention in the Little Master's autobiography 'Sunny Days'.
Hussain was also picked for the Board President's XI to play a touring West Indian side but eventually lost the race to Bedi and faded out subsequently.
Stay updated on 'today's cricket news' with CricTracker.com.
Follow us on Telegram