Latest IPL 2020 Points table, Orange and Purple Cap holders after RR vs MI game
After CSK vs RCB and KKR vs MI game, Mumbai Indians continue to hold their top position in the table.
Updated - Oct 27, 2020 12:24 pm
347 Views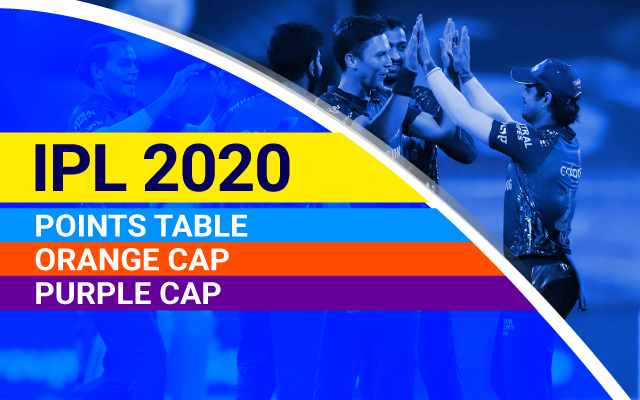 The 45th match of the Indian Premier League (IPL) 2020 saw action between defending champions Mumbai Indians and Rajasthan Royals. RR won the high scoring contest by eight wickets comfortably. Batting first, MI posted a handsome 195 on the board, but Rajasthan outclassed them outright. They started on an ordinary tone, but their end game saw a brilliant innings from Hardik Pandya (60* off 21). Suryakumar Yadav added essential 40 runs off 26 balls from his bat.
Ben Stokes was named player of the match as he drove RR home with his scintillating ton. He played an unbeaten knock of 107 off 60 balls. Earlier, brief but significant appearances by Ishan Kishan (37 off 36) and Saurabh Tiwary (34 off 25) kept the team moving in high regard. Rahul Tewatia turned economical for Rajasthan while Jofra Archer and Shreyas Gopal picked two wickets each to help their team.
Stokes and Samson stitched partnership of massive 152 runs for RR
While chasing the big score, Robin Uthappa and Steven Smith left for the pavilion in no time. However, fans watched with their eyes wide open when heroics by Stokes began in Abu Dhabi. He was complemented well enough by Sanju Samson, who scored a prolific half-century (54* off 31). None of the bowlers could shine for Mumbai. However, James Pattinson got two dismissals under his belt.
Who has Orange and Purple Cap?
After CSK vs RCB and RR vs MI game, Mumbai Indians continue to hold their top position in the table. Next in line are Delhi Capitals at 2nd spot. Next contenders in the points tally are Virat Kohli's Royal Challengers Bangalore and Kolkata Knight Riders. The fight for the final fourth slot goes on and on in the IPL 2020 season.
KL Rahul keeps the Orange Cap with 567 runs in his bag. He is followed by star batsman Shikhar Dhawan having amassed 471 runs. 3rd and 4th slots are held by Virat Kohli and Faf du Plessis in the same race. Kagiso Rabada remains the proud owner of the purple cap as he has 23 wickets under his belt so far. Jofra Archer, Jasprit Bumrah, and Mohammed Shami are walking up with 17 wickets each on their name.
List of top run-scorers in IPL 2020 – Orange Cap Holder
| | | | | | | | | | | |
| --- | --- | --- | --- | --- | --- | --- | --- | --- | --- | --- |
| Sr No | Player | Team | Matches | Innings | Runs | Average | SR | 4s/6s | 100/50s | Best |
| 1 | KL Rahul | KXIP | 11 | 11 | 567 | 63 | 133.41 | 48/20 | 1/5 | 132* |
| 2 | S Dhawan | DC | 11 | 11 | 471 | 58.87 | 148.11 | 52/10 | 2/2 | 106* |
| 3 | V Kohli | RCB | 11 | 11 | 415 | 59.28 | 125 | 21/10 | 0/3 | 90* |
| 4 | Faf du Plessis | CSK | 12 | 12 | 401 | 40.10 | 140.70 | 38/12 | 0/4 | 87* |
| 5 | M Agarwal | KXIP | 10 | 10 | 398 | 39.80 | 155.46 | 39/15 | 1/2 | 106 |
| 6 | S Iyer | DC | 11 | 11 | 382 | 38.20 | 130.37 | 29/13 | 0/2 | 88* |
| 7 | Q de Kock | MI | 11 | 11 | 374 | 41.55 | 143.29 | 34/17 | 0/4 | 78* |
| 8 | D Warner | SRH | 11 | 11 | 370 | 37 | 127.58 | 31/10 | 0/2 | 60 |
| 9 | J Bairstow | SRH | 11 | 11 | 345 | 31.36 | 126.83 | 31/13 | 0/3 | 97 |
| 10 | D Padikkal | RCB | 11 | 11 | 343 | 31.18 | 122.93 | 33/7 | 0/3 | 63 |
List of most wicket-takers in IPL 2020 – Purple Cap Holder
| | | | | | | | |
| --- | --- | --- | --- | --- | --- | --- | --- |
| Sr No | Player | Team | Matches | Innings | Wickets | Average | Best |
| 1 | K Rabada | DC | 11 | 11 | 23 | 14.52 | 4/24 |
| 2 | J Archer | RR | 11 | 11 | 17 | 18.82 | 3/19 |
| 3 | J Bumrah | MI | 11 | 11 | 17 | 19.47 | 4/20 |
| 4 | M Shami | KXIP | 11 | 11 | 17 | 21.17 | 3/15 |
| 5 | Y Chahal | RCB | 11 | 11 | 16 | 18.50 | 3/18 |
| 6 | T Boult | MI | 11 | 11 | 16 | 22.31 | 4/18 |
| 7 | Rashid Khan | SRH | 11 | 11 | 14 | 16.64 | 3/12 |
| 8 | Anrich Nortje | DC | 10 | 10 | 14 | 21.85 | 3/33 |
| 9 | R Chahar | MI | 11 | 11 | 13 | 22.69 | 2/18 |
| 10 | Sam Curran | CSK | 12 | 12 | 13 | 23.69 | 3/19 |
Here's the IPL 2020 points table in detail:
| | | | | | | | |
| --- | --- | --- | --- | --- | --- | --- | --- |
| Position | Team | Matches | Won | Lost | NR | Points | NRR |
| 1 | MI | 11 | 7 | 4 | 0 | 14 | 1.25 |
| 2 | DC | 11 | 7 | 4 | 0 | 14 | 0.43 |
| 3 | RCB | 11 | 7 | 4 | 0 | 14 | 0.09 |
| 4 | KKR | 11 | 6 | 5 | 0 | 12 | -0.47 |
| 5 | KXIP | 11 | 5 | 6 | 0 | 10 | -0.10 |
| 6 | RR | 12 | 5 | 7 | 0 | 10 | -0.50 |
| 7 | SRH | 11 | 4 | 7 | 0 | 8 | 0.02 |
| 8 | CSK | 12 | 4 | 8 | 0 | 8 | -0.60 |