Meet Julia Michaels – The doppelganger of Anushka Sharma
Here are some of the pictures of Julia which resemble Anushka Sharma.
Updated - Feb 4, 2019 1:49 pm
5K Views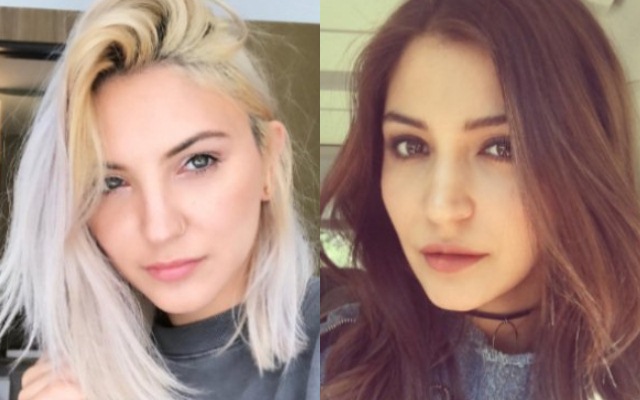 Anushka Sharma is a household name in India. In the last 10-12 years, she has acted in several movies and created a unique identity for herself. She is one of the better actors in the industry at the moment and has got a massive fan following. Anushka is also loved by one and all in the cricketing circles, for she is the lady love of the Indian skipper Virat Kohli.
The 'Zero' actress is often spotted in the cricket stadiums cheering her husband despite the busy schedules. However, you'll be surprised and pleasantly taken aback to know that there is another person who looks exactly the same like Anushka Sharma. Julia Michaels, an American pop star, looks exactly the same like Mrs Kohli.
The singer and songwriter was born on 13 November 1993 and is quite famous. She has got over a million Instagram followers and people love her work. In 2017, she was the opening act for Shawn Mendes' Illuminate World Tour on the Oceania Leg which was a huge success. Many have told her that she looks very similar to Anushka Sharma and she even went on to tag the Bollywood actress in one of her tweets recently.
@AnushkaSharma ❤️❤️❤️

— ᴊᴜʟɪᴀ ᴍɪᴄʜᴀᴇʟs (@CozIGotIssues) February 3, 2019
Furthermore, the fans are going berserk over her beauty and are also proposing to her on social media ever since she put up this tweet. Truly indeed, if one dyes her hair black or brown, there wouldn't be much that differentiates between these two celebrities.
Here are some of the pictures of Julia which resemble Anushka Sharma:
1. A matching side-profile?
2. Guess who? Julia or Anushka?
3. Ditto
4. Thank us later!
5. You surely cannot differentiate now
6. A new post for the new year
7. Anushka Sharma turns into a singer?
8. A picture with Shawn Mendes
9. A perfect doppelganger on the other side of the world
10. That's a great picture Anushka…Err, Julia!