MET department predicts rainfall during Bangalore Test
Updated - Mar 2, 2017 12:39 pm
105 Views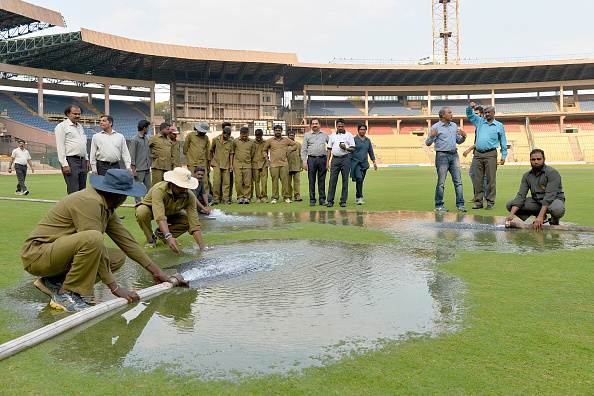 Follow us on Telegram
After thrashing the world No. 1 team in the first of the four Tests of Border-Gavaskar Trophy, Australia and India will now meet for the second Test at Bangalore's M. Chinnaswamy Stadium. After the humiliating defeat by 333 runs, team India went on a short trek to a hill near Pune to rejuvenate themselves but were seen back in the nets at Bangalore yesterday.
While monsoon in India usually begins late May or early June, the meteorological department of India has predicted rainfall during the second Test – between 4th to 7th March. The game may partially be affected by rains, or could even be a complete washout, and has become a matter of concern for the authorities.
Yr.no – a Norwegian weather forecast and a meteorological website has predicted heavy rains in the Karnataka capital while the Indian Meteorological department has predicted scattered rainfall for the next one week in Tamil Nadu and Pondicherry.
But the Chinnaswamy Stadium has good arrangements to fight the rain if it is scattered. It recently installed the next-generation subsurface aeration and vacuum-powered drainage system from SubAir, USA, becoming the first ever installation of SubAir Systems for Cricket stadiums worldwide.
The last time when team India drew a Test match because of interruption by rain was at the St Lucia Test in August 2016 with steady rain not allowing any play on the third day.
Team India will be looking to bounce back bigger and better in the second Test beginning on Saturday. With the pitch being a slow-turner, the likes of Ravindra Jadeja and Ravichandran Ashwin should be able to make the most advantage of it. Meanwhile, the openers need to take up the responsibility of staying at the crease for a longer period of time, and the poor fielding concerns need to be addressed.
Written by Umaima Saeed
Follow us on Google News