Michael Vaughan responds with an adorable comment on Ravindra Jadeja's 'My 22acres entertainer' post
It is no secret that the Indian all-rounder loves his horses.
Updated - May 16, 2021 5:59 pm
10.3K Views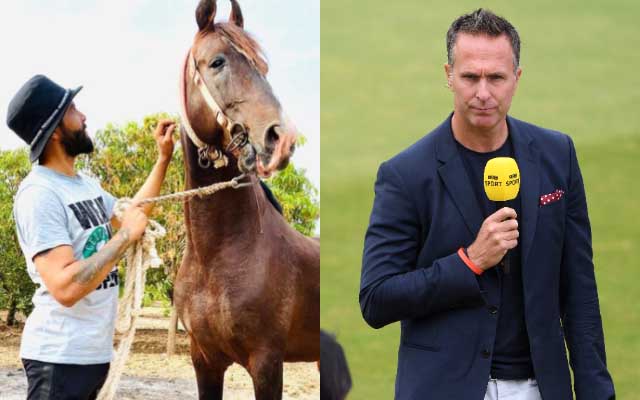 Former English captain Michael Vaughan truly admires the star Indian all-rounder Ravindra Jadeja. Vaughan, who is quite active on social media, has often shared tweets on his official Twitter handle praising Jadeja. On Sunday, May 16, the veteran again made headlines as he reacted to one of Jadeja's Instagram posts. 
It is no secret that the Indian all-rounder loves his horses. Jadeja has a special liking for horses and horse riding. On Saturday, the spinner introduced the fans to his entertainer as he shared an adorable snap with his horse. The 32-year-old captioned the picture as, "My 22acres entertainer".
View this post on Instagram
The post by the all-rounder quickly went viral on social media as the netizens showered love on the post in the form of likes and comments. The picture also caught the attention of Micheal Vaughan as he reacted to the post with three heart emojis.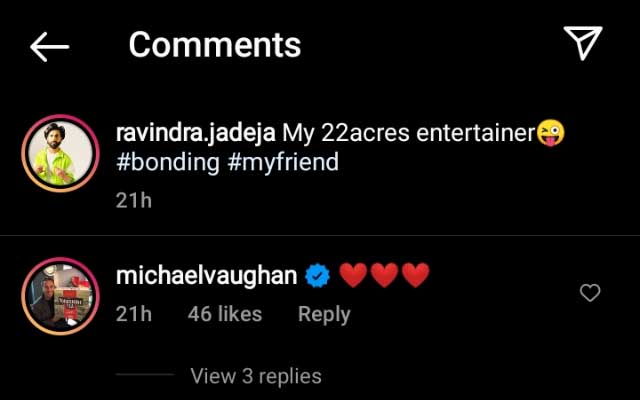 Vaughan's fondness for Ravindra Jadeja came into the limelight after the English star slammed the Board of Control for Cricket in India (BCCI) for not awarding a central contract to the all-rounder. In April 2021, BCCI released the list of central contracts, and like every year, three players including the likes of skipper Virat Kohli, Rohit Sharma, and Jasprit Bumrah were awarded an A+ contract.
Meanwhile, Jadeja found a place in the A contract list and the same didn't go down well with Vaughan as in a series of tweets, he backed Jadeja to get the same pay as the Indian skipper. 
If Kane Williamson was Indian, he would be the greatest player in the world: Michael Vaughan
Michael Vaughan has a knack for staying in the news columns as time and again the former skipper comes with statements that manage to create havoc in the cricket fraternity. Vaughan again became an easy target for angry Indian fans as he gave a huge statement while drawing comparisons between Virat Kohli and New Zealand skipper Kane Williamson.
In an interview, Vaughan claimed that Williamson would have been the greatest player in the world if he was an Indian. The veteran also reckoned that people praise the Indian skipper on social media just to get a few likes and comments.
"If Kane Williamson was Indian, he would be the greatest player in the world. But he's not because you're not allowed to say that Virat Kohli is not the greatest, because you'd get an absolute pelting on social media. So, you all say Virat is the best purely to get a few more clicks and likes, few more numbers following here. Kane Williamson, across formats, is equally the best," Vaughan said.
Watch famous cricketers who turned politicians: