Mitchell Johnson argues that batsman should be given out LBW even if ball pitches outside leg stump
Johnson said with reverse sweeps and flicks becoming common in Tests, the law must be changed.
Updated - Dec 15, 2019 6:33 pm
1.4K Views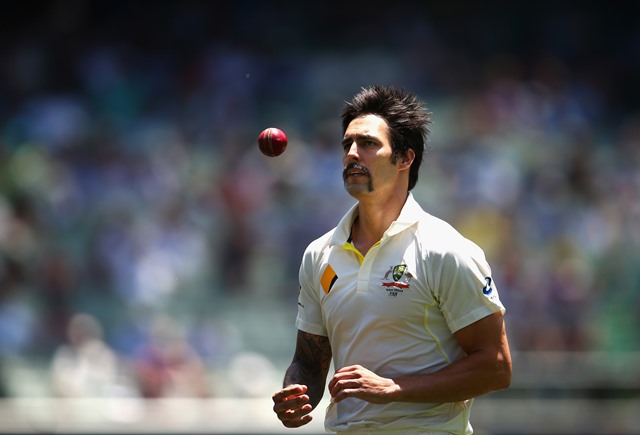 Follow us on Telegram
The rules of cricket have been set by the Marylebone Cricket Club (MCC) in early 1744 and have been changed according to times since 1788, with the Laws being recorded six times with the second version of 2017 Laws coming into force on 1st April 2019. The MCC retains the copyrights of the Laws and makes changes, however, it is done after close consultation with the ICC and other interested parties such as the Association of Cricket Umpires and Scorers.
One of the rules that the bowlers have been arguing about is Law 36, which deals with the Leg Before Wicket dismissal. The Law reads," If the ball hits the batsman without first hitting the bat, but would have hit the wicket if the batsman was not there, and the ball does not pitch on the leg side of the wicket, the batsman will be out.
However, if the ball strikes the batsman outside the line of the off-stump, and the batsman was attempting to play a stroke, he is not out." The point of contention here is bowlers argue that batsmen should be given out even if the ball is pitched outside leg stump.
Mitchell Johnson argues for LBW Law to be changed
Former Australia pacer Mitchell Johnson has been doing commentary for the ABC Grandstand along with veteran commentator Jim Maxwell. The two had a lengthy discussion about how with the changing times, the LBW law must also change and include batsmen to be given out LBW if the ball pitches outside leg stump, but goes onto hit the stumps.
Jim Maxwell, a legend of ABC sports, who was partnering Johnson on the commentary duties, explained to Johnson why the batsmen are not given LBW if the ball pitches outside leg stump, a law which stems from the history of the game when leg-side play was not seen as something classic.
He mentioned that Ranjitsinghji was the first batsman to popularize the leg side play, but the law remained the same. Johnson said with reverse sweeps and flicks becoming common in Tests, the law must be changed.
Maxwell then asked if Johnson felt that the change might bring in unattractiveness and negative bowling in the game, if LBW can be given on balls pitching outside leg stump, with left-arm seamers, leg-spinners and left-arm spinners bowling outside leg-stump and boring the spectators. However, Johnson was rigid in his stand about change in LBW laws, despite some good arguments from Maxwell.
Here is the conversation between the two:
🤔🏏 Here's something to ponder over the lunch break.
Mitchell Johnson thinks the LBW rule should include balls that pitch outside the leg stump. Do you agree? #AUSvNZ @jimmaxcricket pic.twitter.com/pXo0vtnMot

— ABC Grandstand (@abcgrandstand) December 15, 2019
Follow us on Google News