MS Dhoni is one of all-time Dadas of the game: Ravi Shastri
Updated - Oct 26, 2016 2:09 pm
477 Views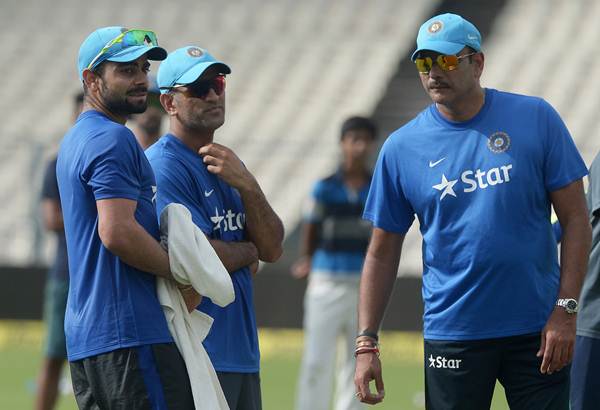 MS Dhoni's most famous move up the order came in the 2011 world cup final and the importance of that move can't be understated as the reason behind the presence of the world cup trophy and BCCI's gallery of achievements.
In the 3rd ODI of the ongoing series between India and New Zealand, Dhoni did the move once again and habitually took the game away from the opposition. Ex-team director, Ravi Shastri speaking to Mumbai Mirror about the move, said that it was "long overdue"
Shastri tactically pointed out that the best finisher in the cricketing game comes in at No.4 instead of his usual No.6 position, "It gives him more time to adjust to the playing conditions and match situations. Like he himself said, it allows him to play the big shots earlier than normal. Dhoni at No 4 can do what he used to do at No 5 and 6 without taking risks. There are others at the back, who can do the finishing."
When asked if the move is because of the fact that Dhoni on recent occasions has faltered while coming agonizingly close to the finish line which made the defeat ever so bitter for the fans, "Once he is in, he will close the game quicker than anyone. He might have taken 30 balls for the first 10 runs, but by the time he reaches 60/70, he and Virat (like in the 3rd ODI) were going at same speed. No 4 is the ideal position, ideal, because he puts a little more responsibility on himself. "
Shastri claims that while the move was being discussed for a long time, "It has always been a question of him making up his mind. Now with Suresh Raina not in the side, there is all the more reason for him to go."
Shastri staunchly believes that a man like Dhoni is above the meddlesome criticism from people who are yet to get an understanding of the game of cricket. "Critics, what critics and who they are for him to silence? They can take a walk to have their chai-pani. He is one of all-time Dadas of the game. If you talk one-day cricket, the first name that will ever come to mind is MS Dhoni."
He believes that the kind of form in wicket-keeping that Dhoni is displaying right now is proof enough that he is in his best shape and as of now, is irreplaceable in the side. "First find someone who is good enough to tie his shoe laces. Where is the question of anyone replacing him?"
"He has got the fastest hands in the east and he has got the hands faster than a pickpocket," Shastri concluded.