MS Dhoni's cold-blooded focus took Chennai Super Kings to victory: N Srinivasan
CSK was suspended by the RM Lodha committee for two years from taking part in IPL 2016 and IPL 2017.
Updated - Nov 10, 2019 2:58 pm
2.7K Views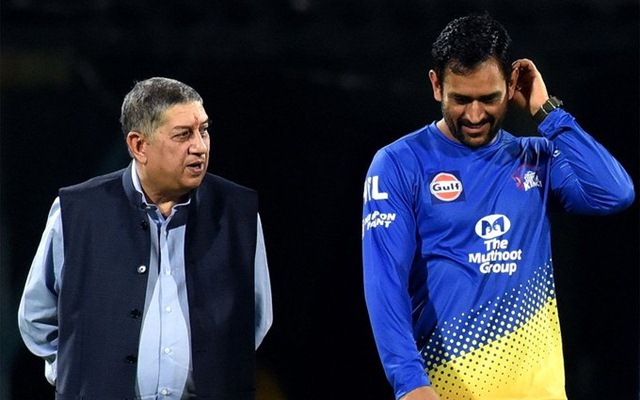 Chennai Super Kings is one of the most successful teams of IPL. They are one of the rarest franchises that got the privilege in order to play in the playoffs in every season they featured. They also got suspended by the RM Lodha committee for a period of two years from the league. But, CSK marked their return with a title win in 2018 followed by the final that they played in the previous season.
The Chennai-based franchise is led by MS Dhoni, who is regarded as one of the best skippers across the globe. They have won three IPL titles under his captaincy. During a lecture, N Srinivasan, the owner of CSK franchise and former President of BCCI, hailed the former Indian skipper and players of the team for their cold-blooded focus.
MS Dhoni and players dealt with everything on their merit: N Srinivasan
On Thursday, Srinivasan addressed students in an event organized by IIT Madras and explained the success story of his team. During the lecture, he said that CSK was hit with turbulence as it got suspended for two years. Later on, they remained successful in making a commendable come back into the league by winning the title. As per him, it can happen with anyone but, everyone along with MS Dhoni and other team players dealt with it on their merit. In the end, their cold-blooded focus led us to victory.
"Chennai Super Kings was hit by turbulence with two- year ban and staged an ultimate comeback in 2018. Turbulence can hit anybody. But Dhoni and Chennai Super Kings dealt with it on merit and with cold-blooded focus took us to victory," CSK owner said during his lecture as quoted by Times of India.
The 74-year-old also recited that everyone should deal with the matters on realistic grounds. And, if anyone wants success then having strong determination and working hard are the essential parts of it that should be brought under the work.
"There is turbulence every time and it can hit any individual, corporate, politics or party and any sphere. Do not challenge the shadows, lead by example, one wrong decision will put you back by 20 years. You need to sense the reality and deal with it factually. Determination and hard work are the essences of success," he added.
[interaction id="5dad6c5d7bf76bf418bf701c"]