MS Dhoni's hairstylist Sapna Bhavnani turns bodyguard to escort him; video goes viral
She shielded Dhoni and escorted him out of the venue without any fuss.
Updated - Feb 20, 2020 12:15 pm
2.1K Views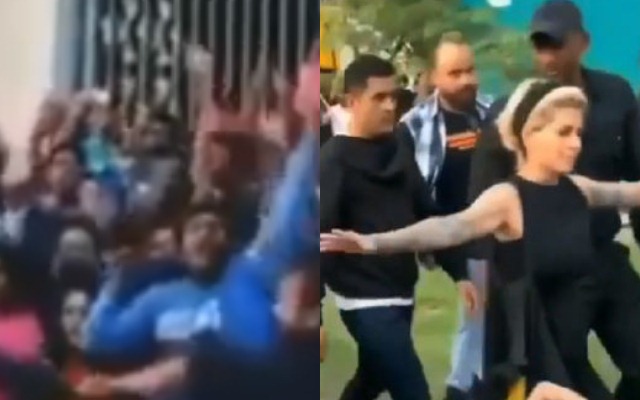 There's no doubt about the fandom of MS Dhoni, the Indian wicketkeeper. Though he hasn't played any cricket since the 2019 World Cup back in July 2019, the love and admiration for him hasn't gone down by any stretch of the imagination. Whenever the crowd gets a glimpse of India's favourite son, they go berserk. The throng chants Dhoni's name, screaming their lungs out.
Amidst his sabbatical from cricket, Dhoni has been busy in some commercial commitments. The 38-year-old was recently spotted in Mumbai where he took part in an advertisement shoot. A large mob of fans gathered there to interact with the Jharkhand-born Dhoni. The fans shouted Dhoni's name.
In the meantime, Sapna Bhavnani, Dhoni's hairstylist, had to play the role of a security guard. She shielded Dhoni and escorted him out of the venue without any fuss. She then shared the video on Instagram where the veteran can be seen, surrounded by a large number of excited supporters.
Here is the video
India await Dhoni's return
Dhoni was last seen on the field when Martin Guptill ran him out in the semi-final of the 2019 World Cup at the Old Trafford in Manchester. India lost the game to New Zealand and crashed out of the mega event in England and Wales. The Black Caps went on to lose the Final against England after the boundary count rule. Meanwhile, Dhoni served the Indian Army at the Kashmir Valley.
He missed the tour of the West Indies followed by the home series against South Africa, Bangladesh, Sri Lanka, Australia and the Caribbean side itself. He isn't there in the New Zealand tour as well. The enigmatic cricketer is set to return in the 2020 edition of the Indian Premier League (IPL). There he represents the Chennai Super Kings (CSK), the three-time champions of the T20 tournament.
In Dhoni's absence, India have been grooming the likes of Rishabh Pant and Sanju Samson, bearing in mind the T20 World Cup in Australia. For the time being, it's yet not known whether Dhoni is in contention for a berth in the T20 championship. In recent time, he has been spotted at various places, enjoying his heart out.