N Srinivasan hits out at journalist who questioned him after BCCI meeting
Srinivasan, who dodged various questions, said he was "happy after BCCI meeting. Everything was unanimous."
Updated - Sep 27, 2017 3:10 am
125 Views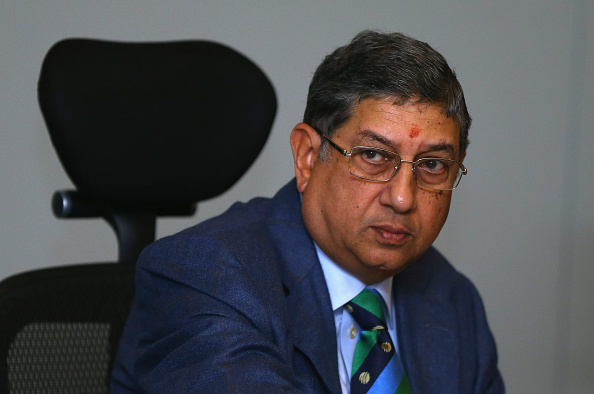 The Board of Control for Cricket in India (BCCI) held its Special General Meeting in Mumbai on Monday, along with the board members the Committee of Administrators (CoA) were also present in the meeting. The main agenda of discussion was the implementation of the Lodha Committee's recommendations. Amidst all that N Srinivasan, the tainted former BCCI president also made it to the meeting as a representative of the Tamil Nadu Cricket Association (TNCA).
Though he cannot hold office for any cricket association as per the Supreme Court's ruling, he is a member of the TNCA's executive committee and they nominated Srinivasan to be the association's representative at the SGM. After attending the meeting, the former BCCI president hit out at a scribe for asking him in what capacity he attended the SGM of the cricket board.
Angry Srinivasan
"Where are you from, which channel," Srinivasan questioned a reporter when he asked him in what capacity he attended the board's SGM. To which he replied angrily, "I congratulate you, you just now made me (to) shut up". When the scribe again asked the same question, Srinivasan said, "Better right (capacity) than you have to ask me".
Srinivasan, who dodged various questions, said he was "happy after BCCI meeting. Everything was unanimous".
Other Member's on Srinivasan's presence
"A notice for a meeting is a notice and it says all member units of the BCCI are invited to attend. Who comes or not from state associations, I did not have to examine," Choudhary said when asked about Srinivasan's presence.
The BCCI on Monday decided to form a committee for analysing how "best and quickly" the principal Supreme Court order can be executed. The two hour and 45-minute long SGM, which had Srinivasan in attendance, did not take any decisive call as requested by the COA during a meeting with state units on Sunday.
While the BCCI interpreted the SC order in a way that suggested Srinivasan and Niranjan Shah were eligible to attend the meetings, there may be repercussions when the attendance register for the meeting is presented to the Supreme Court.
Srinivasan past records
Srinivasan is 72 and stands disqualified to be an office-bearer as he is over the 70-year age limit recommended by the Lodha panel.
He is a former BCCI president, and ICC chairman has stepped down as the TNCA president but continues to be a member of the association's executive committee in his capacity as a representative of Perambalur District Cricket Association.