Navjot Singh Sidhu accepts Imran Khan's invitation to visit Pakistan
Sidhu had also visited Pakistan for Imran's oath-taking ceremony.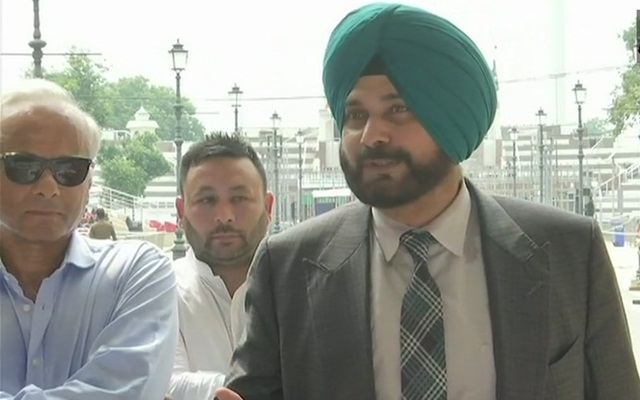 Recently, India and Pakistan both mutually agreed to build the Kartarpur Border corridor. Once constructed, the corridor will make it convenient for the pilgrims to worship at Gurdwara Nankana Sahib during the 550th birth anniversary of Guru Nanak Dev. Former Indian cricketer Navjot Singh Sidhu has been invited to attend the foundation ceremony by his close friend and Pakistan Prime Minister Imran Khan.
Earlier he had also visited the country for Imran's oath taking ceremony which was subject to mixed reaction and some criticism by the Indian media. Speaking to the media, Sidhu confirmed the same, he showered praises on the Pakistani Prime Minister for his wonderful gesture. He said that he is looking forward to visiting Pakistan again.
He felt it was a great move to strengthen the relationship between the two countries. While the event will take place at the Pakistani border on 28th November, the foundation will be laid on 26th November from the Indian side.
"All the formalities related to my visit have been done with. The visa is ready and I am about to submit my passport. I am so happy. I don't have words to express my joy. Whatever was lost in 1947 will now get compensated. I am really grateful to the governments of both nations. Especially Imran Khan. He is such a learned man. And sorted. He knows the value of these things," the Punjab cabinet minister said.
What hadn't been possible in 75 years has happened in last 3 months
Sidhu had accepted the invitation for Imran's oath-taking ceremony and felt that it was the starting point of improving the relations between the countries. He further termed it a historical move.
"That is why I went there in August. My hug worked. The opening of the corridor will bring the two nations closer. What hadn't been possible in past 75 years has happened in the last three months." Sidhu was quoted as saying by India Today.