New Motera stadium to have 3 types of pitches, confirms GCA vice-chairman
The old structure had a capacity of just 53,000 while the new one will have a capacity of a staggering 1,10,000.
Updated - Dec 4, 2019 11:34 am
2.9K Views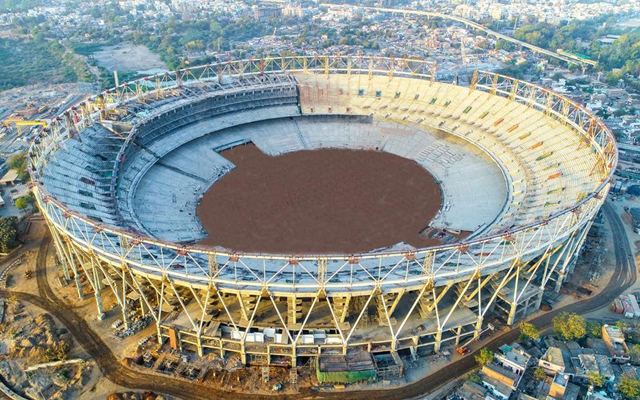 Follow us on Google News
All set to be finally reopened in March 2020, the Motera Stadium in Ahmedabad will be the best cricket stadium in the world as far as infrastructure is concerned. The famous stadium has not hosted any international game since November 2014 and has been under reconstruction since 2015. By the time it would be opened again, it will replace Melbourne Cricket Ground as the largest cricket stadium in the world.
The old structure had a capacity of just 53,000 while the new one will have a capacity of a staggering 1,10,000. The stadium is being built at a cost of Rs 700 crore by Larsen & Toubro (L&T). The Motera stadium has a special place in cricket history. It was the same stadium where Sunil Gavaskar became the first batsman in history to go past 10000 Test runs in 1987. Seven years later Kapil Dev broke Richard Hadlee's wicket tally of 432nd test wicket-record. Before being demolished, the old stadium had hosted  12 Tests and 24 ODIs between 1983 and 2014.
Different kind of pitches:
The Gujarat Cricket Association (GCA) is leaving no stone unturned to make sure that the Motera Stadium becomes one of a kind in the world. And one of the steps taken by the association towards that is there will be as many as three different kind of pitches in the stadium so that both pacers and spinners can feel at home. According to Indian Express, the GCA  is bringing both red and black soil to prepare three kinds of pitches within the new stadium.
"GCA is preparing 11 cricket pitches at the world's largest cricket stadium…Some pitches will be prepared with red soil, while some will be with black soil and some may have a mix of both. There will be bouncy as well as spin-friendly pitches along with sporting pitches based on the requirement," said Dhanraj Nathwani, Vice President of GCA.
He also added that the stadium will have excellent 'sub-surface' drainage facilities that will help the out-field to dry out within 30 minutes of rains.
"We have planned a sub-surface drainage system in such a way that the entire ground will dry within 30 minutes after the rain stops. It will help us reduce the chances of cancellation of matches due to rain," Nathwani added.
BCCI president Sourav Ganguly has already revealed the grand plans the board has in place for the opening of the stadium. Earlier this week, the former India skipper confirmed that a game between Asia XI and World XI will be the first game at the stadium.
Follow us on Telegram