New Zealand vs Bangladesh: Jimmy Neesham robbed of six runs by the umpire for a bizarre reason
Neesham scored 37 runs off 24 during his stay in the middle.
Updated - Feb 21, 2019 12:42 pm
3.9K Views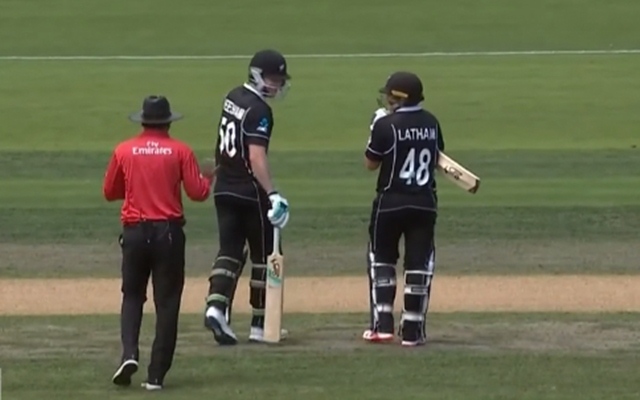 Jimmy Neesham and Virender Sehwag have two things in common. First, they let their bat do the talking. Second, they are loved for their humour on social media. Not just on the web, Neesham has been an entertaining on the field as well. This time around, though, he was at the receiving end of a bizarre incident.
In the third game of the series between New Zealand and Bangladesh, Jimmy had to deal with a joke when the on-field umpire called the first ball of the 43rd over a dead-ball. With Bangladesh struggling to avoid a 0-3 situation, they bought in Mustafizur Rahman in the death overs to restrict the opposition to a few runs. But the umpire was not prepared for it.
Unaware that the umpire didn't know he was going to bowl, Mustafizur steamed in and bowled a short ball which Neesham stood tall and pulled sensationally for a flat six. The fielder tried to take the catch, but the ball was hit very hard and there was no scope for a catch. However, the umpire Wayne Knights had already deemed it a dead ball when Mustafizur was about to deliver the ball.
Upset Neesham checked with the umpire
Jimmy Neesham, upset with the same, went towards the umpire to check why it was declared a dead ball. During that time, Ross Taylor was having a chit chat on the mic with Mark Richardson on the side of the ground, and impressed with the six said, "Nice Shot". Richardson, however, corrected him by saying it was a dead ball and the six runs wouldn't be considered.
The Kiwis beat Bangladesh by 88 runs in the game and 3-0 in the series. Tim Southee was given the Man of the Match for his six-wicket haul. As for Neesham, he scored a 24-ball 37 before being dismissed by the same bowler eventually.
Here's the video: