New Zealand vs India: Hardik Pandya makes a mess of DRS to save Kedar Jadhav
One embarrassing moment during the Indian batting came when Hardik Pandya made a mess of a review.
Updated - Jan 31, 2019 2:44 pm
156 Views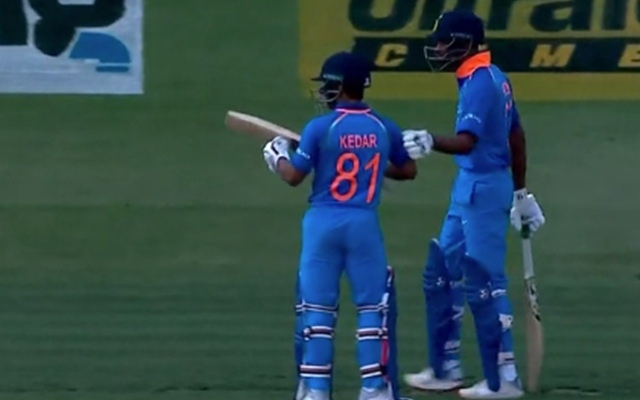 India were in for a complete shock in the fourth ODI of the ongoing five-match series against New Zealand at Seddon Park in Hamilton on Thursday. After Black Caps skipper Kane Williamson won the toss and sent the visitors to bat, their experiment with the bench strength came a cropper.
After the seasoned opening pair of Rohit Sharma, who is captaining India in the game, and Shikhar Dhawan put up 21 runs, the Men in Blue lost their remaining 9 wickets for just 71 runs, thanks to the carnage by pacer Trent Boult. The Kiwi opening bowler took 5 wickets for 21 runs in 10 overs to send India, who have already won the series, packing.
India were without the service of three of their frontline players – regular captain Virat Kohli, wicket-keeper Mahendra Singh Dhoni and pacer Mohammed Shami – all of whom are in prime touch. The visitors played Shubman Gill in the game though the talented youngster could manage only nine in 21 deliveries before getting caught by Boult off his own bowling.
India lost wickets in a heap after their opening partnership was broken to reel at 55 for 8 before the two spinners – Yuzvendra Chahal (18 not out) and Kuldeep Yadav (15) added 25 runs for the ninth wicket. Besides Boult, Colin de Grandhomme took three wickets as the Kiwis' second-most successful bowler in the innings.
Boult clearly traps Jadhav in front of the wicket
One embarrassing moment during the Indian batting came when Hardik Pandya, who made an impressive return to the team in the last game, made a mess of a review. It was in the 14th over when Kedar Jadhav was batting on 1 with Pandya on the non-striker's end with no score to his name yet.
Boult, who was breathing fire, was the bowler and he bowled a ball which was a touch fuller than the length and hit the batsman on the front pad after a late inward swing. The fielders went up in appeal and umpire Nigel Llong gave it out. Pandya at this moment advised his partner in trouble to go for the DRS probably thinking that Jadhav's short stature would help him escape.
But the third umpire Shaun George made a thorough checking of all aspects and HotSpot and RTS confirmed that the only way the ball was heading to was into the stumps and also there was no edge involved. He upheld the field umpire's decision and Jadhav had to leave despite his partner's ambitious thinking. India were reduced to 35 for 6.
Watch the video