'One six can make 1.3 billion Indians so happy'- Shoaib Akhtar on Sachin Tendulkar's iconic six in 2003 World Cup
Sachin Tendulkar smacked that iconic six against Shoaib Akhtar in Centurion.
Updated - Apr 18, 2020 8:54 pm
4K Views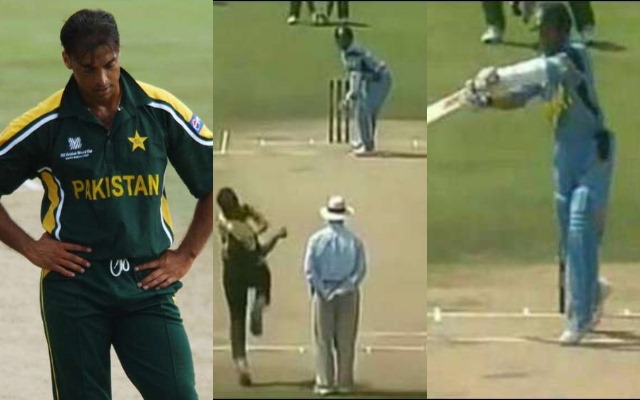 Follow us on Google News
Shoaib Akhtar, the former pacer recalls the instance when Sachin Tendulkar smacked an iconic six against him in the 2003 World Cup. The former pacer has opened up with his opinion over the same and feels that he can concede that six on every day in order to bring smiles on the faces of billions of cricket fans across the globe.
The 44-year-old was one of the quickest bowlers during his days. Moreover, he dominated batsmen for more than a decade while donning the national jersey. He was a menacing fast bowler, who used to bowl above 150 km/hr and it was one of his biggest weapons. But, sometimes he had to face the repercussions due to his pace as a few batsmen used to try and get their timing well against him in order to score boundary instead of using their muscle power.
Shoaib Akhtar recalls the memory of Sachin Tendulkar's iconic six from 2003 World Cup
The same happened in the 2003 World Cup when Akhtar bowled a delivery at speed of 151 km/hr against Sachin Tendulkar, who played a lofted stroke over the third-man area for a mighty six. In that game, the former Indian opener helped Team India in winning the crucial encounter on the back of his 98-run knock.
Recently in a live Instagram session with Zainab Abbas, Rawalpindi Express recalled the memory of that iconic six smacked by Master Blaster in the World Cup. He said that Sachin Tendulkar smacked him for a six in Centurion. And, they keep showing the same again and again. The 44-year-old added that if he knew that maximum will make 1.3 billion fans happy then he would have conceded six every day on the cricket field.
The former pacer recited that Sachin Tendulkar is one of his close friends, who is a very gentle, kind and humble personality. As per him, he is one of the best batsmen in cricket history. He added that he might have dismissed him at least 12 or 13 times.
"He hit me for a six in Centurion, which makes India very happy. They keep showing the same six. If I knew that one six can make 1.3 billion Indians so happy, I would have conceded a six every day. Sachin has been a very, very close friend of mine, he's a tremendous guy, very humble. He's been the greatest batsman, but I might have dismissed him 12-13 times in matches," Akhtar said during an interaction with Zainab Abbas on an Instagram live," he added.
Follow us on Telegram