Opinion: Who should be India's 3rd seamer on Australia tour?
Decisions galore awaits India!
Updated - Feb 12, 2021 12:57 pm
776 Views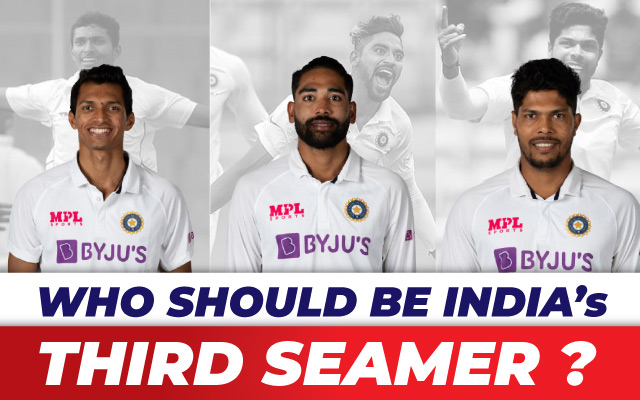 In recent years, India has assembled a formidable pack of fast bowlers that consistently dominates regardless of the conditions. The likes of Jasprit Bumrah and Mohammed Shami are bowlers who can single-handedly topple batting lineups with ludicrous ease. However, India's two exhilarating speed-stars would unable to weave their magic without the presence of Ishant Sharma. His unwavering grit and determination on docile pitches and his priceless experience is the glue that allows Bumrah and Shami to weave their magic.
His unfortunate absence in the Australia series (due to a side strain) leaves a gaping hole in India's pace bowling attack. Or it could be perceived as an opportunity for his replacement to make a mark on a crucial series. Mohammed Siraj, Navdeep Saini and Umesh Yadav are the candidates all vying for the coveted spot. All of these bowlers provide immense potency in their varying fortes yet they still possess subtle flaws. Hence the question remains unanswered: who should be India's 3rd seamer?
Navdeep Saini
Despite his underwhelming white ball displays in international cricket, Navdeep Saini has done enough to be selected in the Indian Test squad for the Australia series. He has now been touted as a candidate for the role of 3rd seamer.
Pitches in down under are often ridiculously flat and the kookaburra ball you find there is wholly in-conducive to swing. The only form of assistance for the bowlers is the searingly steep bounce that only a few can utilize effectively. Those who do often become the difference between success and failure.
Navdeep Saini could be part of that select "few" as he could take advantage of the prodigious carry on offer with his high release point and ability to bowl north of 140 kph. In addition, he is gifted with an impeccable seam position that allows him to extract considerable seam movement from any pitch.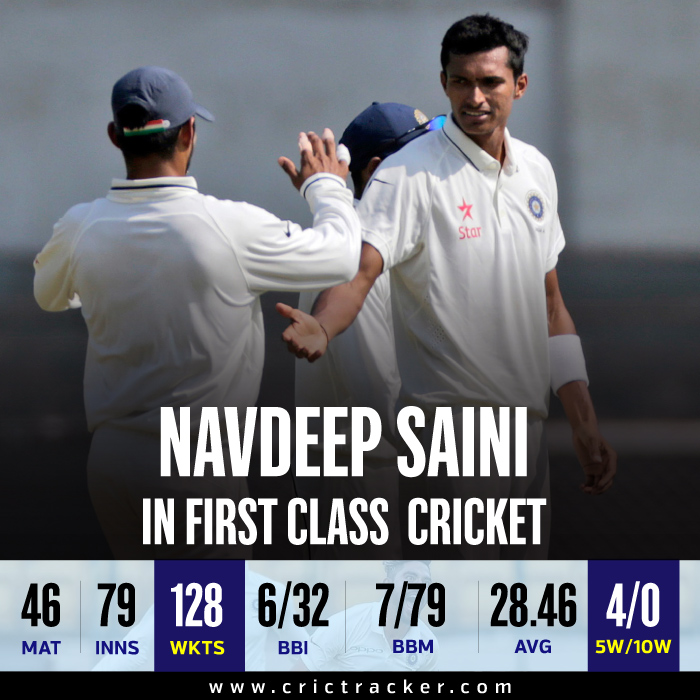 However, contrary to common belief, these traits are not the sole factor to success in Australia. It is beyond imperative to have an impeccable understanding of the optimal length that you required to bowl to extract consistent wickets. Too short or too full can end in disaster due to the unforgiving flatness of pitches in down under.
In addition, accuracy is a crucial quality for a third seamer. They are often required to play a holding role to apply pressure so that the team's premier bowlers can capitalize wholesomely on. This is something that is criminally understated, especially on Australian pitches.
Saini has not yet obtained that level of metronomic control hence he could be reduced into mere cannon fodder on wayward days. India can't afford to have their 3rd seamer leaking runs as it heaps pressure upon Bumrah and Shami to bowl defensively, a catastrophe for India and a blessing for Australia.
Despite impressing in the ongoing tour match, Navdeep Saini is far too inconsistent to meet all the criteria of an effective 3rd seamer despite all his undeniable talents.
Also Read
Mohammed Siraj
Mohammed Siraj is mostly known as a frustratingly expensive bowler in IPL cricket. Because of this, his immense red ball pedigree has often gone under the radar despite his exemplary performances. However, his laudable quality has been rewarded with a place on India's Test tour to Australia.
Siraj's class is evident in his first-class bowling average: a superlative 23.22. Only a fast bowler with relentless accuracy and countless skill would be able to obtain such ridiculous figures.
There are obvious limitations to this assessment; it is no certainty that Siraj will be a success for India just because of his domestic record. The standard of international batsmen is multiple tiers away from the state players in India. However, this does not mean it would be unreasonable to suggest that Siraj could be a threat against Australia. Obtaining countless quantities of wickets in the mostly spinner-friendly conditions of India is a feat to be reckoned with.
The typical 80 mph dibbly-dobbler is the perennial languisher in Australia as their style of bowling is rendered ineffective to say the least. However, this shouldn't be the case for Siraj. Many are forced to sacrifice pace for accuracy (or vice versa) but he is capable of delivering sharpish levels of speed while maintaining his consistent relentlessness in the fabled "corridor of uncertainty".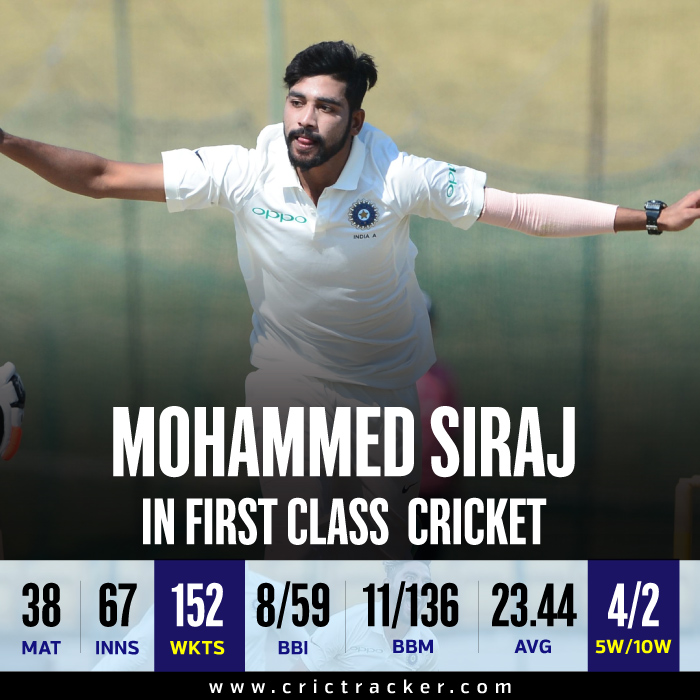 This moves us on nicely to another one of Siraj's qualities: versatility. As he is an exponent of both speed and accuracy simultaneously, he can perform a plethora of different roles to an excellent standard. This allows Bumrah and Shami to bowl in their most suited situations hence maximizing the influence the duo can have on a series. Siraj's versatility could be the key for India when they are in dire need of a broken partnership.
However, Mohammed Siraj's inexperience could be costly in high-pressure situations. He could potentially be overawed by the sheer enormity of the series and morph into a mere shadow of his former self. While this may seem an unfair judgment, it is flaws as minute as this that could decide a promisingly competitive series.
Are India ready to take a gamble with Siraj?
Umesh Yadav
By stark contrast to the other candidates, Umesh Yadav is an experienced customer in the harsh world of Test cricket. He has played 46 Tests while his rivals for the role of 3rd seamer have a collective tally of 0. His comparative bountiful of experience puts him in good stead for a place in the XI as his seasoned presence will eradicate the need to select Saini or Siraj and their potential debut nerves.
However, there is more than just plain experience to Umesh Yadav. In his 46 Tests, he has claimed 147 wickets at a commendable 30.47: these are some sublime figures. When he was in the absolute apex of his powers, Yadav was a tearaway quick who terrorized opponents with his exponential pace. His quickest ever ball was a terrifying 152.5kmh; that just epitomizes how rapid he was.
Over the years, his pace has gradually declined but his fast bowling IQ has increased immensely. Once raw and inconsistent, Umesh Yadav blossomed into a bowler of immeasurable skill and guile while still bowling at substantial speeds. This is evident in his dependable overall stats.
Umesh Yadav is desperately unlucky that the latter half of his career coincided with the rise of Bumrah and Shami, the cause of his drought of Test matches. Whenever he is handed the opportunity, he delivers admirably so it would be reasonable to employ him as 3rd seamer.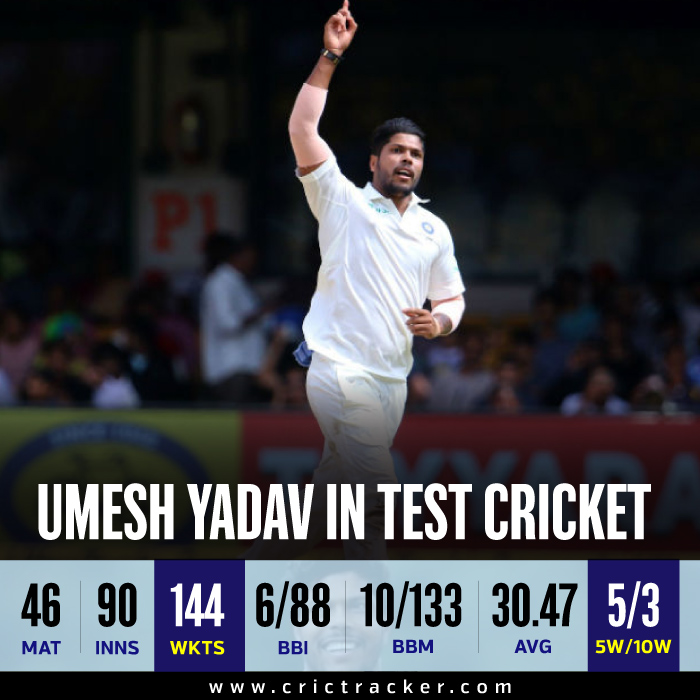 However, when you pick apart his career stats the answer looks far more vague. Yadav averages an unimpeachable 24.54 in India but an unsightly 42.33 away. Even worse, he averages an abysmal 45.85 when playing in Australia. It is simply baffling to see why Yadav is so effective in Indian conditions but harmless away. Surely it should be the other way round!
In summary, Umesh Yadav is understandably the front runner for replacing Ishant Sharma. Despite this, India will be contemplating whether his appalling results in Australia will be indicative of worse things to come. As for Siraj and Saini, we will have to wait and see whether India will play 4 seamers for the Adelaide pink-ball Test. This will provide an invaluable chance for one of them to knock Umesh Yadav off his pedestal.
Decisions galore awaits India!
Follow us on Telegram