'Players are not machines' – Rohit Sharma stresses on need of workload management amid pack schedule
India have rested a host of their first-choice players including Kohli, Bumrah and Jadeja for New Zealand T20Is.
Updated - Nov 16, 2021 10:52 pm
1.2K Views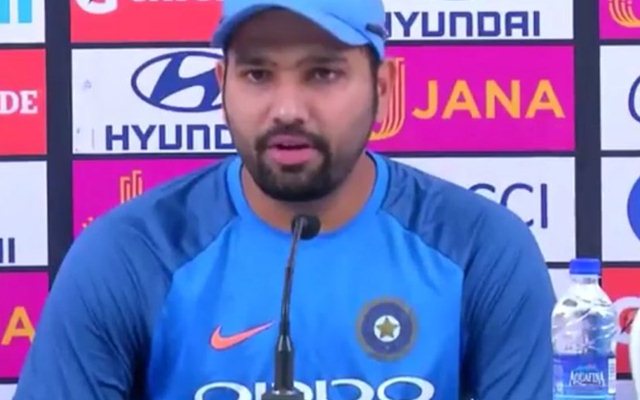 Follow us on Google News
India's newly appointed T20I skipper Rohit Sharma pressed on the need for rest for players amidst the jam-packed cricket scheduling. Rohit's comments come as India is set to play New Zealand for three T20Is and two Tests only days after the conclusion of the T20 World Cup in the United Arab Emirates.
New Zealand, for instance, played the World Cup final against Australia on November 14, before flying to Jaipur for the T20I series that goes underway from November 17, with subsequent encounters on November 19 and 21, as the preparations for the next T20 World Cup, scheduled in October-November next year in Australia, begins.
"Workload management is very important to us. Players are not machines. Taking time off is necessary," Sharma said at a virtual press conference on the eve of the Jaipur encounter against New Zealand. "Some players who have been playing for long need to be rested to remain fresh. We want all our boys to be mentally fresh for the challenges ahead."
India have rested a host of their first-choice players for the coming series, including Virat Kohli, Jasprit Bumrah, Ravindra Jadeja and Mohammed Shami after the team spent significant time in bio-secure environments away from family. To the end of missing personnel, New Zealand, too, have their captain Kane Williamson missing as he opted out of the T20Is to focus on the ensuing two-Test series.
India entered the T20 World Cup in the emirates on the back of a packed schedule. They played Australia from November 2020 to January 2021 in an all-format series before another all-format England series at home in February-March. Following that was the 2021 IPL, which commenced on April 9 but had to be postponed midway through in early May owing to the emergence of Covid-19 cases inside the bio-secure bubble.
In the time elapsed between IPL resumption in September this year, India played the World Test Championship final in June, which preceded the five-Test series against England from July to September. The fifth and final Test in Manchester was abandoned in the aftermath of Covid-19 cases in the Indian camp.
While that did give the players a brief breather, they almost immediately embarked on the second leg of the IPL that ran between September 19 to October 15. Only nine days later, on October 24, India played Pakistan in their T20 World Cup opener. Now, after hosting New Zealand, India will travel to South Africa for an all-format running between December 2021 to January 2022.
It was not surprising then that Indian head coach Rahul Dravid echoed Rohit's sentiments. "Workload management has become a crucial part of the game now because so much cricket is played these days," Dravid said.
"Like we see in football also, seasons are so long and some of the top players don't play all the games. So if we're playing throughout the year then we have to be careful about players' workload management. Whether we do it within the team or by giving them a break, that will depend on a case-by-case basis.
"But like I've said before, players' mental and physical well-being will be most important, we will work in and around that, the team will also take priority. So, it's a balancing act and we need to understand that we need to do this balancing act at a time like this and work towards getting everyone fit and ready for the big tournament," he added.
Follow us on Telegram