Would prefer to die before thinking about something close to match-fixing: Mohammed Shami
"I have also played with my heart, given more than 100% every time I walked on to the field," Shami said.
Updated - Mar 10, 2018 7:36 pm
4.5K Views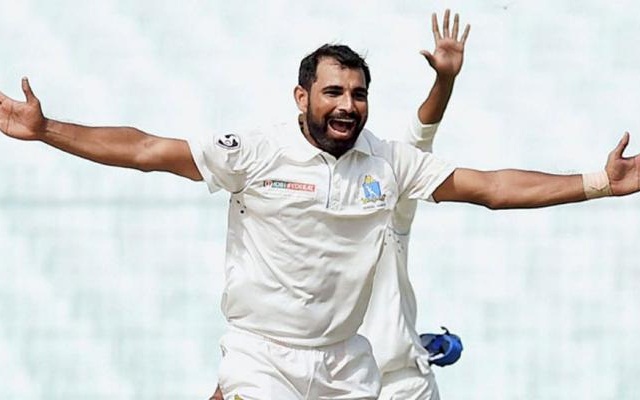 There were enormous allegations against him, from being the favourite bowler of the masses in the country Mohammed Shami now faces possible criminal proceedings. He is shocked and jittered but holds a firm stance. He continues to maintain that all the claims are false and he has nothing to hide.
In his first interview since the controversy broke, he talked to the same media house his wife Hasin Jahan used to break the news. Shami calmly made his point and stated that he'd rather prefer to die than cheat the nation as alleged by his wife who indirectly indicated that he accepted money to fix matches.
I am devastated
"I'm devastated, the allegations came as a shock to me, I will still stand as a wall to protect the image of my wife and daughter. I don't think anybody can understand what I'm going through right now. I can only hope that she understands my side of the story and resolves it," Shami told ABP News in an exclusive interview.
At this point, the focus of his attention is on ensuring the well-being of his family. He wants to be back with them as soon as possible and win back the trust.
"My only concern is the well being of my family. I want my family to be together at any cost. I will do all possible things to win their trust back," Shami added.
Worried about his daughter
He is very attached to his daughter and wants the two and a half year old to lead a normal life and not be affected by any of what is going on right now.
"Whenever I think about the allegations, my daughter's face comes up in front of me. I want her to be secured, I worry about her future, her well being. She is only 2 and half years old. If not anything else then I want things get back to normality for her" said a visibly emotional Indian pacer.
Despite the fact that she has been publically making claims that might as well hamper his cricketing career, Shami doesn't hold Jahan guilty. In his opinion, she is under someone else's influence and thus not able to realize what she is doing.
"I still don't hold her wrong. She is under someone's influence and is being brainwashed. We often fought in the past but sorted it out as well," Shami said.
"Everything was fine. She bid me goodbye with a broad smile before I left for Dharamsala for the Deodhar Trophy. That's why it baffles me more. I want to know what happened it a matter of three-four days that she came up with such strong allegations, not only against me but also my entire family," he further added.
Waiting for the investigation
Jahan has continuously said that he met a Pakistani girl Alisbah in Dubai and she gave him money that was via Mohammed Bhai of the UK. To back the accusations she also released an audio of her telephonic conversation that she claims to be with Shami and can be heard confronting him about the entire matter.
To prove his innocence the cricketer said that he would want the authorities to launch an investigation into the matter and the truth should be out in front of the world.
"Whether it is me in the audio clip or not can be cleared later and it will be cleared once investigations are done with. If I had taken any money then it must reflect in my transactions. So  I would request everyone to wait for the investigations," Shami stated.
Would rather die than cheat the nation
Among the most serious allegations against him was that of match-fixing. He said that he respects the country more than anything and if it comes to it, would rather prefer to die than cheat the nation.
"I have also played with my heart, given more than 100% every time I walked on to the field. I have huge respect for security personnel guarding our border. I always think about their hardship. I would prefer to die rather before even thinking about something even remotely close to match-fixing."
After the matter broke out the Board of Control for Cricket in India (BCCI) withheld his central contract but Shami isn't concerned, he trusts the board and is assured things will be back to normal once he proves his innocence.
"I have full faith in BCCI. I'm not at all worried about the central contract. After reviewing everything, I will accept their decision." The 27-year-old stated.
Here is the interview with ABP News: