Quarantine Edition, Part 4: Where does Rohit Sharma fit among all-time ODI batsmen?
Rohit Sharma's ODI career numbers genuinely make a case of putting him among the all-time greatest batsmen in the format.
Updated - May 1, 2020 11:15 am
1.1K Views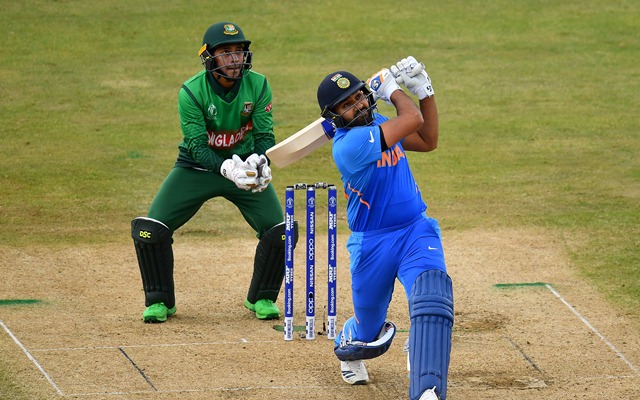 Follow us on Google News
19 centuries in the last three years, a batting average of 50+ in each of the previous 7 calendar years and three double centuries. Such numbers are more than enough for a player to be called the greatest batsman of his time but not in the case of Rohit Sharma. Playing in the era of Virat Kohli, who has impeccable numbers, has let the Indian opener remain at No.2 despite his efforts. Having Kohli on his very own side has made Rohit go under the radar on most of the occasions.
Currently, Rohit is decimals away from achieving 50+ batting average in ODI cricket for the first time and has got as many as 41 innings to score 885 runs and better Sachin in the list of quickest players to 10000 ODI runs. His career numbers genuinely make a case of putting him among the all-time greatest batsmen in the format. However, the Indian batsman has not received acclaim even in India as much as he deserves for his records and achievements.
One of the reasons could be the earlier part of his career which he spent batting in the middle-order. In 81 innings until the end of 2012, Rohit averaged only 30.43 and had a strike rate below 80. But things began to change at a rapid pace once he got the opportunity to open the batting for India. Sharma began to script new batting records and slowly turned into a six-hitting beast. Since the start of 2017, he scored nearly 4000 runs across just 70 innings at an average of 65.31 and by smashing a total of 127 sixes.
Rohit Sharma is currently averaging 58.11 in ODI cricket as an opener across 138 innings. He is the only player to average over 50 as an opener having batted at least 50 innings. However, one of the things which Rohit can improve in his career profile is his batting strike rate. For a guy who scored three double centuries in ODI cricket, a strike rate of 88.92 which raises to 92.26 if his numbers as an opener are only considered. Rohit, however, has the 4th best strike rate among the players who average 45+ after playing 150 ODIs.
The other 3 players ahead of Rohit are AB de Villiers, Virat Kohli and Sir Viv Richards. De Villiers and Kohli stand ahead of the rest when considering the sum of their average and strike rate. ABD and Virat's sum of average + strike rate reads 154.6 and 152 respectively. Rohit stands 5th in the list as his sum is 138.2 and is behind Shahid Afridi (140.58) and Virender Sehwag (139.39). But Afridi and Sehwag last less than 35 balls per dismissal in this format while De Villiers, Kohli and Rohit face 50+ balls per dismissal.
Follow us on Telegram