Quiz: How well did you follow Chennai Super Kings in IPL history?
CSK have qualified for the playoffs in each IPL season barring the last edition held in UAE.
Updated - Jun 25, 2021 5:06 pm
5.1K Views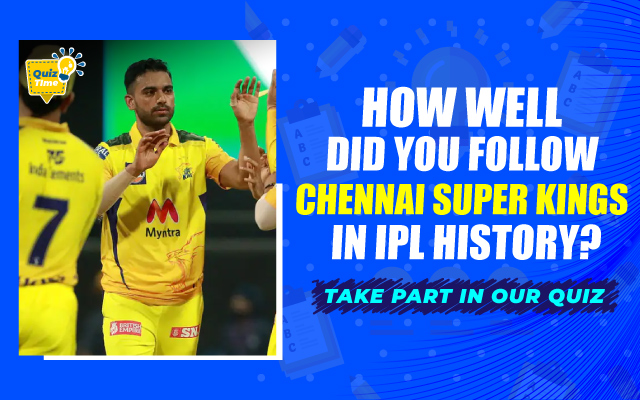 Chennai Super Kings are amongst the most successful teams in IPL history. They have won the IPL title thrice and have reached the final of the tournament most times (8). CSK have qualified in the playoffs of each IPL season barring the last edition held in UAE. The team made a grand comeback when they returned in 2018 after a two years ban. They won the trophy that season defeating Sunrisers Hyderabad in the finals.
In the inaugural edition of the IPL in 2008, CSK picked up MS Dhoni in the auctions and made him the captain of the side. The former Indian skipper took the team till the finals that year. They lost to Rajasthan Royals in the end in the last fall finish. Next year, CSK made it to the top 4 but lost to the RCB team in the semifinals that ended their campaign.
Try your luck on how well did you follow Chennai Super Kings in IPL history
IPL 2010 was the first time when the Chennai-based team won the trophy. They registered a 22-run victory against the Mumbai Indians in the final. The 2011 edition again brought smiles on CSK fans as the team won the second consecutive title. This time they defeated Royal Challengers Bangalore in the final match.
The Dhoni-led team reached the finals in 2012 and 2013 as well but ended up on the losing side on both occasions. They were defeated by the Mumbai Indians team in 2013 final, and by Kolkata Knight Riders in 2012 final. CSK had a similar fate again in 2015 final where they lost to the Mumbai-based franchise.
In the second qualifier of IPL 2014, CSK were chasing a big target of 227 runs and Suresh Raina gave them a perfect start. However, the team crumbled after the left-hander's wicket and lost by 24 runs in the end. The Chennai fans had to wait for two long years to see the team in the tournament as it faced a ban in 2016 and 2017.
The comeback in 2018 was quite enthralling for CSK as they went on to win the title when very few experts gave them a chance before the start of the season. They again made it to the finals in the 2019 season but could not cross the last hurdle against Mumbai for the third time in a row. IPL 2020 was the biggest disappointment for the team as they failed to qualify for the playoffs for the first time in league history.
If the quiz doesn't load, please click here
For all the latest IPL news, live scores, schedule, point table & updates, stay tuned to CricTracker.   
Follow us on Telegram