Ranji Trophy 2016-17: Round 4 Review
Updated - Oct 30, 2016 1:16 pm
72 Views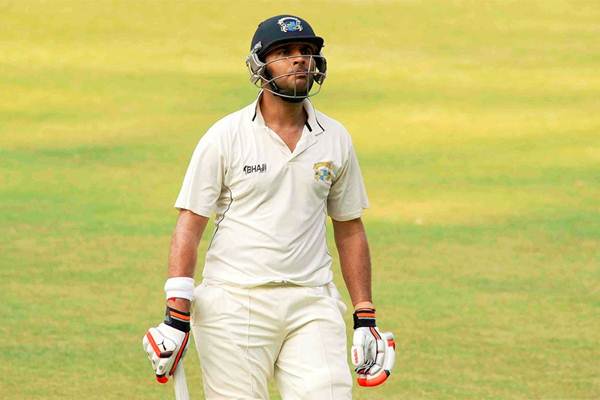 Follow us on Telegram
In Round 4 of the Ranji Trophy 2016-17 only 4 teams were able to grab an outright victory while most matches ended in tame draws. Railways were defeated by Bengal as their lead pacer Ashoke Dinda picked a five-wicket haul in both the innings to finish with a match haul of 10 for 112. But it was Yuvraj Singh who stole the limelight on the day with his 260-run knock which is now the highest individual score by a Punjab skipper in the Ranji Trophy.
The inning while in its own right was a gem but didn't have much of an impact on the outcome of the game as Punjab drew with Baroda as both the teams scored 529 and 670 runs in the only inning they played.
The other team that secured a win was Gujarat as they beat Suresh Raina less Uttar Pradesh side by 132 runs. Medium pacer Hardik Patel was the star for his team as he picked a seven-for in the second inning and had a total of 11 wickets in the match. Andhra and Karnataka also won their respective games.
In a group B contest, Delhi drew with Odisha but the positive for the team was the form of skipper Gautam Gambhir who scored a century and was dismissed only after scoring 147 runs. Pacer Ishant Sharma who was making a comeback in the game after recovering from chikungunya picked a three-wicket haul in the second inning and had a total of four in the game.
Here is how Round 4 of the Ranji Trophy 2016-17 panned out:
Brief Scores:
Tamil Nadu Vs Madhya Pradesh, Cuttack
Tamil Nadu: 555/7d (Kaushik Gandhi 157; Ashwin Das 3-111)
Madhya Pradesh: 273 (Devendra Bundela 93; Washington Sundar 3-22) & 222/5 (Shubham Sharma 77*; Aushik Srinivas 3-40)
Match drawn
Punjab Vs Baroda, New Delhi
Baroda: 529 (Deepak Hooda 293*; Sandeep Sharma 4-101) & 37/0 (Kedar Devdhar 20*)
Punjab: 670 (Yuvraj Singh 260, Manan Vohra 224; Swapnil Singh 4-169)
Match drawn
Some of the records broken by Yuvraj Singh during his knock of 260:
Yuvraj Singh innings came to an end:

260 in 370 Balls

Highest ever score by Punjab Captain in Ranji Trophy history!

— Broken Cricket (@BrokenCricket) October 30, 2016
Yuvraj Singh's 260 vs Baroda
+ 1st instance of opposing captains scoring 200+ in #RanjiTrophy (Deepak Hooda scored 293*) (2/3)

— Cricbuzz (@cricbuzz) October 30, 2016
Yuvraj Singh's 260 vs Baroda
+ 1st double century in #RanjiTrophy
+ Highest score in FC cricket for him
+ Highest by Punjab captain (1/3)

— Cricbuzz (@cricbuzz) October 30, 2016
Railways Vs Bengal, Dharamsala
Bengal: 205 (Sudip Chatterjee 85; Anureet Singh 4-66) & 214 (Manoj Tiwary 48; Karan Thakur 4-45) Railways: 105 (Karn Sharma 40; Ashoke Dinda 5-45) & 271 (Shivakant Shukla 83; Ashoke Dinda 5-67)
Bengal won by 43 runs
Uttar Pradesh Vs Gujarat, New Delhi
Gujarat: 347 (Chirag Gandhi 87; Imtiaz Ahmed 5-73) & 201 (SB Gohil 50; Kuldeep Yadav 6-79)
Uttar Pradesh: 241 (Samarth Singh 50; Hardik Patel 4-71) & 175 (Tanmay Srivastava 37; Hardik Patel 7-72)
Gujarat won by 132 runs
Tripura Vs Goa, Bhuvneshwar
Tripura: 283, 328/9 decl
Goa: 269, 328/8
Match drawn
Hyderabad Vs Himachal Pradesh, Guwahati
Himachal Pradesh: 36, 301
Hyderabad: 126, 200/6
Match drawn
Chhattisgarh Vs Kerala, Jamshedpur
Kerala: 207, 307/2 decl
Chhattisgarh: 187, 249/6
Match drawn
Jammu and Kashmir Vs Services, Jaipur
Services: 477
Jammu and Kashmir: 612/8
Match drawn
Haryana Vs Andhra, Mumbai
Andhra: 253, 220
Haryana: 103, 293/10
Andhra won by 77 runs
Assam Vs Karnataka, Mumbai 
Assam: 325, 264
Karnataka: 570/9 decl, 21/0
Karnataka won by 10 wickets
Jharkhand Vs Vidarbha, Kerala
Vidarbha: 105, 444
Jharkhand: 362/8 decl, 75/4
Match drawn
Delhi Vs Odisha, Mohali
Delhi: 495/8 Decl
Odisha: 237, 274/8
Match drawn
Rajasthan Vs Maharashtra, Hyderabad
Maharashtra: 461, 145
Rajasthan: 330, 4/0
Match drawn
Follow us on Google News