Ranji Trophy 2018-19, Round 1, Day 2: Round up
The game between Uttarakhand and Bihar ended within two days.
Updated - Nov 2, 2018 6:41 pm
366 Views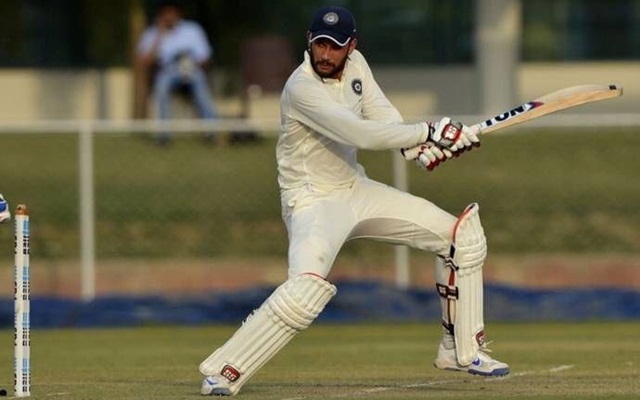 Follow us on Telegram
On Day 2 of the Ranji Trophy 2018-19 runs were scored and wickets were bagged across the board. For Group A, B and C, it was the battle of extending the leads as much as possible while a few other teams are in all sorts of trouble. In the Plate group, the matches are already heading towards a result.
The game between Uttarakhand and Bihar ended in two days with the former winning by 10 wickets. Sikkim's Milind Kumar, who was the star of day 1 with an unbeaten 202 added another 59 runs to his total. He was the highest scorer among all the teams with his knock of 261. Tripura's Bishal Ghosh and Nagaland's A Kazi were the other double centurions of the day.
Mumbai's Shivam Dubey, Saurashtra's Sheldon Jackson, Punjab's Sanvir Singh, Kerala's Sachin Baby, Haryana's H Rana, Uttar Pradesh's Akshdeep Nath are the players who registered centuries. Rajat Patidar from Madhya Pradesh missed out on a double century as was dismissed on 196.
Cheteshwar Pujara was back to the field on day 2 and went on to score 56 runs. Ravichandran Ashwin, who is currently representing Tamil Nadu picked a four-wicket haul for his team. Hanuma Vihari faced a rare failure and was dismissed for just 19 runs. Maharastra's SS Bachav registered figures of 3/3 which were the best of the day.
Brief Scores – Day 2, Round 1
Group A
Baroda vs Gujarat
Baroda, 1st Innings: 290/10 in 81.2 overs (Yusuf Pathan 69, Siddarth Desai 5/109)
Gujarat, 1st Innings: 264/6 in 92 overs (Rujul Bhatt 70*, Atit Sheth 3/37)
Maharastra vs Vidarbha
Maharastra, 1st innings: 343/10 in 105.5 overs (C Khurana 89, Lalit M Yadav 3/84)
Vidarbha, 1st innings: 120/10 in 44.5 overs (Wasim Jaffer 27, SS Bachhav 3/3)
Vidarbha, 2nd innings: 46/0 in 17 overs (Sanjay Ramaswamy 25*)
Railways vs Mumbai
Mumbai, 1st innings: 411/10 in 115.2 overs (Shivam Dubey 114, Harsh Tyagi 4/83)
Railways, 1st innings: 115/6 in 45 overs (A Ghosh 39*, Tushar Deshpande 3/29)
Saurashtra vs Chattisgarh
Saurashtra, 1st innings: 475/10 in 142.2 overs (Sheldon Jackson 147, Shahnawaz 4/97)
Chattisgarh, 1st innings: 88/0 in 32 overs (Sahil Gupta 51*)
Group B
Andhra vs Punjab
Punjab, 1st innings: 414/10 in 156.2 overs (Sanvir Singh 110, Bandaru Ayyappa 3/78)
Andhra, 1st innings: 54/3 in 26 overs (Hanuma Vihari 19, Mayank Markande 1/8)
Himachal Pradesh vs Bengal
Bengal, 1st innings: 380/10 in 116.1 overs (Manoj Tiwary 55, P Jaiswal 5/81)
Himachal Pradesh, 1st innings: 124/3 in 43 overs (Ankush Bains 79*, Ashok Dinda 2/25)
Kerala vs Hyderabad
Kerala, 1st innings: 495/6 d in 164 overs (Sachin Baby 147, Saaketh Sairam 3/110)
Hyderabad, 1st innings: 1/0 in 1 over (Tanmay Agarwal 1*)
Tamil Nadu vs Madhya Pradesh
Madhya Pradesh, 1st innings: 393/10 in 157.4 overs (Rajat Patidar 196, Ravichandran Ashwin 4/85)
Tamil Nadu, 1st innings: 0/0 in 2 overs
Group C
Jharkhand vs Assam
Jharkhand, 1st innings: 344/10 in 112.1 overs (Anukul Roy 80, Mukhtar Hussain 5/77)
Assam, 1st innings: 126/2 in 51 overs (G Sharma 49*, Varun Aaron 1/32)
Odisha vs Haryana
Odisha, 1st innings: 324/10 in 112.2 overs (Anurag Sarangi 114, Tinu Kundu 4/51)
Haryana, 1st innings: 239/3 in 65 overs (H Rana 113*, Rajesh Mohanty 2/36)
Rajasthan vs Jammu & Kashmir
Rajasthan, 1st innings: 379/10 in 109.4 overs (Chetan Bist 159, M Mudhasir 5/90)
Jammu & Kashmir, 1st innings: 186/7 in 62 overs (Parvez Rasool 47, Rahul Chahar 3/59)
Tripura vs Services
Tripura, 1st innings: 360/10 in 122.3 overs (Bishal Ghosh 201, Diwesh Pathania 4/79)
Services, 1st innings: 136/3 in 55 overs (A Gupta 62, Manisankar Murasingh 2/37)
Uttar Pradesh vs Goa
Goa, 1st innings: 152/10 in 35.4 overs (Darshan Misal 43, Shivam Mavi 4/25)
Uttar Pradesh, 1st innings: 473/3 in 139 overs (Akshdeep Nath 155*, Lakshay Garg 2/95)
Plate Group
Manipur vs Sikkim
Sikkim, 1st innings: 372/10 in 111.2 overs (Milind Kumar 261, Shelley Shaurya 4/39)
Manipur, 1st innings: 79/10 in 28 overs (Priyojit K Singh 30, Ishwar Chaudhary 4/37)
Manipur, 2nd innings: 123/2 f in 34 overs (Lakhan Rawat 62*, Bipul Sharma 1/15)
Meghalaya vs Arunachal Pradesh
Arunachal Pradesh, 1st innings: 166/10 in 64.3 overs (Samarth Seth 50, Gurinder Singh 5/50)
Meghalaya, 1st innings: 141/10 in 40 overs (Jason Lamare 70, Licha Tehi 3/31)
Arunachal Pradesh, 2nd innings: 104/6 in 41 overs (Kshitiz Sharma 41, Abhay Negi 3/29)
Nagaland vs Mizoram
Mizoram, 1st innings: 106/10 in 47.2 overs (T Kohli 49, A Kazi 4/16)
Nagaland, 1st innings: 530/8 d in 117.2 overs (A Kazi 200*, Moia 3/90)
Mizoram, 2nd innings: 16/2 in 10 overs (Michael Lalremkima 6*, A Kazi 1/3)
Uttarakhand vs Bihar
Bihar, 1st innings: 60/10 in22.1 overs (Vivek Mohan 13, Deepak Dhapola 6/13)
Uttarakhand, 1st innings: 227/10 in 71.3 overs (Karn Veer Kaushal 91, Ashutosh Aman 4/34)
Bihar, 2nd innings: 169/10 in 50.5 overs (S Quadri 36, Sunny Kashyap 4/51)
Uttarakhand, 2nd innings: 4/0 in 0.1 overs (Karn Veer Kaushal 4*)
Result: Uttarakhand won by 10 wickets
Follow us on Google News