Ranji Trophy 2018-19, Round 3, Day 1: Round up
15 wickets fell on the day in the game between Rajasthan and Jharkhand.
Updated - Nov 20, 2018 7:46 pm
1.6K Views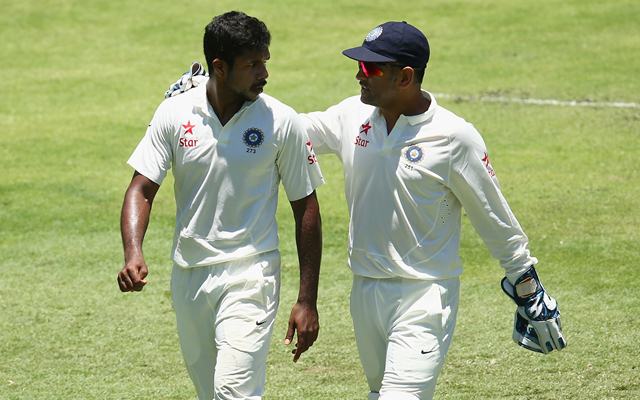 Day 1 of Round 3 of the Ranji Trophy 2018-19 kicked off with some great performances. Twin centuries from Rajat Bhatia and Saurabh Rawal after being down to 38/4 was one of the highlights of the day. These knocks helped Uttarakhand recover brilliantly and they ended the day on 290/5. Rajat got out after scoring 121 runs.
Wasim Jaffer and Faiz Fazal emulated a similar partnership for Vidarbha. These two added an unbeaten 255-run stand and both of them got past their centuries. Siddarth, Tanmay Agarwal, J Singh, Raj Bishwa, T Kohli are some of the others who scored centuries on day 1. Yogesh Nagar was the top scorer of the day with 166 runs off just 197 balls and played some ferocious shots.
Rajesh Mohanty and Varun Aaron continued their brilliance with the ball in this round as well. Aaron's 5/22 helped Jharkhand bowl out Rajasthan for just 100 runs while Assam was bowled out for 121 courtesy Mohanty's 5/31. Parvez Rasool also led Jammu & Kashmir from the front and picked a five-wicket haul. His team ended the day in a very commanding position. There wasn't any play possible on day 1 in the game between Puducherry and Bihar due to rain.
Brief Scores – Day 1, Round 3
Group A
Chattisgarh vs Railways
Chattisgarh, 1st innings: 222/5 in 85 overs (Harpreet Singh 79, Amandeep Khare 37*, Manjeet Singh 3/65)
Gujarat vs Saurashtra
Gujarat, 1st innings: 269/6 in 87 overs (M Juneja 66, Dhruv Raval 63, Chetan Sakaria 3/51)
Karnataka vs Mumbai
Karnataka, 1st innings: 263/4 in 88 overs (Siddharth 104*, Shreyas Gopal 47*, Shivam Dubey 4/32)
Vidarbha vs Baroda
Vidarbha, 1st innings: 228/1 in 78 overs (Wasim Jaffer 110*, Faiz Fazal 108*, Lukman Meriwala 1/30)
Group B
Bengal vs Kerala
Bengal, 1st innings: 147/10 in 56.2 overs (A Majumdar 53, Abhishek Raman 40, Basil Thampi 4/57)
Kerala, 1st innings: 35/1 in 12 overs (Jalaj Saxena 14*, R Prem 14*, Mohammed Shami 1/19)
Andhra vs Tamil Nadu
Andhra, 1st innings: 198/8 in 79 overs (Girinath Reddy 69*, J Krishna 58, M Mohammed 4/60)
Hyderabad vs Delhi
Hyderabad, 1st innings: 232/3 in 90 overs (Tanmay Agarwal 112*, Himalay Agarwal 66, Vikas Mishra 2/61)
Madhya Pradesh vs Punjab
Punjab, 1st innings: 253/4 in 74 overs (J Singh 123*, Gurkeerat Singh 66, Kuldeep Sen 2/44)
Group C
Jharkhand vs Rajasthan
Rajasthan, 1st innings: 100/10 in 42.2 overs (Rajesh Bishnoi Jr 33, Mahipal Lomror 20, Varun Aaron 5/22)
Jharkhand, 1st innings: 92/5 in 32.4 overs (Ishank Jaggi 44*, Virat Singh 18, TM Ul-Haq 4/29)
Assam vs Odisha
Assam, 1st innings: 121/10 in 51.1 overs (Ranjit Mali 28, Riyan Parag 24, Rajesh Mohanty 5/31)
Odisha, 1st innings: 86/3 in 28 overs (Anurag Sarangi 61*, S Senapati 10, Mukhtar Hussain 3/27)
Haryana vs Goa
Haryana, 1st innings: 263/9 in 84 overs (H Rana 86, N Saini 64, Krishna Das 5/69)
Jammu & Kashmir vs Tripura
Tripura, 1st innings: 124/10 in 42 overs (Ninad Kadam 34, Smit Patel 21, Parvez Rasool 5/30)
Jammu & Kashmir, 1st innings: 154/1 in 40 overs (Shubham Khajuria 52, Irfan Pathan 47*, Harmeet Singh 1/33)
Services vs Uttar Pradesh
Services, 1st innings: 256/8 in 90 overs (Devender Lohchab 71*, Nitin Tanwar 39, Shivam Mavi 3/44)
Plate Group
Meghalaya vs Nagaland
Meghalaya, 1st innings: 338/5 in 90 overs (Yogesh Nagar 166, Raj Bishwa 111, Pawan Suyal 2/61)
Mizoram vs Manipur
Mizoram, 1st innings: 219/10 in 69.1 overs (T Kohli 100, Akhil Rajput 61, B Konthoujam 3/50)
Manipur, 1st innings: 54/3 in 15 overs (Yashpal Singh 15*, Priyojit K Singh 14, L Varte 2/20)
Sikkim vs Uttarakhand
Uttarakhand, 1st innings: 290/5 in 90 overs (Rajat Bhatia 121, Saurabh Rawal 115*, Ishwar Chaudhary 3/81)
Puducherry vs Bihar
[No play due to rain]