Ranji Trophy 2018-19, Round 3, Day 2: Round up
Mumbai's Shivam Dubey picked up a 7-wicket haul on day 2 to put his team on top in the game.
Updated - Nov 21, 2018 6:27 pm
1.2K Views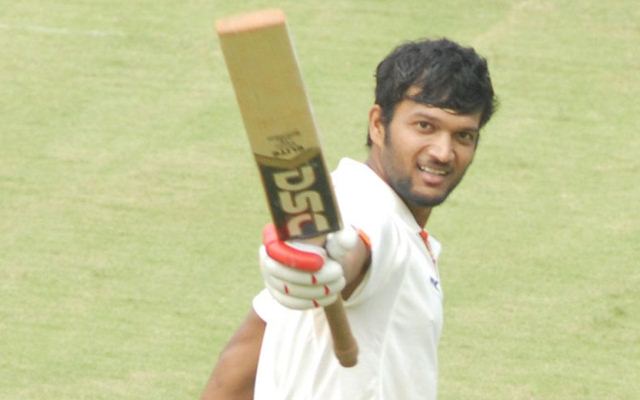 Follow us on Telegram
Uttarakhand's Saurabh Rawal registered his double century on the second day of Round 3 of the Ranji Trophy 2018-19. His 220-run knock assisted by an unbeaten 152 from Vaibhav Bhatt helped his team put a massive total of 582 runs on the board. Kerala's, Jalaj Saxena carried on his rich vein of form to notch up another century this season. He scored 143 runs in the first innings for Kerala against Bengal.
Ahead of the Test series against Australia, Mohammed Shami looked impressive with a 3-wicket haul. The best spell came from Mumbai's Shivam Dubey who picked up 7 wickets against Karnataka. Ravi Teja, A Bandy were a few other players who raced their ways to the triple digits on the day.
Kuldeep Sen, Ranjit Mali, TM Ul-Haq, Krishna Das, Harmeet Singh and Pawan Suyal were the bowlers who registered 5-wicket hauls. Just like day 1, there wasn't any play possible in the game between Puducherry and Bihar.
Brief Scores – Day 2, Round 3
Group A
Chattisgarh vs Railways
Chattisgarh, 1st innings: 300/10 in 108 overs (Harpreet Singh 79, Amandeep Khare 54, Karan Thakur 4/98)
Railways, 1st innings: 132/4 in 52 overs (Pratham Singh 56*, Arindam Ghosh 34, Pankaj Kumar Rao 2/27)
Gujarat vs Saurashtra
Gujarat, 1st innings: 324/10 in 103.5 overs (Rush Kalaria 91*M Juneja 66, Chetan Sakaria 5/83)
Saurashtra, 1st innings: 221/3 in 70 overs (Harvik Desai 79*, Snell Patel 62, Hardik Patel 1/43)
Karnataka vs Mumbai
Karnataka, 1st innings: 400/10 in 88 overs (Siddharth 161, K Abbas 64, Shivam Dubey 7/53)
Mumbai, 1st innings: 99/2 in 36.5 overs (Bista 69*, Ashay Sardesai 23, Abhimanyu Mithun 1/22)
Vidarbha vs Baroda
Vidarbha, 1st innings: 529/6 in 164 overs (Wasim Jaffer 153, Faiz Fazal 151, B Bhatt 2/111)
Baroda, 1st innings: 17/0 in 15 overs (A Waghmode 9*, K Devdhar 8*)
Group B
Bengal vs Kerala
Bengal, 1st innings: 147/10 in 56.2 overs (A Majumdar 53, Abhishek Raman 40, Basil Thampi 4/57)
Kerala, 1st innings: 291/10 in 83 overs (Jalaj Saxena 143, VA Jagadeesh 39, Ishan Porel 4/69)
Bengal, 2nd innings: 5/1 in 2.2 overs (Koushik Ghosh 1, Abhishek Raman 0*)
Andhra vs Tamil Nadu
Andhra, 1st innings: 216/10 in 89.5 overs (Girinath Reddy 86*, J Krishna 58, M Mohammed 4/70)
Tamil Nadu, 1st innings: 122/3 in 50 overs (Kaushik Gandhi 38, Abhinav Mukund 31, Girinath Reddy 1/10)
Hyderabad vs Delhi
Hyderabad, 1st innings: 460/10 in 170.3 overs (Tanmay Agarwal 120, Ravi Teja 115*, Gaurav Kumar 3/50)
Delhi, 1st innings: 21/0 in 7 overs (Hiten Dalal 14*, Sarthak Ranjan 6*)
Madhya Pradesh vs Punjab
Punjab, 1st innings: 293/10 in 84.4 overs (J Singh 124, Gurkeerat Singh 66, Kuldeep Sen 5/62)
Madhya Pradesh, 1st innings: 184/2 in 76 overs (Rajat Patidar 63*, Naman Ojha 46*, Barinder Sran 1/48)
Group C
Jharkhand vs Rajasthan
Rajasthan, 1st innings: 100/10 in 42.2 overs (Rajesh Bishnoi Jr 33, Mahipal Lomror 20, Varun Aaron 5/22)
Jharkhand, 1st innings: 152/10 in 58.1 overs (Ishank Jaggi 79, Virat Singh 18, TM Ul-Haq 6/42)
Rajasthan, 2nd innings: 127/4 in 55 overs (Robin Bist 45, Ashok Menaria 25*, Anukul Roy 2/28)
Assam vs Odisha
Assam, 1st innings: 121/10 in 51.1 overs (Ranjit Mali 28, Riyan Parag 24, Rajesh Mohanty 5/31)
Odisha, 1st innings: 240/10 in 85.2 overs (Anurag Sarangi 77, Biplap Samantray 62, Ranjit Mali 6/80)
Assam, 2nd innings: 60/4 in 23 overs (Sibsankar Roy 20*, Rishav Das 15, Rajesh Mohanty 3/25)
Haryana vs Goa
Haryana, 1st innings: 276/10 in 88 overs (H Rana 86, N Saini 64, Krishna Das 6/75)
Goa, 1st innings: 177/10 in 79.1 overs (SK Kamat 68, Snehal Kauthankar 25, Poonish Mehta 4/21)
Jammu & Kashmir vs Tripura
Tripura, 1st innings: 124/10 in 42 overs (Ninad Kadam 34, Smit Patel 21, Parvez Rasool 5/30)
Jammu & Kashmir, 1st innings: 442/10 in 121 overs (A Bandy 136, Irfan Pathan 85, Harmeet Singh 5/91)
Tripura, 2nd innings: 11/0 in 4 overs (Udiyan Bose 7*, Bishal Ghosh 4*)
Services vs Uttar Pradesh
Services, 1st innings: 260/10 in 92.2 overs (Devender Lohchab 75, Nitin Tanwar 39, Shivam Mavi 4/44)
Uttar Pradesh, 2nd innings: 265/5 in 85 overs (Priyam Garg 88, Akshdeep Nath 56, Diwesh Pathania 3/64)
Plate Group
Meghalaya vs Nagaland
Meghalaya, 1st innings: 389/10 in 110.2 overs (Yogesh Nagar 166, Raj Bishwa 111, Pawan Suyal 5/96)
Nagaland, 1st innings: 106/10 in 46.3 overs (KB Pawan 21, Paras Sehrawat 20, Gurinder Singh 4/37)
Nagaland, 2nd innings: 31/0 f in overs (S Rupero 17*, Nitesh Lohchab 14*)
Mizoram vs Manipur
Mizoram, 1st innings: 219/10 in 69.1 overs (T Kohli 100, Akhil Rajput 61, B Konthoujam 3/50)
Manipur, 1st innings: 319/10 in 87 overs (Yashpal Singh 156*, P Singh 51, Moia 3/88)
Mizoram, 2nd innings: 34/0 in 13 overs (Akhil Rajput 16*, Michael Lalremkima 8*)
Sikkim vs Uttarakhand
Uttarakhand, 1st innings: 582/9 in 163 overs (Saurabh Rawal 220, Vaibhav Bhatt 152*, Ishwar Chaudhary 4/105)
Sikkim, 1st innings: 49/3 in 20 overs (Nilesh Lamichaney 23*, Milind Kumar 12*, Rajat Bhatia 2/2)
Puducherry vs Bihar
Day 2: [No play due to rain]
Follow us on Google News