Ranji Trophy 2018-19, Round 5, Day 2 – Round up
Gautam Gambhir is racing to a century in his farewell game against Andhra at the Feroz Shah Kotla.
Updated - Dec 9, 2018 2:46 pm
625 Views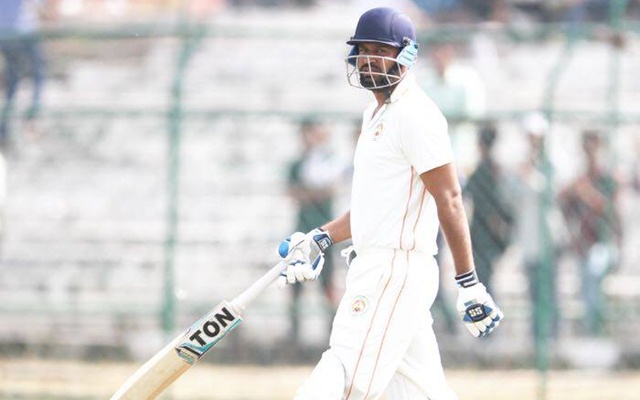 Follow us on Telegram
Ajay Rohera is inching towards the first triple-ton of this season's Ranji Trophy in Madhya Pradesh's group B clash against Hyderabad at Indore. Mumbai's stellar comeback in the Maharashtra derby and Gautam Gambhir inching closer to a hundred on farewell are the other news that hogged the limelight in the domestic campaign.
Legendary opener Gautam Gambhir who called it time on his career a few days ago is playing his farewell game against Andhra currently. He is off to a blazing start as Delhi finished with 190/1 in reply to Andhra's 390. Gambhir remained unbeaten on 92 and will be eager to notch a big score before bowing out.
Resuming the day at 298/3 against Mumbai, Maharashtra crumbled on Friday and gave away momentum to their arch-rivals. Maharashtra got bowled out for 352 runs with Akash Parkar picking up a four-fer. Despite half-centuries coming from Siddesh Lad and Aditya Tare, Mumbai are on the back foot having lost five wickets for 196 runs in their first innings.
Yusuf Pathan rolls back the time with a blazing knock
Baroda are in full command against Chhattisgarh in their Group A game thanks to a stellar century from the experienced Yusuf Pathan. The elder of the Pathan brothers smacked a 166-ball 129 and remained unbeaten as Baroda smashed 385 runs in their first innings. Chhattisgarh, who earlier got bowled out for 129, are trailing by 82 runs in the second innings.
Himachal Pradesh managed to grind Punjab into pieces in their Group B game. After posting a competitive 390 runs on the board, Himachal bowlers folded Punjab to 75/9 at stumps. Mayank Dagar, who registered a fifty with the bat earlier on day 2, chipped in with a four-fer with the ball as well for Himachal.
Brief Scores
Elite Group A
Baroda vs Chhattisgarh
Chhattisgarh first innings: 129 all out in 39.1 overs (Swapnil Singh 5/23)
Baroda first innings: 385 all out in 84.4 overs (Yusuf Pathan 129*, Bhargav Bhatt 67)
Chhattisgarh second innings: 174/4 in 47 overs (Avish Dhaliwal 79)
Chhattisgarh trail by 82 runs
Gujarat vs Railways
Gujarat first innings: 367 all out in 93.5 overs (Piyush Chawla 130, Priyank Panchal 69)
Railways first innings: 266/3 in 82 overs (Nitin Bhille 109*, Arindam Ghosh 69*)
Railways trail by 101 runs
Maharashtra vs Mumbai
Maharashtra first innings: 352 all out in 109.4 overs (Swapnil Gugale 101, Chirag Khurana 71, Jay Pande 74)
Mumbai first innings: 196/5 in 57 overs (Siddesh Lad 70*, Aditya Tare 63)
Mumbai trail by 156 runs
Saurashtra vs Karnataka
Saurashtra first innings: 316 all out in 97.1 overs (Jaydev Shah 97; Jagadeesha Suchith 6/111)
Karnataka first innings: 217 all out in 78.1 overs (Dharmendrasinh Jadeja 7/103)
Karnataka trail by 99 runs
Elite Group B
Delhi vs Andhra
Andhra first innings: 390 all out in 121 overs (Ricky Bhui 187; Suboth Bhati 5/48)
Delhi first innings: 190/1 in 56 overs (Gautam Gambhir 92*)
Delhi trail by 200 runs
Madhya Pradesh vs Hyderabad
Hyderabad first innings: 124 all out in 35.3 overs (Avesh Khan 7/24)
Madhya Pradesh first innings: 539/4 in 136 overs (Ajay Rohera 255*, Yash Dubey 128*)
Madhya Pradesh lead by 415 runs
Punjab vs Himachal Pradesh
Himachal Pradesh first innings: 390 all out in 145.1 overs (Nikit Gangta 58, Ankit Kalsi 82, Mayank Dagar 71)
Punjab first innings: 75/9 in 30 overs (Mayank Dagar 4/22)
Punjab trail by 315 runs
Tamil Nadu vs Kerala
Tamil Nadu first innings: 268 all out in 98 overs (Baba Indrajith 87, Shahrukh Khan 92*; Sandeep Warrier 5/52)
Kerala first innings: 151/9 in 75 overs (Ponnam Rahul 59; Rahil Shah 3/32)
Kerala trail by 117 runs
Elite Group C
Services vs Goa
Services first innings: 184 all out in 71.3 overs (Ravi Chauhan 75; Vijesh Prabhudessai 5/52)
Goa first innings: 259/9 in 100 overs (Darshan Misal 101*; Sachidanand Pandey 4/59)
Goa lead by 75 runs
Jammu & Kashmir vs Uttar Pradesh
Jammu & Kashmir first innings: 290 all out in 71.4 overs (Irfan Pathan 91, Parvez Rasool 87; Saurabh Kumar 6/90)
Uttar Pradesh first innings: 188 all out in 57.2 overs (Rinku Singh 66; Parvez Rasool 4/47)
Jammu & Kashmir second innings: 98/7 in 40.2 overs (Saurabh Kumar 5/21)
Jammu & Kashmir lead by 200 runs
Jharkhand vs Odisha 
Jharkhand first innings: 172 all out in 71.1 overs (Basant Mohanty 5/44)
Odisha first innings: 201 all out in 55.4 overs (Suryakant Pradhan 54)
Jharkhand second innings: 107/3 in 41 overs
Jharkhand lead by 78 runs
Rajasthan vs Assam
Assam first innings: 108 all out in 28.1 overs (Aniket Choudhary 5/38)
Rajasthan first innings: 325 all out in 111.2 overs (Mahipal Lomror 133, Salman Khan 71)
Assam second innings: 109/3 in 30 overs (Gokul Sharma 64*)
Assam trail by 108 runs
Haryana vs Tripura
Haryana first innings: 292 all out 100.4 overs (Chaitanya Bishnoi 82, Rahul Dagar 114)
Tripura first innings: 235/7 in 70 overs (Pratyush Singh 76)
Tripura trail by 57 runs
Plate
Nagaland vs Manipur
Nagaland first innings: 126 all out in 37.3 overs (Priyojith K Singh 3/20)
Manipur first innings: 336 all out in 91.4 overs (Mayank Raghav 228)
Nagaland second innings: 150/4 in 42 overs (R Jonathan 59)
Nagaland trail by 60 runs
Bihar vs Arunachal Pradesh
Arunachal Pradesh first innings: 84 all out in 39.5 overs (Ashutosh Aman 4/26)
Bihar first innings: 250/1 in 48 overs (Babu Kumar 72*)
Arunachal Pradesh second innings: 98/1 in 36 overs (Samarth Seth 52*)
Arunachal Pradesh trail by 354 runs
Sikkim vs Puducherry
Puducherry first innings: 647/8 declared in 157 overs (Paras Dogra 253, Fabid Ahmed 99)
Sikkim first innings: 48/5 in 23 overs
Sikkim trail by 599 runs
Uttarakhand vs Meghalaya
Meghalaya first innings: 311 all out in 95.5 overs (Puneet Bisht 154, Yogesh Nagar 91)
Uttarakhand first innings: 175/4 in 73 overs (Vineet Saxena 62*, Rajat Bhatia 54*)
Uttarakhand trail by 136 runs
Follow us on Google News