Ranji Trophy 2018-19: Round 5, Day 4, Round up
Raina played a crucial knock for UP on the final day.
Updated - Dec 9, 2018 6:19 pm
753 Views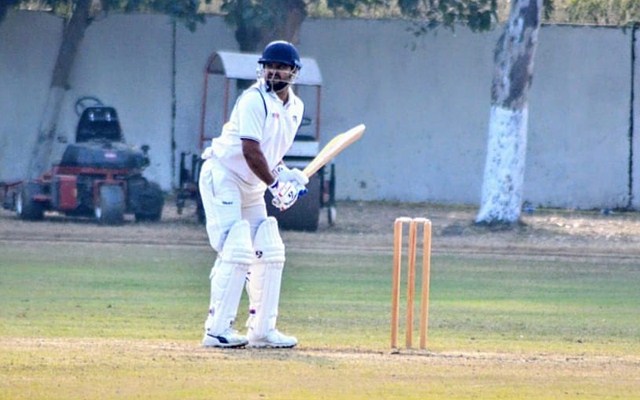 Follow us on Google News
The fifth round of the ongoing Ranji Trophy witnessed the end of India's one of the best cricketers, Gautam Gambhir's career. He walked into the sunset by scoring a farewell century in the first innings for Delhi even as they fell just a few runs short of the victory and the match ended in a draw eventually.
Baroda trumped Chhattisgarh by nine wickets while Uttar Pradesh scripted one of the best comebacks in the tournament thanks to their bowlers. After conceding a lead of more than 100 runs in the first innings, they skittled Jammu and Kashmir for just 111 runs in the second innings and then chased down the total of 218 runs on the back of a brilliant knock from Suresh Raina who remained unbeaten on 66 runs in the end.
In another breathtaking encounter, Jharkhand got out of the jail against Odisha as they won the game by just two runs. Chasing the total of 260 runs in the fourth innings, Odisha got bowled out for 257 falling agonisingly short of the target despite Subhransu Senapati scoring 157 runs alone. In another game, Mumbai remained winless in the tournament so far as Maharashtra gained points on the basis of first innings lead.
Brief Scores
Elite Group A
Baroda vs Chhattisgarh
Chhattisgarh first innings: 129 all out in 39.1 overs (Swapnil Singh 5/23)
Baroda first innings: 385 all out in 84.4 overs (Yusuf Pathan 129*, Bhargav Bhatt 67)
Chhattisgarh second innings: 283 all out in 81.3 overs (Avish Dhaliwal 79; Lukman Meriwala 3/18)
Baroda second innings: 31/1 in 3.3 overs
Baroda won by 9 wickets
Gujarat vs Railways
Gujarat first innings: 367 all out in 93.5 overs (Piyush Chawla 130, Priyank Panchal 69)
Railways first innings: 547/9 declared in 166 overs (Nitin Bhille 116, Arindam Ghosh 93, Mahesh Rawat 119*)
Gujarat second innings: 191/7 in 92 overs (Priyank Panchal 58; Harsh Tyagi 4/46)
Match drawn – Railways first innings lead
Maharashtra vs Mumbai
Maharashtra first innings: 352 all out in 109.4 overs (Swapnil Gugale 101, Chirag Khurana 71, Jay Pande 74)
Mumbai first innings: 273 all out in 80.5 overs (Siddesh Lad 93, Aditya Tare 63; Ashay Palkar 4/62)
Maharashtra second innings: 254 all out in 90.1 overs (Rahul Tripathi 76; Shivam Dube 3/25)
Mumbai second innings: 135/5 in 47 overs (Aditya Tare 52; A Palkar 2/23)
Match drawn – Maharashtra took first innings lead
Saurashtra vs Karnataka
Saurashtra first innings: 316 all out in 97.1 overs (Jaydev Shah 97; Jagadeesha Suchith 6/111)
Karnataka first innings: 217 all out in 78.1 overs (Dharmendrasinh Jadeja 7/103)
Saurashtra second innings: 79 all out in 27.4 overs (Pavan Deshpande 3/5, Shreyas Gopal 3/10)
Karnataka second innings: 91 all out in 36.5 overs (Kamlesh Makvana 5/28, Dharmendrasinh Jadeja 4/44)
Saurashtra won by 87 runs
Elite Group B
Delhi vs Andhra
Andhra first innings: 390 all out in 121 overs (Ricky Bhui 187; Suboth Bhati 5/48)
Delhi first innings: 409/7 in 144 overs (Gautam Gambhir 112, Dhruv Shorey 98)
Andhra second innings: 130 all out in 59 overs (Shoaib Mohammed Khan 54; Shivank Vashisth 5/49)
Delhi second innings: 41/2 in 5 overs (Anuj Rawat 23)
Match drawn – Delhi first innings lead
Madhya Pradesh vs Hyderabad
Hyderabad first innings: 124 all out in 35.3 overs (Avesh Khan 7/24)
Madhya Pradesh first innings: 562/4 declared in 140.4 overs (Ajay Rohera 267*, Yash Dubey 139*)
Hyderabad second innings: 185 all out in 65.5 overs (Rohit Rayudu 72; Avesh Khan 5/30)
Madhya Pradesh won by an innings and 253 runs
Punjab vs Himachal Pradesh
Himachal Pradesh first innings: 390 all out in 145.1 overs (Nikit Gangta 58, Ankit Kalsi 82, Mayank Dagar 71)
Punjab first innings: 84 all out in 35.1 overs (Mayank Dagar 4/22)
Punjab second innings: 199 all out in 81.5 overs (Gurvinder Singh 4/43)
Himachal Pradesh won by an innings and 107 runs
Tamil Nadu vs Kerala
Tamil Nadu first innings: 268 all out in 98 overs (Baba Indrajith 87, Shahrukh Khan 92*; Sandeep Warrier 5/52)
Kerala first innings: 152 all out in 76.5 overs (Ponnam Rahul 59; Rahil Shah 4/32)
Tamil Nadu second innings: 252/7 declared in 70.5 overs (Baba Indrajith 92; Sijomon Joseph 4/51)
Kerala second innings: 217 all out in 89 overs (Sanju Samson 91; T Natarajan 5/41)
Tamil Nadu won by 151 runs
Elite Group C
Services vs Goa
Services first innings: 184 all out in 71.3 overs (Ravi Chauhan 75; Vijesh Prabhudessai 5/52)
Goa first innings: 259 all out in 100.2 overs (Darshan Misal 101*; Diwesh Pathania 5/74)
Services second innings: 332 all out in 103.4 overs (Rajat Paliwal 94, Rahul Singh 111; Amit Verma 5/39)
Match drawn – Goa first innings lead
Jammu & Kashmir vs Uttar Pradesh
Jammu & Kashmir first innings: 290 all out in 71.4 overs (Irfan Pathan 91, Parvez Rasool 87; Saurabh Kumar 6/90)
Uttar Pradesh first innings: 188 all out in 57.2 overs (Rinku Singh 66; Parvez Rasool 4/47)
Jammu & Kashmir second innings: 111 all out in 48 overs (Saurabh Kumar 5/28, Yash Dayal 4/26)
Uttar Pradesh second innings: 218/4 in 59.2 overs (Suresh Raina 66*, Rinku Singh 42*)
Uttar Pradesh won by 6 wickets
Jharkhand vs Odisha 
Jharkhand first innings: 172 all out in 71.1 overs (Basant Mohanty 5/44)
Odisha first innings: 201 all out in 55.4 overs (Suryakant Pradhan 54)
Jharkhand second innings: 288 all out in 94 overs (Saurabh Tiwary 132; Rajesh Mohanty 4/87)
Odisha second innings: 257 all out in 101.3 overs (Subhransu Senapati 157; Anukul Roy 4/51)
Jharkhand won by 2 runs
Rajasthan vs Assam
Assam first innings: 108 all out in 28.1 overs (Aniket Choudhary 5/38)
Rajasthan first innings: 325 all out in 111.2 overs (Mahipal Lomror 133, Salman Khan 71)
Assam second innings: 174 all out in 59.4 overs (Gokul Sharma 77; Aniket Choudhary 5/40))
Rajasthan won by an innings and 43 runs
Haryana vs Tripura
Haryana first innings: 292 all out 100.4 overs (Chaitanya Bishnoi 82, Rahul Dagar 114)
Tripura first innings: 250 all out in 76.1 overs (Pratyush Singh 76; Harshal Patel 4/49)
Haryana second innings: 119 all out in 44.2 overs (Ajoy Sarkar 3/15, Harmeet Singh 3/45)
Tripura second innings: 106 all out in 32.3 overs (Amit Rana 4/37, Tinu Kundu 3/19)
Haryana won by 55 runs
Plate
Nagaland vs Manipur
Nagaland first innings: 126 all out in 37.3 overs (Priyojith K Singh 3/20)
Manipur first innings: 336 all out in 91.4 overs (Mayank Raghav 228)
Nagaland second innings: 334 all out in 98.1 overs (KB Pawan 131, Abrar Kazi 90; Yashpal Singh 5/46)
Manipur second innings: 128/3 in 36.4 overs (Lakhan Rawat 55)
Manipur won by 7 wickets
Bihar vs Arunachal Pradesh
Arunachal Pradesh first innings: 84 all out in 39.5 overs (Ashutosh Aman 4/26)
Bihar first innings: 536/5 declared in 112 overs (Indrajith Kumar 222, Babul Kumar 98)
Arunachal Pradesh second innings: 135 all out in 47.4 overs (Samarth Seth 58; Ashutosh Aman 7/14)
Bihar won by an innings and 317 runs
Sikkim vs Puducherry
Puducherry first innings: 647/8 declared in 157 overs (Paras Dogra 253, Fabid Ahmed 99)
Sikkim first innings: 247 all out in 72.2 overs (Milind Kumar 96; Pankaj Singh 3/21)
Sikkim second innings (F/O): 241 in 75.5 overs (Milind 77*, Ashish Thapa 52; Abhishek Nayar 5/76)
CAP won by an innings and 159 runs
Uttarakhand vs Meghalaya
Meghalaya first innings: 311 all out in 95.5 overs (Puneet Bisht 154, Yogesh Nagar 91)
Uttarakhand first innings: 491/4 decl in 163 overs (Vineet Saxena 202*, Rajat Bhatia 212*)
Meghalaya second innings: 230 all out in 66.2 overs (Gurinder Singh 104; D Dhaopla 5/59)
Uttarakhand: 53/2 in 6.1 overs (Vaibhav 32*)
Uttarakhand won by 8 wickets
Follow us on Telegram