Ranji Trophy 2018-19, Round 7, Day 2 – Round Up
Wasim Jaffer registered his 55th First-class century; Priyam Garg smashes his maiden double ton and more.
Updated - Dec 23, 2018 6:36 pm
469 Views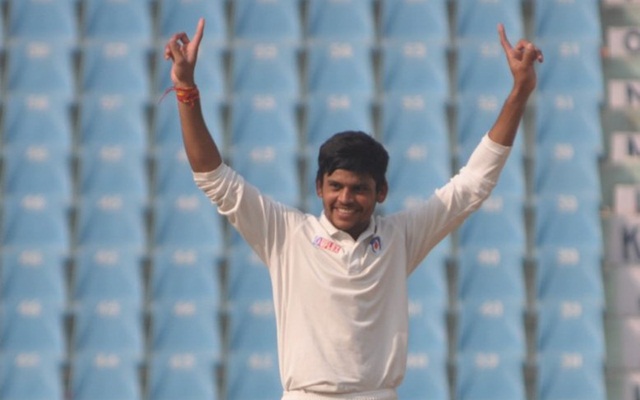 Follow us on Google News
Siddesh Lad and Jay Gokul Bista's centuries propelled Mumbai to a huge score in the first innings of their Ranji Trophy Group A game against Saurashtra. In reply to their 394, Saurashtra lost half their side and registered 213 runs at stumps. Sheldon Jackson fell five short of a hundred for the batting side.
Delhi garnered 129-run first innings lead against Madhya Pradesh at the Feroz Shah Kotla Stadium. Anuj Rawat scored a century for the hosts as they went to pile up 261 runs in reply to MP's 132-run first innings tally. The visitors trail by 122 runs going into Day 3.
Karnataka too got their noses ahead on a day where all the big sides managed to get positive results. After getting bowled out early on day 2 for 214 runs, Ronit More's five-fer saw Railways get tumbled for a mere 143, giving Karnataka a 71-run lead. Manish Pandey's side remained at 41/0 when the day ended in Shimoga.
Wasim Jaffer notches 55th FC century
Just another feather added to Wasim Jaffer's first-class cap as he registered his 55th century against Gujarat. The defending champions are in pole position to take the first innings lead as they finished day 2 at 238/3 in 69 overs. Earlier, Gujarat were bowled out for 321 runs with Aditya Sarwate picking 4/71.
Anmolpreet Singh and Mandeep Singh piled up crucial runs to ensure Punjab had finished day 2 on a positive note in Hyderabad. The South Indian side earlier got bowled out for 317 runs, with Himalaya Agarwal's 79 dragging them past the 300-mark. Punjab currently trail by 115 runs with six wickets remaining.
Brief Scores
Elite Group A
Mumbai vs Saurashtra
Mumbai first innings: 394 all out in 107 overs (Jay Gokul Bista 127, Siddesh Lad 108; Dharmendrasinh Jadeja 3/89, Jaydev Unadkat 4/71)
Saurashtra first innings: 213/5 in 64.5 overs (Sheldon Jackon 95; Royston Dias 2/32)
Saurashtra trail by 285 runs
Chhattisgarh vs Maharashtra
Maharashtra first innings: 239 all out in 68.3 overs (Rahul Tripathi 102, A Sanklecha 66; Vishal Singh 5/59)
Chhattisgarh first innings: 332/5 in 100 overs (Ajay Mandal 106*, Amandeep Khare 108, Ashutosh Singh 75*)
Chhattisgarh lead by 93 runs
Karnataka vs Railways
Karnataka first innings: 214 all out in 91.4 overs (KV Siddarth 69; Avinash Yadav 3/43)
Railways first innings: 143 all out in 60.2 overs (Manish Rao 52*; Ronit More 5/45)
Karnataka lead by 112 runs
Vidarbha vs Gujarat
Gujarat first innings: 321 all out in 108.5 overs (Kathal Patel 105, Dhruv Raval 79; Aditya Sarwate 4/71)
Vidarbha first innings: 238/3 in 69 overs (Wasim Jaffer 126, Ganesh Satish 45*; Siddarth Desai 2/71)
Vidarbha trail by 83 runs
Elite Group B
Madhya Pradesh vs Delhi
Madhya Pradesh first innings: 132 all out in 51.2 overs (Vikas Mishra 6/41)
Delhi first innings: 261 all out in 69.3 overs (Anuj Rawat 134; Avesh Khan 6/51)
Madhya Pradesh second innings: 7/0 in 4 overs
Madhya Pradesh trail by 122 runs
Andhra vs Bengal
Bengal first innings: 300 all out in 110.3 overs (Manoj Tiwary 90; KV Sasikanth 5/55)
Andhra first innings: 108/2 in 43 overs (Gnaneshwara Rao 64*)
Andhra trail by 192 runs
Hyderabad vs Punjab
Hyderabad first innings: 317 all out in 109.3 overs (Akshath Reddy 77, Tanmay Agarwal 60; Mayank Markande 6/84)
Punjab first innings: 202/4 in 68 overs (Anmopreet Singh 85, Mandeep Singh 46*)
Punjab trail by 115 runs
Tamil Nadu vs Himachal Pradesh
Tamil Nadu first innings: 227 all out in 78.4 overs (Baba Aparajith 53; Pankaj Jaiswal 3/45)
Himachal Pradesh first innings: 340/5 in 88 overs (Ankit Kalsi 99*, Raghav Dhawan 71)
Himachal Pradesh lead by 113 runs
Elite Group C
Rajasthan vs Haryana
Haryana first innings: 118 all out 36.2 overs (Aniket Choudhary 5/45, Khaleel Ahmed 3/33)
Rajasthan first innings: 443/5 in 141 overs (Mahipal Lomror 106, Robin Bist 121; Yuzvendra Chahal 3/91)
Rajasthan lead by 325 runs
Assam vs Goa
Assam first innings: 175 all out in 50.2 overs (Biplab Saikia 41; Lakshay Garg 5/73)
Goa first innings: 193 all out in 65.5 overs (Snehal Kauthankar 69; Arup Das 3/72)
Assam second innings: 119/4 in 45 overs (Rishav Das 51; Krishna Das 4/42)
Assam lead by 101 runs
Jharkhand vs Services
Jharkhand first innings: 193 all out in 66 overs (Ishan Kishan 68; Arun Bamal 3/37)
Services first innings: 267 all out in 93.3 overs (Rajat Paliwal 79, Ravi Chauhan 67; Anukul Roy 4/66)
Jharkhand second innings: 49/1 in 10.5 overs (Nazim Siddique 34*)
Jharkhand trail by 25 runs
Jammu & Kashmir vs Odisha
JK first innings: 127 all out in 53.3 overs (Owais Shah 44; Suryakant Pradhan 4/27)
Odisha first innings: 323 all out in 106.3 overs (Abhishek Raut 116*; Irfan Pathan 4/52)
JK second innings: 27/0 in 15 overs
JK trail by 169 runs
Uttar Pradesh vs Tripura
Uttar Pradesh first innings: 552/7 declared in 149 overs (Akshdeep Nath 106, Priyam Garg 206, Rinku Singh 149)
Tripura first innings: 33/4 in 14 overs
Tripura trail by 519 runs
Plate
Bihar vs Nagaland
Bihar first innings: 150 all out in 46.1 overs (Harsh Singh 48*; Rachit Bhatia 6/44)
Nagaland first innings: 209 all out in 75.4 overs (R Jonathan 53; Ashutosh Aman 7/47)
Bihar second innings: 255/3 in 55 overs (Mangal Mehrur 129*, MD Rahmatullah 55*)
Bihar lead by 196 runs
Manipur vs Arunachal Pradesh
Manipur first innings: 85 all out in 26 overs (Deendyal 5/38)
Arunachal Pradesh first innings: 66 all out in 23.3 overs (Thokcho Kishan 5/16, Bishowrjit Konthoujam 4/27)
Manipur second innings: 253 all out in 56 overs (Hrithik Kanojia 91, Yashpal Singh 51; Techi Dorai 3/71)
Arunachal Pradesh second innings: 160 all out in 37.3 overs (Deendyal 52; Priyojit Singh 3/33)
Manipur won by 112 runs
Follow us on Telegram