Ranji Trophy 2019-20: Round 8, Day 4- Round-up
The encounter between Vidarbha and Kerala also resulted in a draw after no play was possible on Day 04 due to wet outfield.
Updated - Feb 7, 2020 6:31 pm
43 Views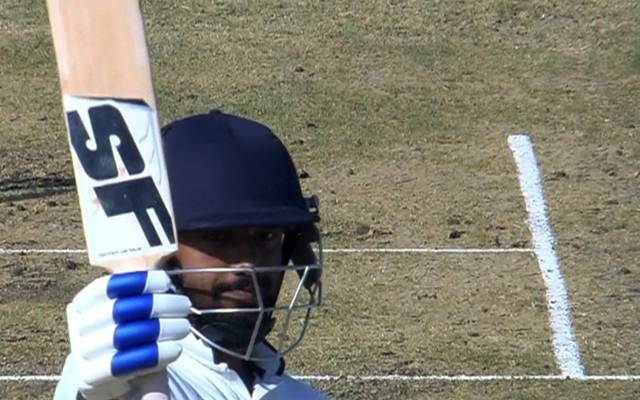 The fourth day in the eighth round of Ranji Trophy 2019-20 culminated with many teams cruising to the victory. Most teams had registered a victory on Day 3 itself and the remaining teams accomplished the task on Day 4.
Bihar cruised to a six-wicket victory against Arunachal Pradesh after decimating them at a modest total of 163 runs in their second innings. Ashutosh Aman's six-wicket haul wreaked havoc on Arunachal Pradesh's bowling force as no batsman was able to stick to the wicket for a prolonged time. MD Rahmatullah, who was also adjudged Man of the Match, scored a sublime ton in the second innings to propel Bihar to a formidable victory.
The match between Delhi and Gujarat resulted in a draw after no team was able to scalp enough wickets on the final day. The Bhargav Merai-Manprit Juneja duo stuck to the crease to ensure that Gujarat's total read 128/2 at the stumps on Day 4. Manpreet Juneja was awarded Man of the Match for his sublime batting performances in both the innings. Similarly, the encounter between Vidarbha and Kerala also resulted in a draw after no play was possible on Day 04 due to wet outfield.
The high-octane clash between Saurashtra and Mumbai also resulted in a draw after the latter failed to scalp former's wickets before the completion of Day 4. Kamlesh Makwana and Dharmendrasinh Jadeja stuck in the middle till the stumps to ensure a draw. Shams Mulani was adjudged Man of the Match for his brilliant all-round performance in the match. Following this defeat, Mumbai have crashed out of the Ranji Trophy knock-outs due to Saurashtra's resilience.
Brief Scores
Nagaland vs Goa, Plate
GOA 1st innings: 318/10 (Vaibhav Govekar 71; Shrikant Mundhe 4/51)
NGL 1st innings: 176/10 (Shrikant Mundhe 64; Amulya Pandrekar 5/31)
GOA 2nd innings: 221/4(Snehal Suhas Kauthankar68: Stuart Binny 2/29)
NGL 2nd innings: 134/10(Stuart Binny:58: Vijesh Prabhudessai 3/13)
GOA won by 229 runs
Manipur vs Puducherry, Plate
PDC 1st innings: 490/10 (Fabid Ahmed 233; Rex Singh 2/76)
MNP 1st innings: 138/10 (Rex Singh 33; Sagar Udeshi 5/42)
MNP 2nd innings: 111/10 (Kangabam Priyojit Singh 28; Alagh Prathiban 5/64)
Puducherry won by an innings and 241 runs
Tripura vs Jammu and Kashmir, Elite Group C
JK 1st innings: 329/10 (Abid Mushtaq 76; Manisankar Murasingh 4/100)
TRI 1st innings: 187/10 (Milind Kumar 55; Parvez Rasool 7/45)
JK 2nd innings: 306/9 (Shubham Khajuria 76; Manisankar Murasingh 6/64)
TRI 2nd innings:119/10 (Manisankar Murasingh 58: Parvez Rasool 5/28)
Jammu and Kashmir won by 329 runs.
Jharkhand vs Chhattisgarh, Elite Group C
CG 1st innings: 559/10 (Harpreet Singh 221; Rahul Shukla 2/87)
JKHD 1st innings: 242/10 (Virat Singh 140; Veer Pratap Singh 3/46)
JKHD 2nd innings: 51/0(Arnav Sinha 31: Sumit Ruikar 0/1)
Match Drawn
Arunachal Pradesh vs Bihar, Plate
ARNP 1st innings: 351/10 (Rahul Dalal 190; Ashutosh Aman 4/82)
BIH 1st innings: 291/10 (MD Rahmatullah 140; Kengo Goken Bam 5/67)
ARNP 2nd innings: 163/10 (Rahul Dalal 35: Ashutosh Aman 6/66)
BIH 2nd innings: 227/4 (MD Rahmatullah 113; Nabam Tempol 3/33)
Bihar won by six wickets
Meghalaya vs Sikkim, Plate
MGLY 1st innings: 174/10 (Puneet Bisht 85; Ishwar Chaudhary 5/48)
SKM 1st innings: 128/10 (Yashpal Singh 44; Abhay Negi 7/42)
MGLY 2nd innings: 155/10 (Tengcham Sangma 31; Plazor Tamang 4/21)
SKM 2nd innings: 135/10 (Iqbal Abdulla 76; Sanjay Yadav 5/51)
Meghalaya won by 66 runs.
Chandigarh vs Mizoram, Plate
MIZ 1st innings: 109/10 (Taruwar Kohli 77; Gurinder Singh 4/18)
CDG 1st innings: 587/5 (Uday Kaul 212; Sumit Lama 2/76)
MIZ 2nd innings: 122/10 (KB Pawan 28; Arpit Pannu 3/30)
Chandigarh won by an innings and 356 runs
Uttarakhand vs Services, Elite Group C
UTK 1st innings: 83/10 (Dikshanshu Negi 21; Raushan Raj 3/27)
SER 1st innings: 173/10 (Gahlaut Rahul Singh 45; Mayank Mishra 6/48)
UTK 2nd innings: 137/10 (Tanmay Srivastava 52; Raushan Raj 3/11)
SER 2nd innings: 48/0 (Shamsher Yadav 24; Agrim Tiwari 0/9)
Services won by 10 wickets
Maharashtra vs Odisha, Elite Group C
ODSA 1st innings: 293/10 (Rajesh Dhuper 110; Ashay Palkar 4/81)
MAH 1st innings: 543/5 (Ankit Bawne 204; Suryakant Pradhan 2/92)
ODSA 2nd innings: 289/10 (Govinda Poddar 118: Mukesh Choudhary 4/99)
MAH 2nd innings: 40/0 (Rahul Tripathi 21; Pappu Roy 0/4)
Maharashtra won by 10 wickets
Haryana vs Assam, Elite Group C
ASM 1st innings: 97/10 (Rajjakuddin Ahmed 35; Tinu Kundu 5/35)
HAR 1st innings: 198/10 (Rohit Parmod Sharma 59; Ranjit Mali 3/34)
ASM 2nd innings: 197/10 (Saahil Jain 63; Harshal Patel 4/49)
HAR 2nd innings: 100/3 (Ankit Kumar 30; Sidharth Sarmah 2/33)
Haryana won by 7 wkts
Delhi vs Gujarat, Elite Group A and B
DEL 1st innings: 293/10 (Kunwar Bidhuri 78; Roosh Kalaria 5/78)
GUJ 1st innings: 335/10 (Manprit Juneja 124; Siddhant Sharma 4/68)
DEL 2nd innings: 333/8 (Anuj Rawat 133; Axar Patel 4/91)
GUJ 2nd innings: 128/2 (Manpreet Juneja 51; Siddhant Sharma 2/18)
Match Drawn
Punjab vs Andhra, Elite Group A and B
AP 1st innings: 97/10 (KV Sasikanth 20; Siddarth Kaul 5/24)
PUN 1st innings: 108/10 (Anmol Malhotra 21; Shoaib Md Khan 5/46)
AP 2nd innings: 134/10 (Ricky Bhui 61; Vinay Choudhary 6/46)
PUN 2nd innings: 129/6 (Anmol Malhotra 51; S Ashish 3/50)
Punjab won by 4 wkts
Rajasthan vs Bengal, Elite Group A and B
RAJ 1st innings: 241/10 (Mahipal Lomror 52; Mukesh Kumar 6/62)
BEN 1st innings: 123/10 (Koushik Ghosh 38; Rituraj Singh 4/30)
RAJ 2nd innings:201/10 (Rajesh Bishnoi 46; Nilkantha Das 4/26)
BEN 2nd innings: 320/8 (Koushik Ghosh 64; Rituraj Singh 4/97)
Bengal won by 2 wickets
Vidarbha vs Kerala, Elite Group A and B
VID 1st innings: 326/10 (Ganesh Satish 58; MD Nidheesh 5/82)
KER 1st innings: 191/3 (Mohammed Azharuddeen 81; Akshay Wakhare 2/41)
Match Drawn
Karnataka vs Madhya Pradesh, Elite Group A and B
KAR 1st innings: 426/10 (Ravikumar Samarth 108; Ravi Yadav 3/61)
MP 1st innings: 431/10 (Aditya Shrivastava 192; Abhimanyu Mithun 3/69)
KAR 2nd innings: 62/1 (Devdutt Padikkal 31; Gaurav Yadav 1/28)
Match Drawn
Railways vs Himachal Pradesh, Elite Group A and B
HP 1st innings: 283/10 (Nikhil Gangta 72; Pradeep T 4/62)
RLYS 1st innings: 545/7 (Arindam Ghosh 204; Akash Vashist 3/110)
HP 2nd innings: 165/3 (Amit Kumar 71; Himanshu Sangwan 1/30)
Match Drawn
Saurashtra vs Mumbai, Elite Group A and B
MUM 1st innings: 262/10 (Sarfaraz Khan 78; Dharmendrasinh Jadeja 5/92)
SAUR 1st innings: 335/10 (Sheldon Jackson 85; Royston Dias 4/64)
MUM 2nd innings: 362/7 (Suryakumar Yadav 134; Prerak Mankad 2/52)
SAUR 2nd innings: 158/7 (Dharmendrasinh Jadeja 33; Shashank Attarde 3/45)
Match Drawn
Baroda vs Tamil Nadu, Elite Group A and B
BRD 1st innings: 174/10 (Atit Sheth 53; M Mohammed 7/68)
TN 1st innings: 490/7 (Abhinav Mukund 206; Yusuf Pathan 2/67)
BRD 2nd innings: 259/10 (Krunal Pandya 74; Krishnamoorthy Vignesh 5/62)
Tamil Nadu won by an innings and 57 runs.
Watch: Irfan Pathan's interview post his retirement