IPL-7 on it's way, taking a look at Royal Challengers Bangalore
Updated - Apr 11, 2014 6:27 pm
78 Views
Follow us on Telegram
Royal Challengers Bangalore, a franchise which has always been the dark horse in the IPL. It was in the Red Hot form in the auctions making some of the biggest buys of the season and forming a formidable squad which can take them to the illusive glory. The team is known for buying some of the costliest players in the history of IPL. By far RCB is a franchise known to buy the best of players at highest of the bid price; continuing their Auction action this year too, they have formed a team with some big names like Yuvraj Singh, Albie Morkel, Chris Gayle to name a few. The team has some of the records too on its name like scoring the highest total in the history of IPL. Cricket Tracker brings you, a detailed preview of Royal Challengers Bangalore before IPL-7 gets underway:   
Past performances in IPL:Royal Challengers have always been hot favorite in the tournament. With every match of theirs, fans brace up their excitement to the highest level and their home ground M.Chinnaswamy is filled with the sea of red. Traditionally, they have always qualified to the knockout stages but haven't converted it to a Title win. There were loaded with high amount of EXPECTATIONS as it was but obvious to be. The crowds too had high expectations from their local hero Rahul Dravid, Anil Kumble and South African legend Jacques Kallis who was also the captain. They reached Semi Finals where they were defeated by Chennai Super Kings. In 2010, the team reached out to the finals but then losing it in the finals to Deccan chargers which was led by Adam Gilchrist. In 2011, Chris Gayle was introduced in the team and he started off with a century against Kolkata Knight Riders, they qualified for the Finals facing Chennai Super Kings and lost in Finals. In 2012, they failed to qualify for play offs because of the problem of net run rate. In the 2013 season, they emerged as one of the toughest teams. It was in this year; Chris Gayle made a record of 175 runs. Despite their good performance, they failed to make it to playoffs.
Season|Place 
2008 – Group stage
2009 – Runners-up
2010 – Semifinalists
2011 – Runners-up
2012 – Group stage
2013 – Group stage
Strength:The Biggest strength Royal Challengers Bangalore has is the captaincy of Virat Kohli and the presence of Chris Gayle in the team. The "Gayle storm" can emerge anytime eluding on any tem. Also the excellent batting qualities of two best players of the world Virat Kohli and Ab de Villiers is a great advantage for them. Bowlers like Muttiah Muralitharan handling the spin department, is perfectly well suited for them. Pace bowlers such as Ravi Rampaul, Ashoke Dinda and Varun Aaron are a boon for them. And also All Rounders like Yuvraj Singh and Albie morkel, who are advantageous with both bat as well as ball, is truly a perfect match.
Weakness:Lack of efficient bowlers along with some perfect all-rounder is deficient in the team. The team also lacks some perfect spinners except Muttiah Muralitharan. Inefficient hitters after 5th place are also a great weakness. Yuvraj Singh's lack of form is also a matter of concern as he is the costliest player of the current IPL Auction.  RCB needs to play together as a team to get a suitable position in the League.(also read IPL auction report)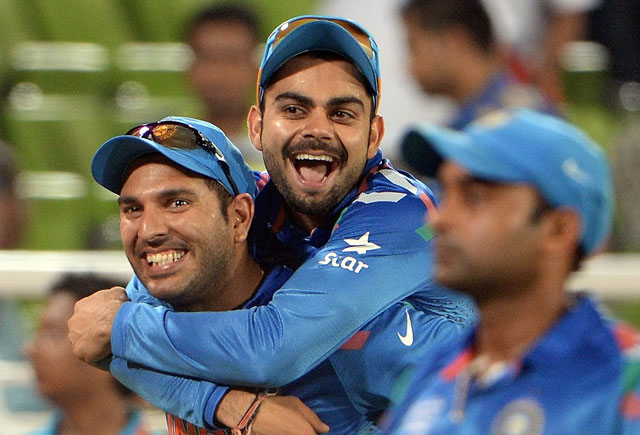 X Factors
Virat Kohli:Being the captain of the team, his role in the team becomes even more important. He is not just excellent batsmen, but also an efficient captain who can stimulate the scoreboard to a different level. His elegant style and run scoring abilities is a perfect match for RCB. He forms the back bone of the team. He has scored 2273 runs in 93 matches in IPL.(also read Vijay mallya backs virat to deliver)
Chris Gayle:Chris Gayle, more commonly known as "Gayle Storm" is a dark shadow of destruction enveloping every team. He can devastate a team with his hard-hitting and heart stopping strokes. Yes, having him in the team is the biggest advantage. His bowling qualities can also not be neglected. He has scored 2512 runs in 59 matches and has also taken 16 wickets. He is certainly a perfect X Factor for RCB.
AB de Villiers:AB de Villiers, the South African hero has been always in demand in this format of the game. With his high-class athletic qualities, he has always been a live wire on the field when it comes to playing for the team. He is never out of form. He can be a brilliant fielder and also an excellent wicket keeper. His ability to hit the ball in any part of the ground perfectly goes with his name "Mr.360". He has played 73 matches and scored 1661 runs. He is a RDX in RCB.
Albie Morkel:The South African All rounder is a complete package on the field. His sky touching strokes and wicket taking abilities are demanded in every team. He can handle the hitting department in the last overs when it is most needed. He has scored 827 runs in 78 matches and has also taken 76 wickets. He is a complete blockbuster in the team.
Squad:Virat Kohli(c), Chris gayle, AB de Villiers ,Yuvraj Singh ,Albie Morkel ,Ravi Rampaul , Muttiah Muralidharan , Parthiv Patel ,Vijay Zol ,Mitchell Starc ,Varun Aaron , Shadab Jakati ,AN Ahmed ,Harshal Patel , Ashoke Dinda , Sandeep Warrior ,Nic Maddinson ,Tanmay Mishra ,Yogesh Takawale , Sachin Rana ,Yuzvendra Chahal.
Cricket Tracker Says– RCB is a team who is high on moral support but lacks efficient planning and management. It lacks efficient bowlers who can raise high on the wicket takers list. With such efficient batting line up and moderate bowling qualities, the whole pressure is transferred onto the batsmen to score high targets. Seeing the current scenario, entry into playoffs is quiet certain for RCB. But with good performance, it can push its streak to a qualitative end.(also read  yuvraj gets support from former cricketers)
Follow us on Google News