Rohit Sharma doesn't let things faze him: Glenn Maxwell
"He is quite chilled and relaxed."
Updated - Jan 13, 2019 12:17 pm
5.8K Views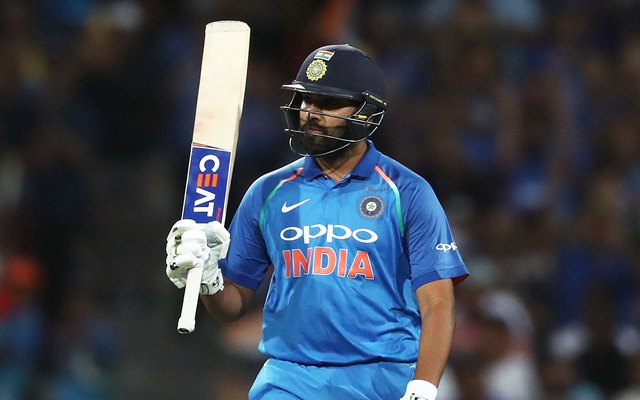 The Indian limited-overs vice-captain Rohit Sharma was mighty unbelievable in the first ODI against Australia. Chasing 289, the visitors were rocked back early with three quick wickets. Thereafter, Rohit joined hands with MS Dhoni and built up a wonderful partnership. Even though Dhoni wasn't at his fluent best, Rohit ensured that his aggressive cricket didn't put any pressure on his partner.
But, the former got out at the wrong time as he fell victim to a wrong umpiring decision. The opener then accelerated, registered his fifth century in Australia but failed to get the team over the line. He scored 133 runs before the side fell short of the target by 34 runs. Australian all-rounder Glenn Maxwell predicted something of this sorts even before India's tour of Australia began.
Glenn Maxwell heaps praise on Hitman
"He is effortless (while) hitting. He seems to have a lot more time than other players, makes it look easy. I suppose that is the joy of watching him. The game has looked easy when he is out there batting and he hits the ball as he likes. He is good against pace and spin and hits the ball miles when he wants to," said Maxwell while talking to Direct Hit.
Furthermore, the Australian also said that Rohit Sharma is an absolute star in limited-overs cricket. He noted that getting multiple doubles hundreds in ODI cricket is by no means an easy task. Maxwell reminisced the times when Sharma hit 264 against Sri Lanka.
"This guy, you can't stop him. He is quite chilled and relaxed. He doesn't let things faze him. That's for sure. Most of the times I had to deal with him, he's been so chilled out. I suppose that's one of his strengths, especially while facing the new ball," Maxwell further added. Both these players will be back in action on 15 January 2019 for the second ODI, a do-or-die for the visitors.
Watch: Best ODI XI of the year