Rohit Sharma reacts to Rishabh Pant's kip-up with a wry smile
Pant has quite regularly put up a display of his acrobatics behind the stumps.
Updated - Mar 14, 2019 8:19 pm
7.6K Views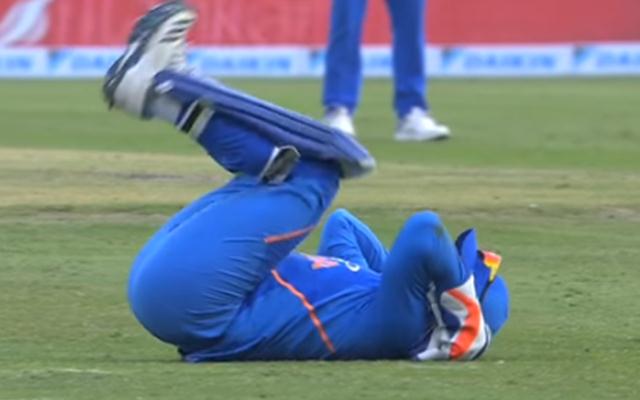 The recently-concluded India-Australia ODI series proved to be a highly entertaining affair with Australia coming back from a 2-0 deficit to accomplish a 3-2 win over the hosts. The decider at the Feroz Shah Kotla in Delhi on March 12 proved to be a comfortable victory for the Kangaroos, with an away series win over India in the World Cup giving them huge momentum prior to the start of the tournament in May.
Energetic and athletic, Rishabh Pant's dynamism has often caught the eye of fans all over the country. The young wicketkeeper is one of the fittest members of the Indian squad and seems to be a wrestling fan to boot. This came to the fore in the 5th ODI, when in the 48th over of the Australian innings, Pant did the famed "kip-up" move of wrestling legend Shawn Michaels. Michaels, a four-time world champion with the WWE, would often do the kip-up to jump up to a standing position from a supine one, much to the crowd's adulation.
Australia would now travel to the UAE to face Pakistan. Meanwhile, the Indian contingent would next be joining their respective franchises for the IPL starting March 23rd. In spite of Virat Kohli's assertion that IPL form would not be considered, there are some Indian players who would be looking to impress through their IPL performance when the final few hair-splitting decisions are to be made.
Among one of such hopefuls is Rishabh Pant, who had a lacklustre display in the last 2 games of the series when he was brought into the XI as the replacement for wicketkeeper MS Dhoni. Pant scored 36 and 16 respectively and was criticized for his error-prone performance behind the stumps. He would now look to focus on turning around his form as a key player for the Delhi capitals.
First fans now Rohit Sharma reacts to Pant's kip-up
Pant is a huge fan of the move which was evident in the final ODI. His kip-up also impressed Rohit Sharma standing close by, who could not help but give a wry smile at the keeper's athletic ability. This wasn't the first time that Pant was seen performing the move, though. This action got reactions on Twitter during the Australia tour earlier this year, with a fan pointing out the similarity of Pant's move to that of the pioneer, Shawn Michaels.
Here's the video of Pant's acrobatics: