Sachin Tendulkar backs India to lift the ICC Champions Trophy 2017
We have always had an upper hand vs Pakistan and I want them to play well so we can all celebrate after the match: Sachin Tendulkar
Updated - Jun 18, 2017 1:31 pm
947 Views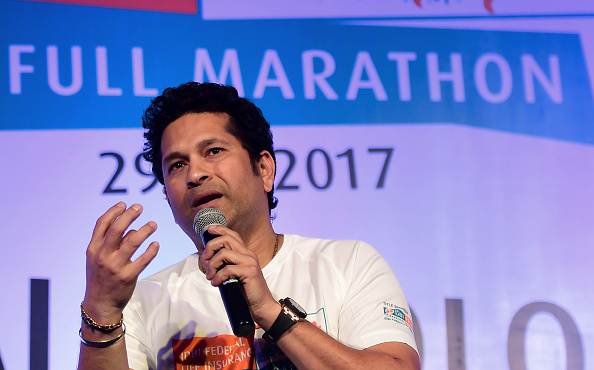 Indian cricketing legend Sachin Tendulkar backed defending champions India to beat Pakistan in the final of the ICC Champions Trophy 2017. India and Pakistan go head to head in the final of the mega-event on Sunday at the iconic Kennington Oval.
As are millions around the world, the Master Blaster is also waiting eagerly to watch the epic clash between the arch-rivals. Sachin said that he would be present at The Oval to support the Men in Blue and his presence will certainly boost the morale of the Indian team given the influence of his personality when around the cricket field.
Eagerly waiting for the final
"The whole world is eagerly waiting for the final. So am I," Sachin said. Furthermore, Tendulkar believed that India have the upper hand over Pakistan in the final. "We have always had an upper hand vs Pakistan and I want them to play well so we can all celebrate after the match," he added.
Tendulkar was all praises for the Indian skipper Virat Kohli's batting as well as his leadership. Kohli, who is captaining the Indian team for the first time in an ICC event, has racked up 253 runs in four innings. Having been dismissed only once, the right-hander has maintained an average of 253 throughout the tournament so far.
A formidable package
"Virat Kohli's leadership has been wonderful in the Champions Trophy. Rohit Sharma and Shikhar Dhawan have batted well as has Virat.  Yuvraj has played really well. The pace bowlers have been outstanding and the spinners have also done reasonably well. Overall, all the guys have chipped in and not to forget MS Dhoni. We need these guys to chip in again on Sunday. We have been a formidable package," Tendulkar said.
Essentially, the batting legend felt India are the better-prepared side for Sunday's clash, stating that Pakistan have lacked consistency in their performances.
"Pakistan have been inconsistent but Sunday is a new day and we will need to be as well prepared as ever," he further added.
Pakistan of 2003 vs Pakistan of today
Upon being asked to compare the Pakistan team he faced in the 2003 World Cup, Tendulkar conceded that Pakistan were a much stronger side back then. He also admitted that he hadn't slept for several nights prior to the game where he eventually scored a spectacular 98 in a comfortable victory.
"I don't like comparisons but if you start looking at the names,  Wasim, Waqar and Afridi and others, you clearly have two different Pakistan teams. The team of 2003 was formidable in South African conditions. I hadn't slept for 10 to 12 days ahead of the Pakistan game. The anxiety level is different. An India vs Pakistan final is not just another game," he quipped.
The Little Master concluded by wishing luck to the Indian team and said he was confident that India would defend their title on Sunday.