Sarim Akhtar, the 'disappointed Pakistani cricket fan', narrates how he feels being recognised as a meme
Muhammad Sarim Akhtar has been a popular figure since his iconic image went viral during the ICC Cricket World Cup 2019.
Updated - Jun 28, 2021 1:46 pm
52.4K Views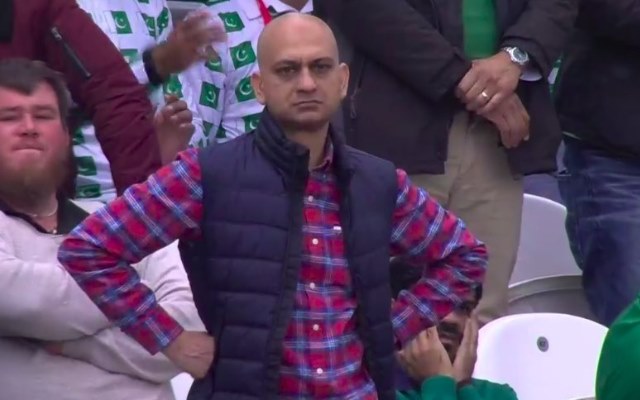 Follow us on Google News
On 12 June 2019, Pakistan played Australia in an ICC Cricket World Cup match at the County Ground in Taunton. The match was won by Australia, and some may say that happened partially because of Pakistan's poor fielding during the match. This match also gave birth to a famous meme, which has been used ever since that day several times and has become one of the most popular ones on the internet. 
The famous 'disappointed Pakistani cricket fan' was captured after Asif Ali, for the second time on the day, dropped an absolute sitter. The ball had gone to the third man boundary after David Warner just chipped and Ali was there to drop the catch. The camera turned to a Pakistan fan in the background, who stood there, emotionless, looking disappointed with his hands on the waist, and said nothing. 
In just a few mins, the image of the man in question became viral. The name of the Pakistan fan is Muhammad Sarim Akhtar, who has since become a cult meme. In a recent interview with VICE India, he revealed what it actually feels like to be recognized as a meme. 
After my name was leaked, I got thousands of friend requests on Facebook: Sarim Akhtar
"After my name was leaked, I got thousands of friend requests on Facebook and my phone was ringing through the night," he tells VICE. "It went way beyond the cricket space, especially in countries like Uganda, Botswana, Malaysia, and Indonesia. It's relatable because it fits into any situation that involves an unpopular decision," he said.
The iconic image of Akhtar has been used in many things since that day. He has become a lot more popular in Europe. He revealed that, "One person in Europe asked me if he could use my face on his credit card so that my disappointed expression would prevent him from using his card too often."
Akhtar was also offered to be a part of a Coca Cola advertisement campaign with his cricketing idol, Wasim Akram. Sarim Akhtar has now opened social media accounts on Instagram and Twitter, where he has been seen sharing his own memes. Currently, Akhtar is considering turning his meme into an NFT and has already received multiple offers, reports VICE.
Follow us on Telegram