Shahid Afridi wins hearts of Indian fans with an amazing gesture
Afridi has a great fan following in India.
Updated - Feb 10, 2018 11:49 am
2.2K Views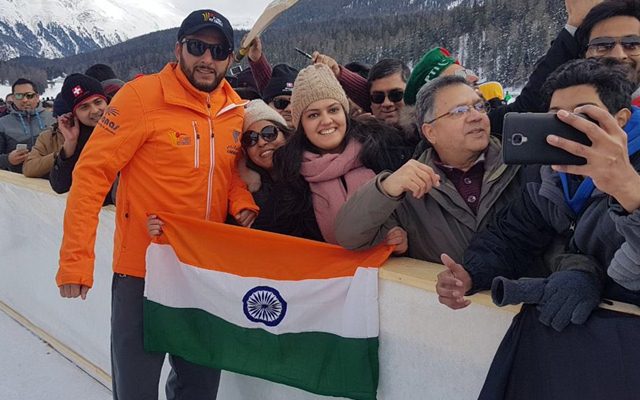 Follow us on Google News
Switzerland is one of the most famous holiday destinations in the world. It is home to exceptional leisure and sporting facilities and hosts events on the world stage. Recently, the country also witnessed world's first 'Ice Cricket Challenge' where International legends were put through one of the toughest challenges. A two-match T20 series was played on a frozen lake involving Virender Sehwag's XI and Shahid Afridi's XI.
In the most extreme environment they have ever faced, Sehwag's Badrutt's Palace Diamonds took on Afridi's Team Royals. Team Royals beat the Diamonds in both the matches played winning the Ice Challenge. South Africa's veteran all-rounder Jacques Kallis was one of the top-performers and also scored 90 of just 37 balls in the second game. Stars like Andrew Symonds, Graeme Smith, Daniel Vettori, Nathan McCullum, Grant Elliot, Monty Panesar and Lasith Malinga took part in the series.
Shahid Afridi's gesture towards Indian flag was indeed brilliant
Shahid Afridi is one of the most respected cricketers from around the world. He is a true gentleman on and off the field and has some great following in India too. He expressed his love towards India and its cricketers time and again impressing the Indian fans. Afridi was involved in some enthralling action and performed well in both the T20 games.
After the Ice Cricket Challenge was done and dusted, Afridi decided to spend some time with the fans. Fans from different regions around the world came to witness their favourite cricketers in action. It was a visual treat for them watching some greatest of cricketers sharing the same stage. The cricketers also were spotted having a fun banter with the fans in between the game.
All the fans wanted to take selfies with Afridi when he decided to meet them after the match. He embraced the fans with love and agreed to take selfies with them. However, one specific gesture won our hearts. There was a girl who asked him for a selfie. She had an Indian flag in her hand but she was sceptical if she should unfurl it.
Observant at her actions, Afridi said "Flag seedha karo aap" (meaning open the flag) and then posed with her. He proved out to be a gem of a person with this gesture and won many Indian fans' hearts. He posted a video of him meeting the fans on his Instagram account. Afridi also wrote 'Thank you Switzerland'.
Follow us on Telegram