Shams Mulani to lead Mumbai in Vijay Hazare Trophy 2021
Mulani also led the Mumbai team that travelled to Oman earlier this year.
Updated - Nov 26, 2021 12:17 pm
591 Views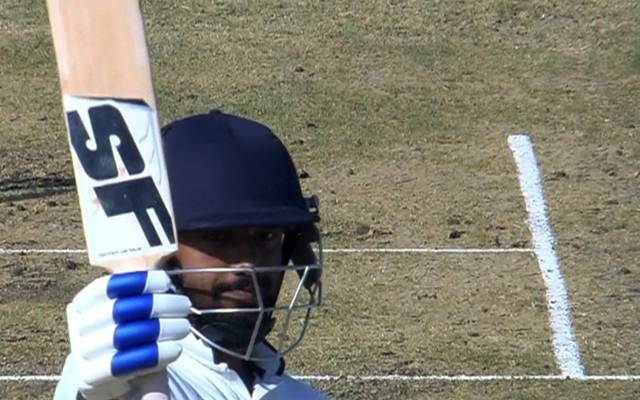 Follow us on Google News
All-rounder Shams Mulani is set to lead Mumbai in the upcoming Vijay Hazare Trophy, the Mumbai Cricket Association has confirmed. Mumbai, who are placed Elite Group B of the ODI tournament, will kickstart their campaign from December 8 in Thiruvananthapuram. Mulani also led the Mumbai team that toured Oman earlier this year.
Considering the absence of many senior players, who are currently on national duty, the Salil Ankola-led selection committee, also comprising Gulam Parkar, Sunil More, Prasad Desai and Anand Yalvigi, have named a fairly young squad, including the likes of Yashaasvi Jaiswal, Shivam Dube and Arman Jaffer, while the pace attack will be led by the experienced Dhawal Kulkarni.
Mumbai squad: Shams Mulani (C), Yashasvi Jaiswal, Arman Jaffer, Akarshit Gomel, Sagar Mishra, Siddhesh Lad, Shivam Dube, Hardik Tamore, Prasad Pawar, Tanush Kotian, Prashant Solanki, Sairaj Patil, Aman Khan, Atharva Ankolekar, Dhawal Kulkarni, Mohit Avasthi, Tushar Deshpande, Atif Attarwala, Deepak Shetty and Parikshit Valsangkar.
Vijay Hazare Trophy 2021: Elite Groups and Venues
A – (Venue: Mumbai)
Andhra Pradesh, Odisha, Jammu & Kashmir, Gujarat, Himachal Pradesh, Vidarbha
B – (Venue: Trivandrum)
Tamil Nadu, Mumbai, Baroda, Bengal, Karnataka, Pondicherry
C – (Venue: Mohali/Chandigarh)
Jharkhand, Delhi, Hyderabad, Haryana, Uttar Pradesh, Saurashtra
D – (Venue: Rajkot)
Madhya Pradesh, Maharashtra, Chhattisgarh, Uttarakhand, Kerala, Chandigarh
E – (Venue: Jaipur)
Punjab, Rajasthan, Goa, Assam, Railways, Services (Venue: Ranchi)
Plate Group
Bihar, Mizoram, Tripura, Arunachal Pradesh, Meghalaya, Sikkim, Nagaland, Manipur
Venue for Knockouts and Final – Jaipur
Vijay Hazare Trophy 2021 Fixtures
December 8th, Wednesday
Andhra vs Odisha, Round 1, Elite Group A
Kerala vs Chandigarh, Round 1, Elite Group
Punjab vs Rajasthan, Round 1, Elite Group E
Goa vs Assam, Round 1, Elite Group E
Railways vs Services, Round 1, Elite Group E
Bihar vs Mizoram, Round 1, Plate
Tripura vs Arunachal Pradesh, Round 1, Plate
Meghalaya vs Sikkim, Round 1, Plate
Nagaland vs Manipur, Round 1, Plate
Chhattisgarh vs Uttarakhand, Round 1, Elite Group D
Madhya Pradesh vs Maharashtra, Round 1, Elite Group D
Gujarat vs Jammu and Kashmir, Round 1, Elite Group A
Vidarbha vs Himachal Pradesh, Round 1, Elite Group A
Tamil Nadu vs Mumbai, Round 1, Elite Group B
Baroda vs Bengal, Round 1, Elite Group B
Karnataka vs Puducherry, Round 1, Elite Group B
Jharkhand vs Delhi, Round 1, Elite Group C
Hyderabad vs Haryana, Round 1, Elite Group C
Uttar Pradesh vs Saurashtra, Round 1, Elite Group
December 9th, Thursday
Chandigarh vs Uttarakhand, Round 2, Elite Group D
Goa vs Rajasthan, Round 2, Elite Group E
Punjab vs Railways, Round 2, Elite Group E
Services vs Assam, Round 2, Elite Group E
Nagaland vs Arunachal Pradesh, Round 2, Plate
Bihar vs Meghalaya, Round 1, Plate
Sikkim vs Mizoram, Round 1, Plate
Tripura vs Manipur, Round 1, Plate
Madhya Pradesh vs Kerala, Round 2, Elite Group D
Chhattisgarh vs Maharashtra, Round 2, Elite Group D
Saurashtra vs Haryana, Round 2, Elite Group C
Gujarat vs Odisha, Round 2, Elite Group A
Andhra vs Vidarbha, Round 2, Elite Group A
Himachal Pradesh vs Jammu and Kashmir, Round 2, Elite Group A
Baroda vs Mumbai, Round 2, Elite Group
Tamil Nadu vs Karnataka, Round 2, Elite Group B
Puducherry vs Bengal, Round 2, Elite Group B
Hyderabad vs Delhi, Round 2, Elite Group C
Jharkhand vs Uttar Pradesh, Round 2, Elite Group C
December 11th, Saturday
Kerala vs Maharashtra, Round 3, Elite group D
Goa vs Services, Round 3, Elite group E
Punjab vs Assam, Round 3, Elite group E
Railways vs Rajasthan, Round 3, Elite group E
Tripura vs Sikkim, Round 3, Plate
Bihar vs Nagaland, Round 3, Plate
Meghalaya vs Manipur, Round 3, Plate
Arunachal Pradesh vs Mizoram, Round 3, Plate
Madhya Pradesh vs Uttarakhand, Round 3, Elite group D
Chhattisgarh vs Chandigarh, Round 3, Elite group D
Uttar Pradesh vs Delhi, Round 3, Elite group C
Gujarat vs Himachal Pradesh, Round 3, Elite group A
Andhra vs Jammu and Kashmir, Round 3, Elite group A
Vidarbha vs Odisha, Round 3, Elite group A
Baroda vs Puducherry, Round 3, Elite group B
Tamil Nadu vs Bengal, Round 3, Elite group B
Karnataka vs Mumbai, Round 3, Elite group B
Hyderabad vs Saurashtra, Round 3, Elite group C
Jharkhand vs Haryana, Round 3, Elite group C
December 12th, Sunday
Maharashtra vs Uttarakhand, Round 4, Elite Group D
Punjab vs Services, Round 4, Elite Group E
Goa vs Railways, Round 4, Elite Group E
Rajasthan vs Assam, Round 4, Elite Group E
Arunachal Pradesh vs Manipur, Round 4, Plate
Meghalaya vs Mizoram, Round 4, Plate
Tripura vs Nagaland, Round 4, Plate
Bihar vs Sikkim, Round 4, Plate
Chhattisgarh vs Kerala, Round 4, Elite Group D
Madhya Pradesh vs Chandigarh, Round 4, Elite Group D
Saurashtra Cricket Association Stadium, Rajkot
Delhi vs Haryana, Round 4, Elite Group C
Andhra vs Himachal Pradesh, Round 4, Elite Group A
Gujarat vs Vidarbha, Round 4, Elite Group A
Odisha vs Jammu and Kashmir, Round 4, Elite Group A
Tamil Nadu vs Puducherry, Round 4, Elite Group B
Baroda vs Karnataka, Round 4, Elite Group B
Mumbai vs Bengal, Round 4, Elite Group B
Jharkhand vs Saurashtra, Round 4, Elite Group C
Hyderabad vs Uttar Pradesh, Round 4, Elite Group C
December 14th, Tuesday
Chhattisgarh vs Madhya Pradesh, Round 5, Elite Group D
Railways vs Assam, Round 5, Elite Group E
Rajasthan vs Services, Round 5, Elite Group E
Goa vs Punjab, Round 5, Elite Group E
Tripura vs Meghalaya, Round 5, Plate
Sikkim vs Manipur, Round 5, Plate
Bihar vs Arunachal Pradesh, Round 5, Plate
Nagaland vs Mizoram, Round 5, Plate
Maharashtra vs Chandigarh, Round 5, Elite Group D
Kerala vs Uttarakhand, Round 5, Elite Group D
Hyderabad vs Jharkhand, Round 5, Elite Group C
Vidarbha vs Jammu and Kashmir, Round 5, Elite Group A
Odisha vs Himachal Pradesh, Round 5, Elite Group A
Gujarat vs Andhra, Round 5, Elite Group A
Karnataka vs Bengal, Round 5, Elite Group B
Mumbai vs Puducherry, Round 5, Elite Group B
Baroda vs Tamil Nadu, Round 5, Elite Group B
Uttar Pradesh vs Haryana, Round 5, Elite Group C
Delhi vs Saurashtra, Round 5, Elite Group C
December 19th, Sunday
To Be Confirmed vs To Be Confirmed, Pre Quarter Final 3
TBC vs TBC, Pre Quarter Final 2
TBC vs TBC, Pre Quarter Final 1
December 21st, Tuesday
TBC vs TBC, Quarter Final 2
TBC vs TBC, Quarter Final 1
December 22nd, Wednesday
TBC vs TBC, Quarter Final 3
TBC vs TBC, Quarter Final 4
December 24th, Friday
TBC vs TBC, Semi-Final 1
TBC vs TBC, Semi Final 2
December 26th, Sunday
TBC vs TBC, Final
Follow us on Telegram