Smriti Mandhana opens up about the World Cup, her journey and more
Smriti Mandhana opened her account in the World Cup with a bang as she played a brilliant 90 run knock in the very first match against hosts England.
Updated - Jul 26, 2017 9:29 pm
15.7K Views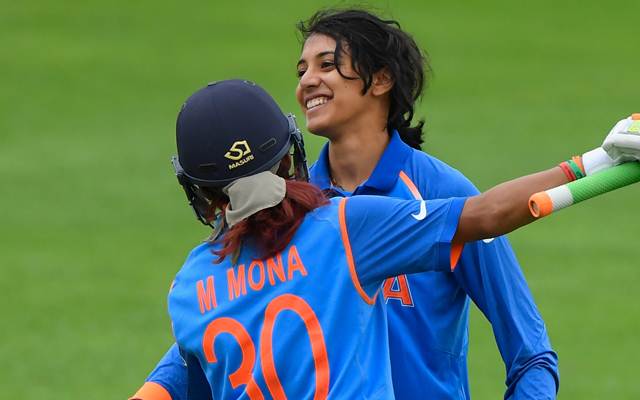 When the Indian Women's team played the final against Australia at Centurion in the 2005 ICC Women's World Cup, current Indian opener Smriti Mandhana was a 9-year-old kid. She had dreamt of being at the same stage some day, and in a fairytale journey, her dream came true 12 years later. Smriti Mandhana found herself opening the inning for the national side in the recently concluded ICC Women's World Cup.
Though India failed to lift the prestigious trophy in a déjà vu of 2005 by losing the finals once again, Smriti Mandhana termed her first World Cup campaign as 'good'. Mandhana, a girl born in Sangli, Maharashtra had an experience of a lifetime and it is surely just the beginning for the promising talent.
On playing at Lords:
"The journey was good, of course. As a kid, you always dream to play at Lord's. Unfortunately, we missed playing at Lord's in 2014 as the match was washed out. But I remember Jhulu didi (Jhulan Goswami) telling me and Shikha (Pandey) that "don't worry the 2017 World Cup final is at the same ground and if we do well, we will be there". I think that really happened. It was a dream come true playing before the packed stadium in Lord's," Mandhana told reporters as the team arrived in Mumbai, India following heroic World Cup campaign.
Smriti Mandhana opened her account in the World Cup with a bang as she played a brilliant 90 run knock in the very first match against hosts England. However, it did not take her long to bring up her maiden World Cup hundred as she did so in the very next match against the West Indies. The young cricketer intends to play county cricket in the future if she manages to squeeze out time from BCCI's hectic schedule.
On playing county cricket:
"If BCCI allows, then. I think the schedule is very busy for us right now and it is really tough to take time out of this schedule and go play county cricket. But if I get an opportunity and I have a free time, I will definitely like to go and play in those conditions," added Smriti.
After getting off to a flyer in the tournament she lost her magic touch for the rest of the tournament. She found it hard to get into the double digits and was dismissed cheaply in all occasions. According to the batsman, she needs to improve her shot selection which let her down in the later stages of the tournament.
On losing her touch after the first two matches:
"Had I known (what was going wrong), I would have performed better. After first two games, I played the next two games (against Pakistan and Sri Lanka) with same confidence. I am disappointed with my shot selection. Barring the final, I don't think the bowler got me out. I felt I have gifted my wicket. So more than technique, I need to work on my shot selection, I need to decide which ball to be hit, I was going for every shot. That's the takeaway from the last seven innings where I didn't do well. Hopefully, I will be a better player next time," added Mandhana.
She continued "My preparations have been the same for the last nine matches. I did not change my preparation at all. Be it my gym sessions or batting sessions. Even I was thinking what had really happened after those two knocks. So, that was something which was haunting me. Generally, when I am out of shape of batting, I perform well. This time when I was in good shape of batting, I was not performing. It was pathetic shot selection I would say. I really played some rash shots which got me out. Except the last match, bowler did not take my wicket, I gifted my wicket. So, next time I will make sure I have a good shot selection,"
On academics:
Apart from her excellence as a cricketer, Mandhana also has a good sense of humour. We got a hint of the same when she spoke about her academics.
"I am in first year (of college) for the last three years," said Smriti. With a bit of laughter, she added, "I have not failed, but I am not giving exams."
On future plans:
The left handed opener also pointed out that she is looking forward to regaining 100 percent fitness in the future and will focus on not repeating the same mistakes. "Get back to 100 per cent fitness after the injury and make sure I don't repeat those mistakes. And I do well in the first two matches then continue the same form in the next games and be a better player." she signed off.