'An absolute disgrace!' - Anushka Sharma furious after Virat Kohli's hotel room privacy gets invaded in Australia
Virat Kohli earlier took to Instagram to share the entire incident.
Celebrities and cricketers are often ambushed by fans and paparazzi for photos and on many occasions where the stars have kept their cool but there have been instances when things take a turn for the bad. While players try to maintain their strong fan following either with their game or through engaging with them on social media, at times, fans fail to comprehend where to draw the line without invading one's privacy.
Earlier on 31 October, Monday, India batter Virat Kohli who is on duty with the national side for the ICC T20 World Cup 2022 was subjected to invasion of privacy. The right hander shared a video and was seemingly not appreciative of the behaviour of a man (suspected to be a member of the hotel staff) invading his room. Bollywood actress and wife of the player, Anushka Sharma immediately took heed of the situation and lashed out on the 'fanatics' for invading personal space.
View this post on Instagram
"Have experienced few incidents where some fans have shown no compassion or grace in the past, but this really is the worst thing. An absolute disgrace and violation of a human being and anyone who thinks 'celebrity ho! Toh deal karna padega' should know that you are also part of the problem," shared Anushka on her Instagram 'story' attaching Virat Kohli's 'invasion of privacy' post.
"Exercising some self-control helps everyone. Also, if this happened in your bedroom then where is the line?" added Anushka.
Here is the IG story shared by Anushka Sharma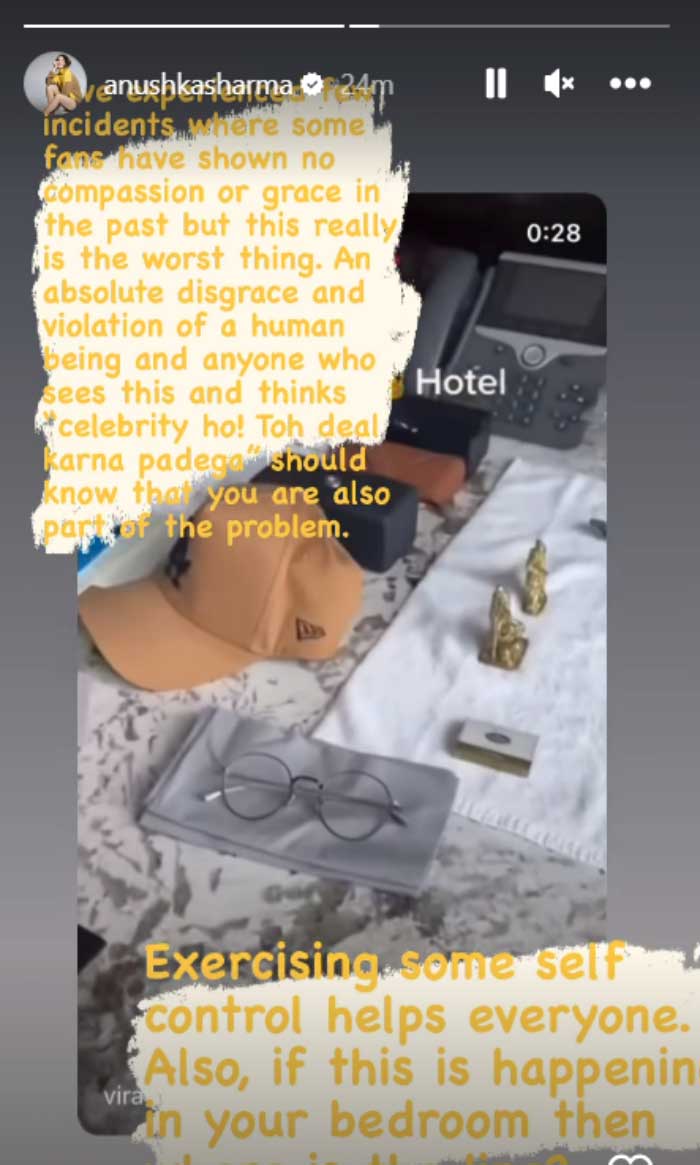 India have nearly cemented semi-final berth
Talking of Kohli on professional front, team India are close to cementing their spot in the last four of the tournament courtesy of batter's successive half-centuries in Pakistan and the Netherlands fixtures that guided them to earn four points. However, the side were defeated at the hands of South Africa, who put terrific performance with the ball coupled with David Miller's unbeaten innings of 59 runs in 46 balls that helped the side chase low total of 133. Despite the result, India still have two fixtures to go with strong chances of advancing to the semi-final rounds.