'I'm NOT okay with this kind of fanaticism' - Virat Kohli fumes after clip of his hotel room gets leaked on social media
'Please respect people's privacy and not treat them as a commodity for entertainment,' said Kohli
Cricketers from all around the world have a crazy fan following, and the players also try their best to keep the fans entertained, either with their performances on the field or through social media off the field. But sometimes, people go too far to get attention, and a similar incident happened with former India captain Virat Kohli.
Kohli is currently in Australia with the Indian national side as the Men in Blue have participated in the T20 World Cup 2022. Kohli was one of the major reasons behind India's victories against Pakistan and the Netherlands, which helped India bag four points and get on top of the points table, before losing the South Africa fixture.
But Kohli was fumed with an incident that took place off the field, as a video of his hotel room went viral. The ace cricketer shared the same on his official Instagram and expressed disgrace at his privacy being invaded in his absence. In the video, a reflection of a man, all suited up, is seen in a mirror and thus, it is suspected that he is a member of the staff.
The video showed Kohli's entire bedroom and his personal belongings alongside many other things. Kohli shared the viral video and wrote:
"I understand that fans get very happy and excited seeing their favorite players and get excited to meet them and I've always appreciated that. But this video here is appalling and it's made me feel very paranoid about my privacy. If I cannot have privacy in my own hotel room, then where can I really expect any personal space at all?? I'm NOT okay with this kind of fanaticism and absolute invasion of privacy. Please respect people's privacy and not treat them as a commodity for entertainment."
Here's the video:
View this post on Instagram
Australian cricketer David Warner and Bollywood star Varun Dhawan commented on the video shsred by Kohli on his Instagram handle and showcased disbelief. Warner wrote: "This is ridiculous, totally unacceptable. Was this Crown Perth,", while Varun Dhawan wrote: "Horrible Behavior."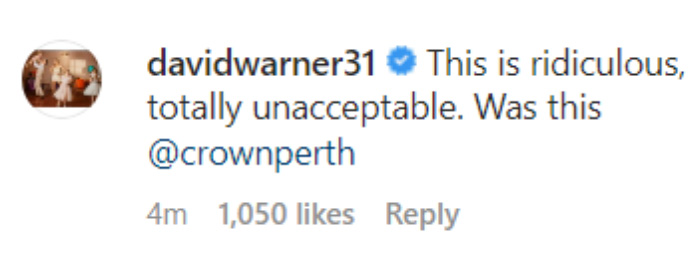 Kohli becomes first Indian cricketer to notch up 1000 T20 World Cup runs
Speaking of his performances, he notched up back-to-back half-centuries in the first two games which helped India bag a win but failed to fire against South Africa and could score only 12 runs while batting. But in that short span, Kohli unlocked an achievement as he became the first Indian player to surpass 1000 runs in T20 World Cups, thereby becoming only the second cricketer in the history of the event to do so, after Sri Lankan legend Mahela Jayawardene.
Click here to know the T20 World Cup Points Table and T20 World Cup Schedule updates