Official Twitter handle of BCCI likes Pakistan journalist's distasteful 'cowards don't run away' tweet in wake of Jay Shah's statement
The Board of Control for Cricket in India (BCCI) has liked a critical tweet from an irate Pakistan journalist in the wake of Jay Shah's recent statement.
The cricketing relations between arch-rivals India and Pakistan have worsened ever since Jay Shah after his re-election as the Board of Control for Cricket in India (BCCI) secretary at the recent AGM made it clear that India will not be visiting Pakistan for the next year's Asia Cup and that the continental tournament will be played at a neutral venue.
While many experts and former cricketers from the neighboring country slammed the BCCI for this decision, even the Pakistani media did not shy away from being vocal and one of the journalists Syed Sammer Abbas took it a bit too far with a series of tweets. Meanwhile, one of those distasteful tweets was also liked by the BCCI.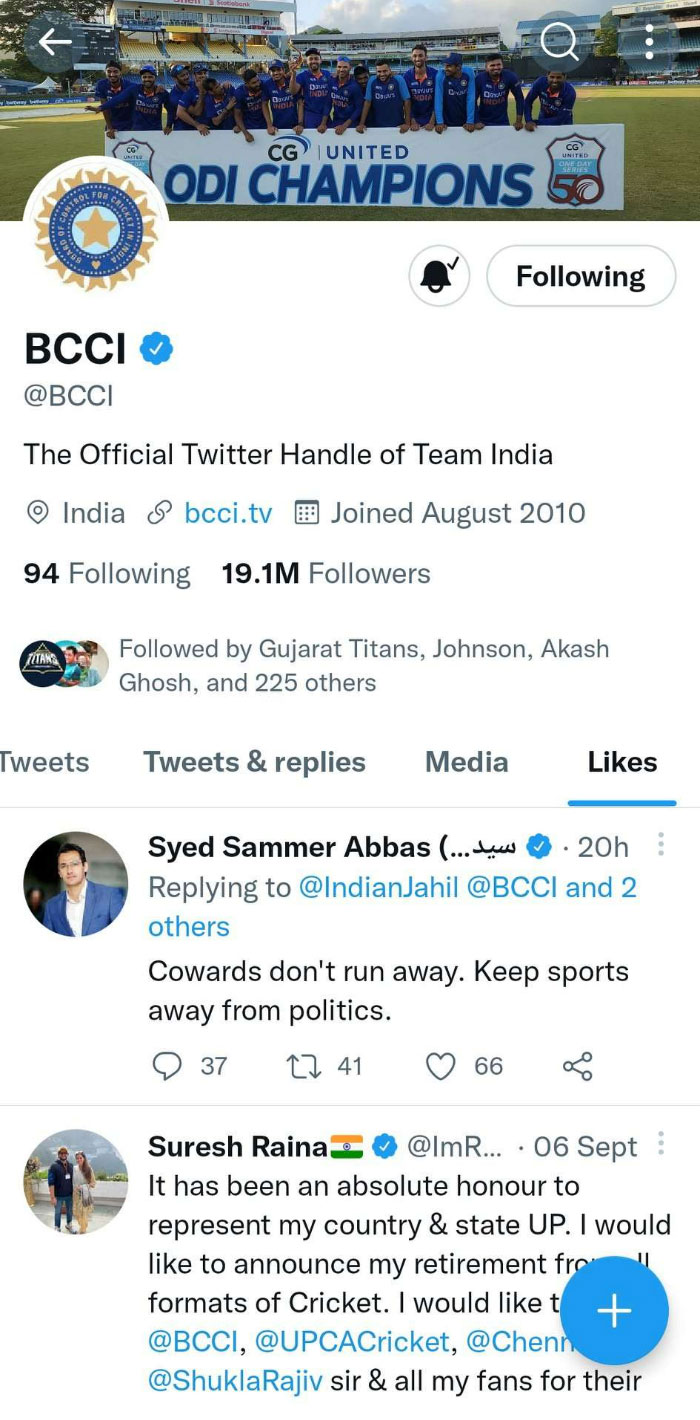 Pakistani journalist offensively slams BCCI on Twitter
It so happened that the Pakistani journalist had earlier lashed out at the Indian cricket board's decision to take away the Asia Cup 2023 hosting rights from their country. He wrote, "Cowards don't run away. Keep sports away from politics".
As soon as the controversial tweet got viral in no time, the BCCI came forward and ended up liking the tweet supposedly to indicate that they really don't care about the outside noise and are firm with their decision. That was not all, Abbas a day earlier had also accused the BCCI of being a politically manipulated tool.
#BCCI has become a tool of extremist RSS.

— Syed Sammer Abbas (سید ثمر عباس) (@SammerAbbas) October 18, 2022
The former Pakistani cricketers who have criticized Jay Shah and the BCCI for their unwillingness to visit the country next year include the likes of Saeed Anwar, Shahid Afridi, Salman Butt and the legendary Javed Mianded.
Apart from all this, the Pakistan Cricket Board (PCB) have warned of dire consequences to their Indian counterparts should they move the Asia Cup 2023 to a neutral venue. PCB had reportedly threatened to pull out of the next year's ODI World Cup in India.