Some fights do get personal, and there is nothing wrong with that, says Gautam Gambhir on his relation with Shahid Afridi
Shahid Afridi wrote in his autobiography that Gautam Gambhir has an attitude problem.
Updated - Oct 8, 2019 10:50 am
1.5K Views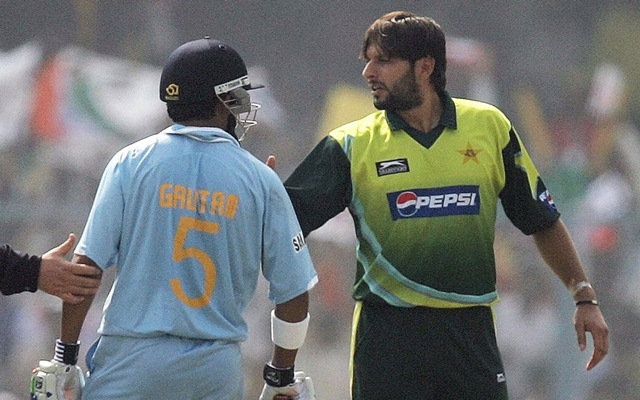 Follow us on Telegram
Gautam Gambhir, the former Indian opener turned politician played a key role in the final of World Cup 2011, and his inning of 97 was the main reason behind India winning their second 50-over World Cup. After that, he remained out of Team India for the majority time. Last year he took his retirement from all forms of cricket and joined the Bharatiya Janata Party (BJP).
He was known as one of the aggressive players on the field and had an interesting history. During 2007, Pakistan toured India and in the third ODI of the series, Gambhir and Afridi were caught in a verbal spat. The things went wrong when Indian lad collided with Afridi during spat.
Since then the things between these two players have never been good. Both players always have a North-South opinion over a particular topic. They have been caught in an argument on a couple of occasions on social platforms as well. Earlier, this year Shahid Afridi wrote in his autobiography that the former Indian opener has an attitude problem.
Gautam Gambhir's opinion over Pakistan all-rounder
Now, in a recent interview with Indian Express, when asked about his sore relations with Shahid Afridi, the Delhiite said, he had good relations with quite a few Pakistan players but there are times that some fights get personal and there nothing wrong in it, "I have had decent relationships with Pakistani players, off the field, but not with Shahid Afridi. So that is the reason we got personal. Some fights do get personal, and there is nothing wrong with that. It has been like that for a very long time. Sometimes it is nice to get personal with someone." former Indian player told Indian Express.
He also gave sarcastic angle to Afridi's cricket career saying that who knows, he might make a comeback again, "Now obviously he doesn't play but you never know, he might just make a comeback. He will never retire… There is a bit of history to that (the relationship with Afridi), I am fine with that."
Gautam Gambhir has featured in 58 Tests, 147 ODIs and 37 T20Is for India and has made more than 10,000 runs across all the formats.
Watch: 5 Times when Virat Kohli was trolled by Indian fans
Follow us on Google News