Sourav Ganguly cites the biggest difference between India and England on the tour thus far
"If England are not able to post totals near 330, it only makes the job easier for the Indian batsmen," Ganguly mentioned.
Updated - Jul 14, 2018 11:35 am
1.8K Views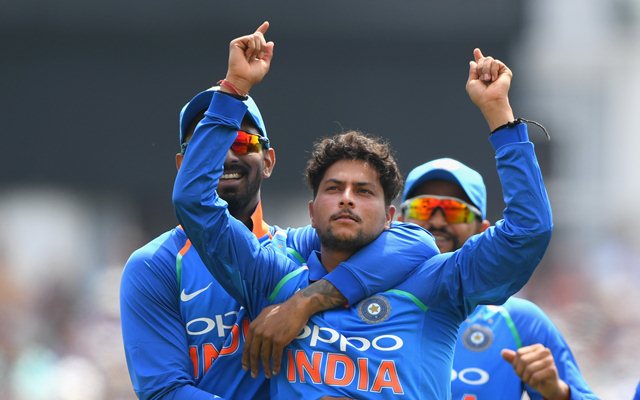 Team India is on a roll in England at the moment. They have managed to outclass the hosts on the tour thus far. Former Indian skipper Sourav Ganguly is closely following the tour. Recently, he tried to analyze the chief reasons for India's dominating run and the poor show by England in the series. The player who seems to have impressed Ganguly the most in the series is Kuldeep Yadav.
Kuldeep started off his tour with a five-wicket haul in the first T20I. In the recently concluded first ODI, he bettered his performance by grabbing a six-wicket haul. Praising Kuldeep, Sourav Ganguly noted that it was the chinaman who gave India the victory. He hopes that Kuldeep will continue to haunt the opposition on the tour. Kuldeep has also remarked that he is keen on continuing his good run.
"Kuldeep brought India the win. It was a good start for England, putting up 70 runs in 10 overs, but once Kuldeep came, he took three wickets in one over. He changed the entire outcome of the game and never allowed England to gain any momentum," Sourav Ganguly told IndiaTV.
"Kuldeep's presence has intimidated the Englishmen. Ever since his performance in Manchester (first T20I), England panic when he comes around. There's not much difference between him and Chahal. One's a right-armer and the other is a left, but the way the batsmen see them, it makes a huge difference in the game. There's still plenty of games to play (2 ODIs and 5 Tests) and I hope that he (Kuldeep) continues to daunt them. If they continue to bat like this, there's no coming back," he added further.
The big difference
Adding more on the same note, Sourav Ganguly went on to cite Kuldeep as the biggest difference between the two sides on the tour. He remarked that Kuldeep has been putting the brakes on the English run scoring. Unless the English side posts totals around 330, it will be very tough for them to contain the Indian batsmen.
"Kuldeep has been the difference between India and England. He took five wickets in Manchester and wrapped up the game. In Nottingham he took 6 wickets and finished the job for India. If he didn't take 6 wickets, the match could have been very different. It's just match winning performances by him. If England are not able to post totals near 330, it only makes the job easier for the Indian batsmen. On flat wickets, you can expect Kuldeep to do what he does best," conceded the former Indian skipper.