South Africa vs India, 2nd Test – India Player Ratings
Another batting failure by India meant Proteas won the match by 135 runs and sealed the series 2-nil.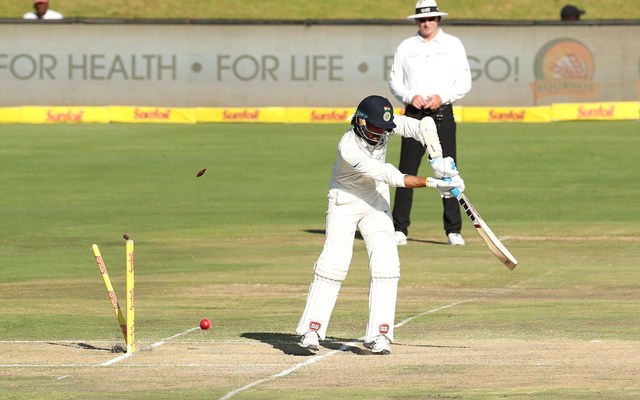 In a Test match that saw a lot of twists and turns, South Africa managed to pull off a sensational victory against the visitors. The debutant Lungi Ngidi had a dream game as he had figures of 6/39 in the second innings. The pacer was deservingly awarded the Man of the Match for his fantastic bowling.
After South Africa were restricted to 335 after a brilliant start on Day 1, Indian batsmen failed to capitalize. However, Virat Kohli led from the front with an astounding inning of 153 as India fought back. With South Africa reduced to 3/2 in the second innings, India held the momentum.
That's when AB de Villiers produced another outstanding knock to steer South Africa out of trouble. With the pitch flat but uneven, a target of 287 was going to be difficult but was chaseable at the same time. However, another batting failure meant, Proteas won the match by 135 runs and sealed the series 2-nil.
Here are the player ratings for India based on their performances in this Test match:
KL Rahul – 1/10
Brought in as a replacement of Shikhar Dhawan, KL Rahul was expected to be much responsible. In the first innings, he was dismissed for 10 trying to drive a length ball. Rahul hit it back to Morne Morkel who produced a brilliant caught & bowled effort. If that dismissal was poor, what he did in the second innings was unforgivable. He tried to sheepishly cut an outside off delivery and was caught at backward point. The fact that Dhawan scored more in one innings in Cape Town than Rahul did in both innings in Centurion describes how poor he was.
Murali Vijay – 4/10
Vijay has been regarded as one of the mainstays in the Indian batting lineup. The 'Monk' as he's referred to, batted really well with Kohli in the first innings as India recovered from an early slump. He missed out on a fifty as he tried to cut Maharaj. However, he was completely outdone by Rabada in the second innings. A ball that kept low, Vijay ended up with an inside edge onto the stumps. For someone, who has been a renowned batsman like Vijay, the runs he has scored on the tour so far doesn't do justice to his name.
Cheteshwar Pujara – 0/10
There's no doubt that Pujara has been considered as a valuable asset at No.3 for India in India. However, his continuous failure in overseas conditions has raised questions over his versatility as a batsman. Also for someone who has been known for his patience, the fact that he got run out twice was as weird as India's decision of leaving Bhuvneshwar Kumar out. After a golden duck in the first innings, Pujara showed great intent in the second innings. However, the way he got out just puts us back to the same question. How long before Pujara starts scoring outside India?
Virat Kohli – 7/10
Probably the only Indian batsman who showed any kind of valour in the Test match. In the first innings where the whole team faltered, he was the lone Indian batsman standing tall. Scoring 153 runs in India's total of 307, Kohli's stupendous knock allowed India to fight back in the game. In the second innings, he got done by a ball that kept low by debutant Ngidi. While his batting was splendid, it was his captaincy that was questionable. Some of his selection decisions, bowling as well as batting changes seemed quite funky.
Rohit Sharma – 4/10
For someone who's replacing a batsman like Ajinkya Rahane, Rohit Sharma was always bound to criticism. Following the failure in Cape Town, Rohit failed to prolong his stay at the crease in spite having a set Kohli at the non-striker's end. In yet another questionable decision, Rohit came in at No.6 in the second innings. While he managed to be the highest run-scorer and save his place, it remains to be seen if he's someone reliable in the longer format. The Johannesburg Test is going to be a crucial game for Rohit.
Hardik Pandya – 0/10
For someone who was the hero in the first game, he turned out to be a zero at Centurion. No wickets with the ball and two stupid dismissals in the Test match. The way he got out in the first innings was such a poor cricketing skill that he managed to annoy Sunil Gavaskar to an atrocious level. The second innings was another outrageous dismissal as he tried to steer away a short outside off delivery. There will be serious questions raised on his temperament after this.
Parthiv Patel – 3/10
The short man who was brought in place of an injured Saha failed to get into his gloves. After some really poor wicket keeping, he was expected to score runs to outdo the same. However, despite of looking fine with the bat for a substantial time, he got dismissed for 19 in both the innings. With Karthik called up, the signs of him playing another Test is highly unlikely.
Ravichandran Ashwin – 6/10
The off-spinner was unexpectedly India's best bowler in the first innings. He was really unlucky to miss out on a fifer as the Indians kept dropping catches off his bowling. He also scored 38 in the first innings and held a helping hand to Kohli. However, the second innings was where he failed to capitalize, with much expectations resting on him. He got the lone wicket of tailender Ngidi.
Mohammed Shami – 6/10
Probably India's best pacer in the match. There were quite a few moments in the first innings where he wasn't delivering up to his potential. However, his twin strikes of AB De Villiers and Dean Elgar brought back India into the game. The way Mohammed Shami produced an edge off Quinton De Kock four times in a row was worth appreciating. However, since he has been the go-to bowler this game, he's likely to be on the bench for Johannesburg looking at the line of selections.
Jasprit Bumrah – 4/10
Playing only his second game in whites, Bumrah for a fair bit of it bowled the wrong lengths. With South Africa in shambles after losing two early wickets in the second innings, he failed to exert any extra pressure. Went wicketless in the first innings. While he has hit the deck hard, he has been defensive as a bowler at times. He bowled well in patches but much more needed from him.
Ishant Sharma – 6/10
The bowler did manage to prove all his detractors wrong. While he managed to seam the ball consistently, the pitch didn't offer much bounce. It would've been really interesting to see what he could've offered in Cape Town with the lateral movement there. If he can get rid of the loose boundary balls alongside the stupendous deliveries he bowls, Ishant can be a much better bowler than his stats suggest.