Stats: Players to be dismissed via hit-wicket in the T20I cricket
Aaron Finch became the first Australian to be dismissed via hit-wicket in the T20I format.
Updated - Jul 3, 2018 11:10 pm
179 Views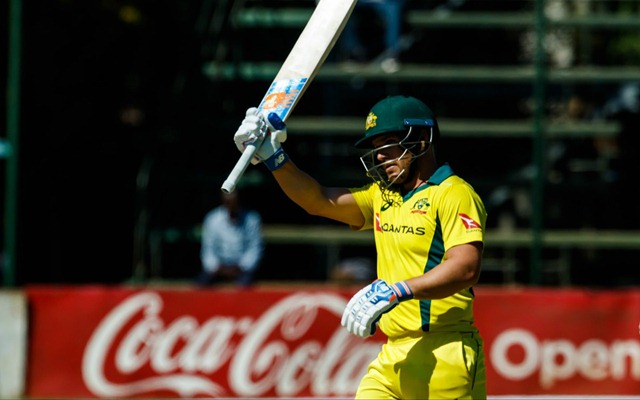 Aaron Finch might have been underwhelming during this year's IPL where he batted in the middle-order but came back to his own once he was back opening for Australia. Finch scored a century in the ODI series and followed it with a quick-fire 84-run knock as captain in the one-off T20I during the England tour. He was instrumental in breaking their losing streak with a blitz of unbeaten 68 against Pakistan in their first match of the Zimbabwe T20I Tri-Series.
He scored his 3rd successive fifty-plus score in this format when they took on the hosts Zimbabwe in the 2nd game. The right-hander raced to a 22-ball fifty in the mandatory powerplay and went to score a record 172 before he got out in the final over of the innings. Thus, Finch broke his own record of the highest individual T20I score which was 156 against England in 2013. The Australian opener came close to breaking Chris Gayle's T20 record score of 175* only before he got out via hit-wicket.
Finch tried to get his bat on the penultimate delivery of the innings that was out of his reach. In pursuit of playing a shot deep from his crease, the Australian captain ended up knocking down his stumps. Thus, Aaron Finch became the first Australian to be dismissed via hit-wicket in T20I cricket. Overall, Finch is the 11th player to be dismissed in this fashion in T20Is but the first to score a century before getting out.
Players to be dismissed via hit-wicket in T20I cricket: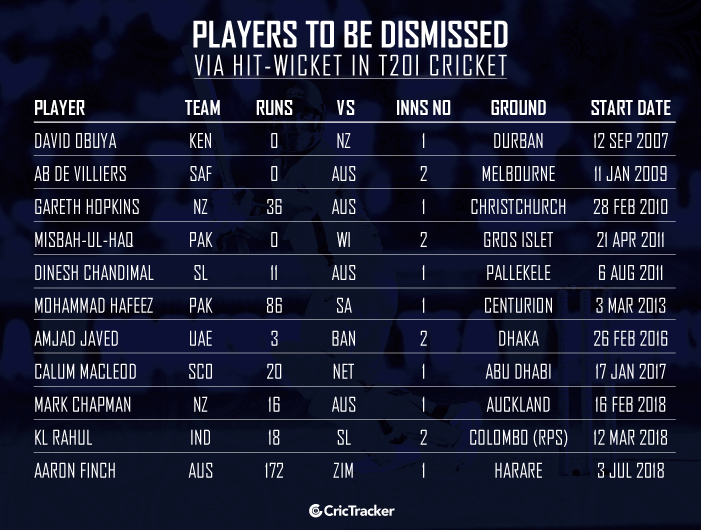 Pakistan's Mohammad Hafeez scored 86 in the 2013 Centurion T20I before getting out hit-wicket which was the only other instance when a batsman scored a fifty before knocking his stumps in T20Is. The first ever player to be dismissed via hat-trick in T20I cricket was Kenya's David Obuya who lost his balance in their first ever WT20 game in 2007. Obuya and Misbah-ul-Haq are the only players so far to be dismissed via hit-wicket on a golden duck. AB de Villiers also bagged a duck when Shaun Tait's bouncer knocked him on to the stumps on the 4th ball he faced in the innings.
Finch's 172 is overall the 8th highest individual score in International cricket made by any batsman before dismissed via hit-wicket. His score is one of the two innings among the top ten scores in International cricket that came to an end via hit-wicket. Faf du Plessis scored 126 for South Africa against Australia in the 2014 ODI Tri-Series also in Harare.
Highest individual scores before being dismissed via hit-wicket in T20I cricket: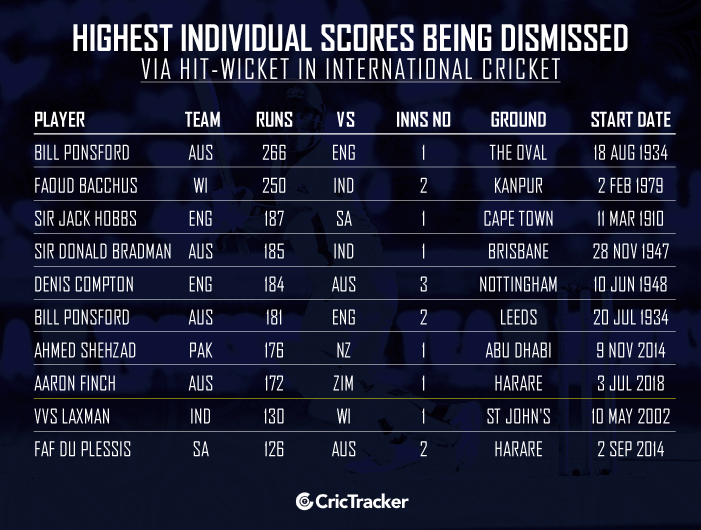 (Stats as on July 3, 2018)